My own awards debate
Updated:
April 13, 2004, 3:43 PM ET
By
Ric Bucher
| ESPN the Magazine
It's that time of year again, when 125 people or so brandish their unique definition of MVP, Coach of the Year, Most Improved Player and a few other categories by way of electronic ballot. Whichever candidate answers to the most popular definition, or fits the greatest combination of definitions, gets to be known as the best in that particular category for a year.
Most years I have a pretty clear idea of who is going to win and who will get my vote and why. The two aren't always the same, but this year I'm more conflicted than ever. I've got candidates who I think will win, candidates I'd like to see win and then guys I think should win. Call me sentimental or schizophrenic or indecisive or unashamedly stretching an awards column far beyond its normal boundaries. Here, in any case, it is, with a few bonus awards thrown in for good measure.
Most Valuable Player
Who Should Win: Tim Duncan, Spurs. If, that is, you believed he should've won and voted for him last year, which I didn't. His numbers are a scoonch down across the board but what the stats don't reflect is how he's grown into San Antonio's vocal and emotional leader. He is, in short, more valuable than ever. With longtime anchor David Robinson gone along with last year's locker-room vets Steve Kerr and Danny Ferry, Duncan has become a complete leader in every respect, on and off the floor. He and coach Gregg Popovich have created the perfect cocoon for talented-but-fragile Hedo Turkoglu and Rasho Nesterovic to maximize what they can do, which has put the Spurs on track to another title. If Duncan was deemed most valuable last year, and he's even more valuable this year, how does he lose?
Who Will Win: The drumbeat has been unmistakable -- this is Kevin Garnett's year after losing out to Duncan last season. This I also don't get. KG carries a team with Kendall Gill, Anthony Peeler and Marc Jackson in its rotation to 51 wins last year, but he's somehow done more leading a far superior team to five or six more wins?
Who Gets My First-Place Vote: Kevin Garnett, Timberwolves. I don't like voting on the basis of anything except the season at hand, but I'll make an exception here because he got my vote last year. Let's just hope the Wolves get out of the first round -- which is no guarantee -- or he'll be using the trophy as a safe place for those miner's lamp-sized diamond earrings. Because it'll be hollow.

Coach of the Year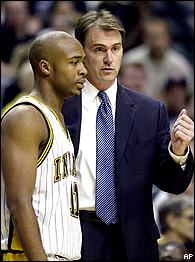 Who Should Win: Rick Carlisle, Pacers. He transformed a team that won 48 games and traded its All-Star center into the league's runaway top team -- by record, anyway -- with the lone shot at 60-plus wins. He did all that even though his remaining All-Star, Jermaine O'Neal, didn't exactly welcome him and Ron Artest was previously a basket case and he still doesn't have a bona fide point guard. Nevertheless, last week Carlisle was making personal phone calls stumping for O'Neal for MVP and All-NBA first team, Artest for All-NBA and Defensive Player of the Year, along with Al Harrington for Sixth Man. If Carlisle has any competition, it's whoever ends up with the best record in the West.
Who Will Win: Hubie Brown, Grizzlies, with Utah's Jerry Sloan a close second. How close will depend on if the Jazz grab the West's eighth playoff spot, which is as arbitrary as Amare Stoudemire winning Rookie of the Year because the Suns made the playoffs last year. You'd think the majority of voters in this category worked for Disney, because they just can't resist a Cinderella story. It helps if you haven't coached very long, or for a long time, either, for some reason. That predilection is why Doc Rivers won Coach of the Year leading a team that didn't make the playoffs over Phil Jackson, who only made the Kobe-Shaq combo produce its first title. Or why Don Nelson is a three-time winner, once for a 55-win Warriors team that didn't get out of the first round while Jackson and the Bulls won 67 games and a title. Brown has done a terrific job and Sloan has been overlooked for years, but here's the cold, hard truth: Coaching a bunch of hard-working overachievers to a record better than anyone expected is easier than coaching a team believed to have enough talent to contend for a championship, especially one that hasn't come close to realizing that potential. Grizzlies president Jerry West and Jazz basketball ops VP Kevin O'Connor deserve just as much credit as their coaches for shrewdly stocking their rosters with pieces that collectively were better than the sum of their parts -- especially with both teams making key midseason-bolstering trades.
Who I'd Like to See Win: Jerry Sloan, Jazz. He should've won in '97-98 when the Jazz had the league's best record, but voters were enamored with a rookie coach named Larry Bird. If I thought my vote would make the difference between Sloan getting the award or not, I might give it to him. But my sense is Hubie will win by at least a couple of votes.
Who Gets My First-Place Vote: Rick Carlisle, Pacers.

Defensive Player of the Year



Who Should Win: Ron Artest, Pacers. Carlisle had his assistants chart what Artest did over some 8,000 possessions by the opponent and the numbers were impressive, but without means of comparison to Andrei Kirilenko or the Spurs' Bruce Bowen, I'm not going to use them here. Besides, all you need to know is this -- Artest set the toughness standard for the winningest team in the league this season and he's as strong on the ball as he is off it, which is not always the case with previous winners of this award. He also gets the bad-boy-makes-good nod, having collected only five technicals and one flagrant foul -- other Pacers have more of both -- after leading the league last year in Ts (14) and flagrants (9).
Who I'd Like to See Win: Andrei Kirilenko, Jazz. If only because he got to the same place Artest did without the histrionics and with less talent around him. Despite being an All-Star, he also remains largely unappreciated. But his day is coming -- within the next three years he will be one of the five best players in the league, which means MVP consideration.
Who Gets My Vote: Ron Artest, Pacers.

Sixth Man Award



Who Should Win: Manu Ginobili, Spurs. His 13 points, 4.5 rebounds, 3.8 assists and 1.8 steals don't begin to describe what he does, which is essentially take the game by the neck and bend it to his will. Ginobili comes off the bench only because Hedo Turkoglu doesn't provide the same instant spark. Manu is the primary back-up both at point and at off-guard, giving Popovich more flexibility if Tony Parker has a slow start.
Who Will Win: I don't have the slightest idea. I've heard Desmond Mason, Antawn Jamison, Maurice Taylor, Harrington and even Raja Bell all mentioned, and they've all contributed to winning causes. Harrington deserves credit for filling in ably when Artest was injured. But none of them have the instant impact Ginobili does on both ends of the floor.
Who Gets My First-Place Vote: Manu Ginobili, Spurs.

Most Improved Player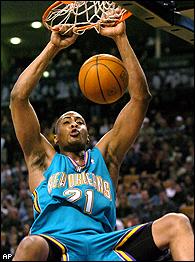 Jamaal Magloire has become a big shot for the Hornets.
Who Should Win: Jamaal Magloire, Hornets. Magloire made himself into an All-Star and punked all those who doubted he deserved that recognition by nearly winning the game's MVP award. He's averaging a double-double on a guard-oriented team.
Who Will Win: Zach Randolph, Blazers or Carlos Boozer, Cavaliers. I'd give Zach more consideration if he hadn't told me himself he hasn't improved as much as he's simply getting more playing time. Pouting over not playing down the stretch also hurts him. Boozer is not a bad choice; I just don't know how much he's improved over the end of last year, when he already was showing he was among the East's best power forwards. He broke through to another level in January after his grandmother died and coach Paul Silas threatened to bench him, but realizing your potential and improving your game aren't necessarily the same.
Who I'd Like to See Win: Erick Dampier, Warriors. He's worked hard the last two summers with former Warriors star Clifford Ray to improve his touch around the basket and stamina. People are not voting for him because they suspect he's been motivated by the chance to become a free agent and land another long-term contract, but so what? Trust me, that's commendable compared to what motivates some players. He doesn't get my vote only because I think Magloire has done more with less.
Who Gets My First-Place Vote: Jamaal Magloire, Hornets.

Rookie of the Year



Who Should Win: LeBron James, Cavaliers. No one faced higher expectations or pressure and he has somehow delivered more than anyone imagined. What I like is that under all the scrutiny, his focus on winning and making his team better never has wavered.
Who Will Win: LeBron James, Cavaliers. Carmelo Anthony is an absolute one-on-one terror with an array of moves far more mature than any teenager should have, and he's going to be a force for years to come. But crediting him for the Nuggets making the playoffs -- if they do -- and blaming LeBron for the Cavs not making the playoffs is the same goofy and unrelated logic that had Amare Stoudemire winning over Yao Ming last season. Maybe attitude shouldn't be a factor, but 'Melo also slipped in my eyes after suggesting he deserved to be an All-Star over Kirilenko.
Who Gets My First-Place Vote: LeBron James, Cavaliers.

Bonus Awards



Inadvertent Facial Award: Coach Gregg Popovich and forward Tim Duncan, applying one to Allen Iverson. A week after Iverson took off his uniform and refused to play in his return from a four-game injury absence because he wasn't starting, Popovich brought Duncan off the bench, without complaint, after he missed three games because of a knee injury.
Truth In Advertising Award: Carmelo Anthony, for admitting at the unveiling of his signature candy bar that he doesn't eat chocolate.
Sweet Vindication Award: Pat Riley, Heat. The timing of his decision to step down as head coach of the Heat remains baffling, but no one believed him when he said the team was ready to take the next step. Based on where they were a year ago, they've done just that.
Best Snap On A Vet Award: Spurs vet Kevin Willis, who is notorious for not remembering where he's supposed to be or what he's supposed to do, was riding guard Devin Brown about a mistake during a late-season practice. Brown, who is completing his first full NBA season, replied: "Oh, OK, Playbook."
Best Excuse For Not Listening To Your Coach, Commemorative Division: Former Rockets forward Matt Bullard, when asked by then-coach Rudy Tomjanovich why he blew a post-timeout diagrammed play, admitted that he was trying to memorize the phone number written in lipstick on a piece of paper by a woman behind the Houston bench. Saving grace: Bullard married her.
Good Things Happen To Nice Guys Award: Rafer Alston, Heat. The And-1 streetball legend is in the Heat record books for most consecutive games with a 3-pointer made (44 and counting) and has his first rotation spot in four seasons. He's made himself useful, which is harder than it sounds for an undersized point guard with an -- at least previously -- iffy jumper.

Ric Bucher covers the NBA for ESPN The Magazine. Also, click here to send Ric a question for possible use on ESPNEWS.
NBA Reporter, ESPN The Magazine Senior Writer
Senior writer for ESPN The Magazine
Co-authored "Yao: A Life in Two Worlds"
Full-time beat writer/NBA analyst since 1992
SPONSORED HEADLINES
MORE NBA HEADLINES
MOST SENT STORIES ON ESPN.COM
EDITORS' PICKS
Chandler Parsons or his replacement? Who's better?
Tim MacMahon »

David Thorpe breaks down mistakes rookies are making.
Rookie Report

Here's how LaMarcus Aldridge's unstoppable shot works.
The Mag »