Yao, T-Mac need answers
Originally Published:
January 12, 2005
By
Ric Bucher
| ESPN The Magazine
Editor's note: This article originally appeared on ESPN.com on January 5.
With apologies to Alex Trebek, the answer is: The Houston Rockets traded their three most athletic starters for Tracy McGrady last summer as part of an overhaul that resulted in nine new faces on the 14-man roster and, overall, the least athletic team in the NBA.
The question: What's wrong with the Rockets?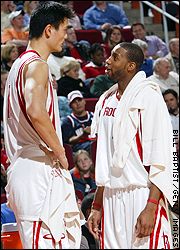 Yao and T-Mac shoulder the load in Clutch City.
Thanks to several subtle but significant moves in the past few weeks, that question probably should be in the past tense. By dealing
Tyronn Lue
to Atlanta for
Jon Barry
and
Jim Jackson
and
Bostjan Nachbar
to New Orleans for
David Wesley
, combined with the recovery from back surgery by
Bobby Sura
, the Rockets have upgraded their perimeter athleticism and spot-up shooting.
That should be enough to once again make them an odds-on bet to make the playoffs, which is where they started the season before stumbling to a 6-11 start.
More questions:
Does that mean the deal for T-Mac actually made them worse, since they were a playoff team last season? Yes.
Does that mean they shouldn't have done the deal? No.
If winning a championship is the primary objective -- as opposed to perennially making the playoffs or having a winning record or selling lots of tickets -- sometimes a step backward is required.
That's what the Rockets took by moving Steve Francis, Cuttino Mobley and Kelvin Cato to the Magic for McGrady, Lue, Juwan Howard and Reece Gaines.
Last season, they won 45 games despite being a mismatched crew. Francis, Cato and Mobley are at their best playing a breakneck, high-wire style, but that was neither going to maximize the abilities of Yao Ming nor, if history serves, win a title.
Rockets' management couldn't publicly announce they'd taken a step back, of course. One, that would sound too much like the R-word, rebuilding, which teams concede only as a last resort. No one wants to pay NBA prices to watch a construction job any more than a businessman wants to pay rent for space where the beams and girders are still being hoisted. Two, it would be hard to sell the step-back message with a combo like T-Mac and Yao gracing every billboard and magazine cover.
The setback might not have been as severe had they been able to land one of the other players they coveted last summer -- Keon Clark or Antonio Daniels -- or the league hadn't implemented a rules interpretation by the referees that places a premium on speed and agility over size and strength at both ends of the floor.
If you look at the teams that have been a surprise this season -- Seattle, Phoenix, Orlando -- they're all limited in size or strength but long on speed, dribble penetration and shooting. The teams that have struggled more than expected -- Utah, Houston, New Orleans -- are all, for the most part, short on quick perimeter players.
Clark, as an agile offensive-rebounding shotblocker, would have been a decent substitute for Cato, but he spurned Houston's -- as well as three other teams' -- advances to work on his golf game.
Seattle, meanwhile, wouldn't part with Daniels, which proved to be extremely smart based on the way he's played.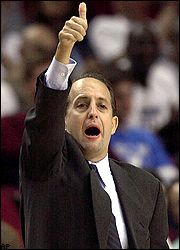 The younger Van Gundy brother has yet to pull the right strings this year for Houston.
So why has Stan Van Gundy been so much more successful with his dynamic duo in Miami than his brother Jeff has been in Houston with his? Didn't the Heat give up three starters to land Shaq and create their inside-outside combo? Sure, but that's about all they did. The rest of the team that went to the second round of the playoffs -- a round farther than last season's Rockets -- remained fairly intact.
Udonis Haslem, Eddie Jones, Rasual Butler and Dwyane Wade are still there, playing their same roles. They lost free-agent point guard Rafer Alston but replaced him with Damon Jones, a player Houston mistakenly took no interest in because, rumor has it, of his reputation as a locker room lawyer. Jones has been every bit as effective as Alston was. And while the presence of Shaq allows them to play a halfcourt game, they still rely heavily on the pressure defense, up-tempo offense that was so effective last season.
The other hole in the comparison is that Yao is in no way the same player as Shaq. He doesn't have nearly the same athleticism, which makes him a far less effective rebounder and weakside shotblocker. His strengths are passing, shooting and screen-setting, which requires a familiarity with his teammates. As a third-year center from China, he didn't even have the same on-court acquaintance with his new teammates as would someone who might work out with them in the summer or play AAU or college ball.
He also has been subject to the same inconsistent officiating Shaq endured early in his career. Big guys with unusual skills are tough for every referee to treat fairly, and, unlike Shaq, Yao depends on a closely-called game because he's a finesse player. While the Diesel can power through the unnoticed slap on the arm or the unseen hip check, Yao can't, or hasn't learned to.
He's also struggled to stay on the floor having to play more help defense because of the defensive weaknesses of power forwards Howard and Maurice Taylor. That's translated to more fouls, which has translated to more hesitancy on offense and fewer minutes than either he or the Rockets would like. With all that, it's a surprise to see his numbers (18.8 points, 8.5 rebounds) are about the same as they were last season.
In any case, the Rockets have found some help for McGrady in bringing up the ball, defending on the perimeter and knocking down the open jumpers that both T-Mac and Yao can create. Jackson, who was their most consistent player last season and all-around good soldier, didn't deserve being shipped to New Orleans to land Wesley, but with Houston winning three in a row by scores of 11, 15 and 19 last week, followed by two straight by 18 and 10 this week, it's hard to call the move a mistake at this stage.
The bottom line is that the Rockets have one of the league's most promising combinations in McGrady and Yao. Turning that into a championship-caliber combination requires putting the necessary pieces around them.
The answer: This summer.
The question: When will that happen?
Ric Bucher covers the NBA for ESPN The Magazine and collaborated with Rockets center Yao Ming on "Yao: A Life In Two Worlds," published by Miramax and available in bookstores beginning Sept. 29. Click here to send him a question for possible use on ESPNEWS.
NBA Reporter, ESPN The Magazine Senior Writer
Senior writer for ESPN The Magazine
Co-authored "Yao: A Life in Two Worlds"
Full-time beat writer/NBA analyst since 1992
SPONSORED HEADLINES
MORE NBA HEADLINES
MOST SENT STORIES ON ESPN.COM
EDITORS' PICKS
Thomas Robinson has stepped up for the Blazers. Can he keep it up?
NBA Now

Russell Westbrook deserves to be in MVP conversation.
Royce Young »

Rajon Rondo leaves a complicated legacy in Boston.
MacMullan »