Commentary
Ranking the best available free agents
Originally Published:
August 4, 2008
By
Chad Ford
| ESPN.com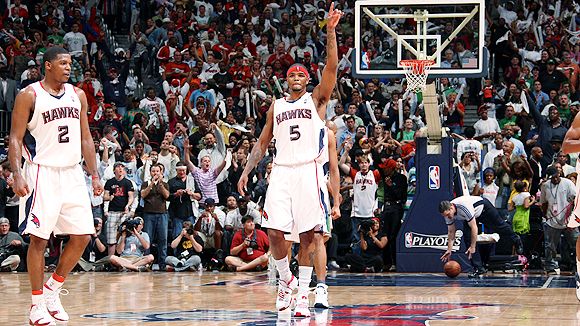 Scott Cunningham/NBAE via Getty ImagesHawks restricted free agent Josh Smith is now the No. 1 target for many teams. Where will he end up?
Updated: August 4
It's been five weeks since NBA teams could begin negotiating with free agents. The unrestricted free agents went quickly.
Baron Davis stunned us by agreeing to a five-year, $65 million deal with the Clippers. Then, Elton Brand one-upped his buddy by bolting the Clippers for a five-year deal with the Sixers. Then, Corey Maggette bolted the Clippers for the Warriors, agreeing to a five-year deal worth about $50 million.
So much for the sleepy, uneventful free-agency period we predicted. Only a handful of free agents have agreed to re-sign with their teams. Gilbert Arenas agreed to a huge, six-year, $111 million deal with the Wizards. Jose Calderon quickly agreed to re-up with the Raptors. And Beno Udrih agreed to a five-year, $33 million deal to remain with the Kings.
Lately, the restricted free agents are starting to get deals done. Josh Childress was the first significant restricted free agent to get a deal ... by bolting the Hawks for Greece. Several other restricted free agents -- including Nenad Krstic, Bostjan Nachbar, Juan Carlos Navarro and Carlos Delfino -- also decided to take more lucrative offers overseas.
Since Childress left the Hawks, a few more teams have come to terms with their restricted free agents. The Bobcats and Emeka Okafor agreed to a six-year, $72 million deal. The Bulls signed Luol Deng to a six-year, $71 million dollar deal. And the Warriors came to terms with both of their restricted free agents -- Andris Biedrins and Monta Ellis. But many top-tier restricted free agents are still looking for big deals. The chances of their bolting to Europe are slim, leaving their teams with maximum leverage.
Only one team -- the Grizzlies -- has any real cap room. But it appears that the team isn't going to use it to pry away a restricted free agent. So ... restricted free agents have four options:
1. They can take the one-year qualifying offer and become unrestricted free agents next summer.
2. They can sign for a "market value" deal that is probably far less money than they think they're worth.
3. They can push for a sign-and-trade to another team.
4. They can leave for Europe.
All four options are pretty unappealing at this point. Option 1 puts a lot of pressure and risk on the free agent. Option 2 would mean that players like Andre Iguodala and Josh Smith sign for less money than the extensions they turned down last summer. Option 3 is tricky because of league trade rules that make most restricted free agents base-year compensation players (meaning their salaries are very difficult to trade). And option four doesn't really seem to be a real option for top-tier players.
Here's a look at who's left on the market:
Note: * = Restricted free agent

Smith
1. Josh Smith, Hawks*: Smith drew a lot of interest from the Sixers, Clippers and Warriors. However, now that all three teams are out of cap space, he's stuck in the same boat with everyone else. He's a freakish athlete who can score, rebound and block shots. What holds him back is his questionable attitude.
Right now, Smith is pushing for a sign-and-trade out of Atlanta. It sounds like the Hawks might be open to such a move, but sign-and-trades are notoriously difficult to pull off. I keep hearing that Smith is threatening to take the one-year tender and bolt Atlanta next year as an unrestricted free agent. That would be a disaster for the Hawks if it happens.
2. Andre Iguodala, Sixers*: Iguodala's decision to turn down a $57 million deal last summer is tough to justify. At the time, the Sixers appeared to be the only team with significant cap room; I'm not sure where he thought his next paycheck would come from. Now that Elton Brand is on board, you know the Sixers don't want to lose him. But with no viable competing offers, they aren't giving away the farm, either. This one is at a standoff, with both sides continuing to negotiate. Iguodala is looking for a deal richer than the one Okafor and Deng got. The Sixers want to keep him at an $11 to $12 million a year deal.

Gordon
3. Ben Gordon, Bulls*: Of all the players who turned down lucrative contract extensions last summer, Gordon made the most mind-boggling decision. He turned down a five-year, $50 million deal that seemed above market value after a down season.
For him to recoup that money this summer seems almost impossible. Now that the Bulls are paying Luol Deng a starting salary of $9.5 million this year, they can't afford to pay Gordon that much without hitting the luxury tax. And now that the Bulls have added Derrick Rose and Larry Hughes to the mix, it's no longer clear where Gordon fits into the picture.
There isn't a huge market for undersized 2-guards who have streaky jump shots. Gordon might be better off taking the Bulls' one-year tender offer or looking to Europe for a similar deal to Childress'.
4. J.R. Smith, Nuggets*: Smith's sharpshooting skills are in high demand, but he's been labeled a difficult player, which has hurt his stock around the league. Right now he'd settle for a midlevel deal. At this point, I'm not sure the Nuggets, in cost-cutting mode, would match.
5. Shaun Livingston, Clippers: He has amazing talent, but will he ever recover from that horrific knee injury he suffered in 2007? With the Clippers having used all their money on Baron Davis, someone might try to roll the dice.

West
6. Delonte West, Cavaliers*:
West overplayed his hand with the Cavs when his camp leaked that he was being hotly pursued by a European team. Turns out the report was bogus, and now the Cavs, notoriously tough negotiators, have the upper hand.
7. Carl Landry, Rockets*: Landry was a big surprise last year. His toughness and rebounding make him a valuable role player ... but given his lack of size, how much is he worth?
8. Dorell Wright, Heat*: Wright finally got significant playing time in Miami last season and played fairly well. His stats won't blow you away, but he shot a high field goal percentage, grabbed a lot of boards for a guard and kept his turnovers down. He's got enough upside that he could get a deal similar to what C.J. Miles got from the Jazz (Utah matched OKC's offer of four years, $15 million).
9. Jason Williams, Heat: White Chocolate isn't a hot flavor anymore, but he is a veteran point guard who can still give a team 15 to 20 minutes a night. It's hard to believe his career might be over.
10. Robert Swift, Oklahoma City*: Swift is big and still has upside. But he has been racked by injuries and inconsistency -- he played in just eight games last season. OKC would match any offer to him, and it appears unlikely that he'll get a big deal at this point.
11. Gordon Giricek, Suns: He's a high-volume scorer and shooter who has always struggled to adapt to being a role player in the NBA. He's another strong candidate to head overseas if he can't get a deal to his liking.

Pargo
12. Jannero Pargo, Hornets: He's a credible backup point guard who can put the ball in the basket. His ability to deliver some firepower off the bench should land him a deal somewhere.
13. Juwan Howard, Mavs: The consummate veteran should be able to find a P.J. Brown-type role on a team somewhere in the league. At this point, he's playing for a championship, not money.
14. Michael Finley, Spurs: He's clearly in the twilight of his career, but the Spurs want him back; if they don't sign him, though, another team will step in and pick him up as a valuable veteran role player.
15. Sam Cassell, Celtics: Cassell is getting old ... very old. But he's still a savvy veteran who can add something to a team in the playoff hunt.
Other notables: Francisco Elson, Oklahoma City; Alonzo Mourning, Heat; Robert Horry, Spurs; Damon Stoudamire, Spurs; Jamaal Magloire, Nets; Michael Doleac, Timberwolves; Quinton Ross, Clippers; Fred Jones, Knicks; Juan Dixon, Pistons; Theo Ratliff, Pistons; Kirk Snyder, Timberwolves; David Harrison, Pacers; Salim Stoudamire, Hawks; Mickael Gelabale, Oklahoma City.
Chad Ford covers the NBA for ESPN Insider.
FREE AGENCY 2008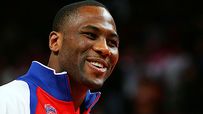 The NBA offseason has been busier than expected, thanks in part to Elton Brand's joining the 76ers. Keep up with the latest moves.
Transactions
News
•
George's deal with Mavs made official
•
Brown returns to New Orleans to back up Paul
•
Veteran Finley re-signs with Spurs
•
Nuggets re-sign Smith to multiyear deal
•
Miles signs with champion Celtics
•
George, Mavs agree to two-year deal
•
Clips re-sign free-agent center Paul Davis
•
Iguodala signs six-year deal with Sixers
•
Sources: 76ers, Iguodala agree to multiyear deal
•
Hawks match Grizzlies' $58M offer, retain Smith
•
Heat's Williams reaches terms with Clippers
•
Bobcats' Boykins signs European contract
•
Restricted free agent Williams re-signs with 76ers
•
Cavs shore up backcourt, sign ex-Grizzly Kinsey
•
Arroyo signs with Maccabi Tel-Aviv
•
Ex-Clipper draftee Skinner signs deal with team
•
Bulls sign Deng to six-year extension
•
Sources: Deng, Bulls on verge of deal
•
Hawks sign ex-Magic G Evans to contract
•
Sources: Okafor, Cats agree on new deal
•
Nets lose Krstic to Moscow team
•
Clippers sign swingman Davis from Heat
•
Vujacic officially signs multiyear deal with Lakers
•
Agent: Brown, Pistons agree to deal
•
Warriors re-sign Biedrins to 6-year, $62M deal
•
Sources: Biedrins, Warriors agree to 6-year deal
•
Wolves agree to deal with Gomes
•
Lakers, Vujacic agree to 3-year, $15 million deal
•
Ellis inks $67 million deal to stay with Warriors
•
Summer star Roberson signs with Knicks
•
Andersen bolts Hornets to return to Denver
•
Telfair re-signs with Timberwolves
•
Childress leaves NBA for Greece
•
Spurs re-sign Kurt Thomas
•
Suns sign ex-Warrior Barnes to one-year deal
•
Turiaf to play for Warriors
•
Jazz, Williams agree to 4-year extension
•
Sources: Clippers, Azubuike agree to offer sheet
•
Bucks add veterans Allen, Lue
•
Posey agrees to 4-year deal with Hornets
•
Arenas signs six-year deal with Wiz
•
Mason's hard work pays off in contract with Spurs
•
Wright re-signs with Mavericks
•
Clippers officially sign Davis to multiyear contract
•
Family ties: Brent is 3rd Barry to play for Rockets
•
Warriors ink forward Maggette to deal
•
Magic sign, introduce ex-Warrior Pietrus
•
Nets agree to terms with forwards Najera, Hayes
•
Sixers give frontline big boost, sign Brand to deal
•
Agent: Bucks to sign Bogut to $60M extension
•
Diop rejoins Mavs on 5-year, $31M contract
•
Gasol in Memphis: Marc, not Pau, signs contract
•
Kings re-sign point guard Udrih to five-year deal
•
Heat sign 3-point specialist Jones to 5-year deal
•
Sources say Brand will sign with 76ers
•
Sources: NBA cap at $58.68 million
•
Sources: 76ers confident of getting Brand
•
Sixers making run at Brand
•
Hawks free agent Smith visits 76ers
•
Brand opts out, and Clippers await decision
•
Calderon reaches agreement on new Raps deal
•
Wizards hang on to Jamison
•
Reports: Arenas agrees to six-year contract
•
For 2nd year in row, Cats, Okafor to discuss deal
•
Artest not opting out of final year of deal
•
Paul agrees on four-year, $68M deal
•
Davis leaving Warriors for Clippers
•
Free Agents:
2008
|
2009 and 2010
Analysis
•
Hollinger: Hornets pay heavily for Posey's ring
•
Martin: Najera's 3-point skills help seal Nets deal
•
Stein: Which teams in hot pursuit of free agents?
•
Adande: Why Brand left the Clippers
•
Broussard: Crushing blow for Clippers
•
Arnovitz: Clipper Nation in world of hurt
•
Adande: Brand's departure is business as usual
•
Hollinger: Brand new Sixers are East challengers
•
Hollinger: Five big questions on free agents
•
Stein: Davis verbally agrees to go to Clippers
•
Broussard: The Clippers' other free agent
•
TrueHoop: What is Corey Maggette Worth?
Podcast
•
Stein on Elton Brand and Baron Davis
•
Hollinger on players who may switch teams
•
Broussard on the money given to Arenas
•
Sheridan on Brand, Davis, Artest and Smith
Video
•
Bucher on how the Brand deal got done
•
Bucher on the latest NBA news
•
Arenas agrees to six-year extension