Commentary
Winners and losers of the NBA's offseason (so far)
Originally Published:
August 4, 2008
By
Chad Ford
| ESPN.com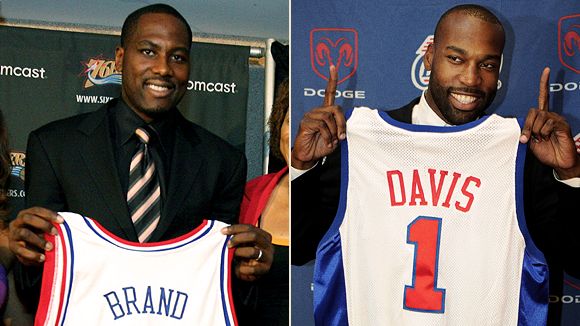 Getty ImagesThings are looking up for Elton Brand and the Sixers. Not so much for Baron Davis and the Clippers.

The great thing about the offseason is that every team can feel like a contender -- for a few short weeks anyway. A great draft pick, a savvy free agent pickup or a timely trade can change the fortunes of a franchise virtually overnight.
The downside, of course, is that a bad draft pick, a free agent bolting to another team or a bungled trade can do serious damage to a team's outlook. And sometimes, a team's inaction can be the worst blow of all to a hope-filled fan base.
We're five weeks into the NBA's silly season. Most of the unrestricted free agents have signed contracts. Many of the top restricted free agents are now coming to terms with their respective teams. And we've even had a few big trades.
Who's improved this summer? Who's taken a step back? Here's our first take at this offseason's winners and losers:
WINNERS

Philadelphia 76ers
The Sixers landed the biggest free-agent coup of the summer when they stole Elton Brand from the Clippers. Brand fills the biggest need of a team that played solid basketball in the second half of last season.
Now the team has two veterans at key positions -- Brand anchoring the paint and Andre Miller running the point -- and a slew of talented young studs like Thaddeus Young, Louis Williams, Samuel Dalembert and first-round pick Marreese Speights.
If the Sixers get Andre Iguodala locked up in the next few weeks, they should be one of the top three of four teams in the East.

Indiana Pacers
The Pacers did most of their work prior to the draft and on draft night, although none of it could be officially announced until July. For a team that was capped out and had no future, the Pacers found solid value for Jermaine O'Neal, fixed their problem at point guard with the addition of T.J. Ford and Jarrett Jack and added a couple of solid rookies in Brandon Rush and Roy Hibbert. Most importantly, Larry Bird and David Morway gave themselves considerable cap flexibility starting next summer.
As for the upcoming season, the Pacers could be a sleeper to sneak into the playoffs, especially if they can find a home for Jamaal Tinsley and shore up the power forward position.

Toronto Raptors
Here is the great thing about the Raptors-Pacers trade of T.J. Ford and Jermaine O'Neal: It helped both teams. The Raptors had a hole in the middle and a logjam at point guard. In one fell swoop they filled the hole in the middle with O'Neal and broke the logjam at the point by finding a taker for Ford.
If O'Neal is truly healthy, as his camp and the Raptors claim, he and Chris Bosh will form one of the best frontlines in the East.
The Raps also made one of the more underrated moves in free agency, locking up Jose Calderon at a bargain contract for a borderline All-Star point guard.

Houston Rockets
The Rockets pulled off the most controversial move of the summer when they agreed to acquire Ron Artest from the Kings. This is one of those all-or-nothing moves whose effect is impossible to forecast.
If Artest is on his best behavior, the Rockets are a serious force to be reckoned with in the West. If he's on his worst behavior, he could cause this team to implode the way he did with an elite Pacers team a few years ago. The Pacers are still recovering from Artest's antics in Indiana, which is scary.
Whatever you think of the deal, you have to hand it to the Rockets. They were bold and realized that their window with Tracy McGrady is closing. If it pays off, the Rockets look like geniuses. And if it blows up, they can still quickly dump Artest.
With Artest in the last season of his contract and looking for a big deal next summer, the guess is that he'll be on his best behavior.

Portland Trail Blazers
The Blazers didn't make any major moves this summer. But they've improved enough that you have to believe they'll be a serious contender for one of the eight playoff spots in the West next season.
The Blazers had yet another good draft, landing Jerryd Bayless, who lit up the summer league and looks like he can compete immediately for a starting position at the point. They also lured last year's late first-round pick Rudy Fernandez over to play. Fernandez is already a star in Europe. If he can make his game translate to the NBA, the Blazers' backcourt just got much deeper.
But the biggest addition will be Greg Oden. The team says his knee is completely healed and he's on track to be at full strength for training camp. The addition of those three, without any real subtractions, should translate into a playoff run in Portland this coming season.

Milwaukee Bucks
The Bucks had a big hole at small forward and filled it by acquiring an accomplished player in his prime in Richard Jefferson. Now the team is loaded with players who can score -- Jefferson, Michael Redd, Andrew Bogut and Charlie Villanueva can all put the ball in the basket.
But the decision to move Mo Williams and Desmond Mason remains a real head-scratcher (see John Hollinger analysis), especially when you're replacing those guys with the likes of Luke Ridnour and Damon Jones.
The other question is, can this team play defense? New coach Scott Skiles will have his hands full getting this crew to buckle down. Still, for a team that seemed to be going nowhere fast, the Bucks look like they'll be stronger than the 26-win team last season. The playoffs might be a stretch, but respectability is a good thing, too.
---
LOSERS

Atlanta Hawks
You've got to hand it to the Hawks, currently the most dysfunctional team in the NBA. After finally making the playoffs and pushing the Celtics to a seventh game in the first round, the Hawks looked like the team on the rise. Then the offseason came and the Hawks' ownership group, Atlanta Spirit, got to work.
Their first move was a good one, letting GM Billy Knight walk. The Hawks were in the playoffs despite Knight's consistent botching of the draft, not because of him. Unfortunately, after Knight resigned, everything got seriously mangled in Atlanta. A number of the top GM candidates they pursued said "no, thanks" and the Hawks ended up settling on Rick Sund, a nice guy who's failed badly as a GM in his last two stops in Seattle and Detroit.
Sund's first move was to bring back head coach Mike Woodson -- a guy who several players don't really like and whose coaching style doesn't fit the talent on the team.
Then the Hawks completely mishandled Josh Childress. First, they offered him a contract for less than the midlevel exception. Then they told him to go find a better deal, thinking no team would make a strong offer. Childress found a better deal in Greece and warned the Hawks he'd take the money. The Hawks called his bluff and Childress took the money and ran. Normally, I wouldn't make such a fuss over a sixth man, but Childress was the glue that held the team together -- he was very underrated.
Now the Hawks are between a rock and hard place with Josh Smith. Their offer is lower than what Emeka Okafor and Luol Deng got. Smith is upset and doesn't really want to play in Atlanta. If they up the offer, they risk overpaying a player who is unhappy in Atlanta. If the Hawks don't increase the offer, they risk Smith taking the one-year qualifying offer in Atlanta and bolting next summer as an unrestricted free agent.

Los Angeles Clippers
The Clippers once held the coveted title of most dysfunctional franchise in the league and they made a lot of strides toward reclaiming it this summer.
Everything started off so well. They shocked many by quickly coming to terms with Warriors free agent Baron Davis -- filling a big need at the point. Pairing Davis with Elton Brand was supposed to put the Clippers on a course back to the playoffs in the West. Unfortunately, the team then inexplicably lost Brand to the Sixers a week later. Brand's people say the Clippers mishandled the negotiations. The Clippers point the finger at Brand's agent, David Falk.
Suddenly, the Clippers' dream team was a nightmare. At this point in his career, Davis making $65 million stretches credulity, even if he's motivated. An unmotivated Davis playing on a cellar dweller? Ugh.
The Clippers also lost Corey Maggette and tried to minimize all the damage by bringing in Marcus Camby and Ricky Davis. But I don't think they're a playoff team in the West with that crew.

Dallas Mavericks
Two seasons ago, the Mavericks were an elite team in the NBA and had the league's best record. Coming into this season, the Mavs no longer look like a contender. In fact, there's a chance they might not even be a playoff team in the wild, wild West.
The Mavs still have Dirk Nowitzki, but the rest of the team is fairly underwhelming. The addition of Jason Kidd at the trade deadline last season looks like an awful move in retrospect. It's unclear whether Kidd really has the juice left to be an elite point guard.
Josh Howard's brushes with controversy over his comments on smoking marijuana and a charge of drag racing this summer haven't helped. And that huge $30 million-plus contract that they gave DeSagana Diop will come back to haunt them the same way that $60 million-plus contract they gave to Erick Dampier did.
The Mavs were actively trying to get their hands on Ron Artest, but, like the Rockets, it was more an act of desperation than a savvy basketball move. Maybe head coach Rick Carlisle can turn things around, but as it stands right now, a team in need of a major overhaul to get back into title contention did too little and risks falling into irrelevancy.

Denver Nuggets
It's not hard to get your arms around the game plan in Denver. The team barely made the playoffs last season, the window on Allen Iverson's career is rapidly closing and suddenly the team switches gears? The Nuggets are in cost-cutting mode.
Shipping off Marcus Camby will seriously affect the team's defensive ability. I think the move was an admission that the combo of Iverson and Carmelo Anthony just wasn't going to catapult the team to a championship. There's a good chance they will miss the playoffs this coming season given the competitiveness of the West.
The bright side is that the Nuggets have a huge trade exception and also will be looking at potential cap room next summer. They still have Carmelo to build around, but dreams of bringing a championship to Denver are now on hold.

Golden State Warriors
I feel sorry for Warriors GM Chris Mullin. A little more than a year ago, he was the guy who helped the Warriors end an ugly 12-year playoff drought. His hard work paid off in the 2007 playoffs when his Warriors pulled off one of the biggest first-round upsets in NBA history.
Last season, the Warriors were good, just not good enough to make the playoffs in the ultra competitive West. Then disaster struck this offseason as Baron Davis bolted for the Clippers and the Warriors panicked. After trying and failing to lure Elton Brand and Gilbert Arenas to Golden State, the Warriors spent way too much on Corey Maggette, a guy who duplicates many of their strengths and addresses none of their weaknesses. Injury was added to insult when Davis-replacement Monta Ellis mangled his ankle in late-August.
Now the Warriors look poised to fall out of the playoffs for the next few seasons as they restart the rebuilding process. That has to be a huge blow to the gut of Warriors fans that rabidly supported the Warriors in 2007.
But there is a silver lining in Golden State.
First, the Warriors were right in not overpaying to keep Davis. I'll be surprised if he's still playing 50 games a season in the last few years of that deal. Second, the Warriors locked up their two young free agents -- Ellis and Andris Biedrins -- to rich, but not ridiculous deals. If those two continue to develop along with young players like Brandan Wright, Marco Belinelli and rookie Anthony Randolph, the Warriors will be good in about three years.
Still, I'm not sure Warriors fans like the idea of waiting after missing the playoffs in 16 of 17 years.

Memphis Grizzlies
Although they mishandled the Pau Gasol trade last winter, the bright side was that the team was going into the summer with cap room. Once the Sixers, Warriors and Clippers quickly used their cap space, the Grizzlies were the only team in the league left with room and in a prime position to make a steal or, at the very least, put some pressure on teams to overpay their restricted free agents.
Instead, the team stayed on the sidelines, presumably to focus on the 2009 summer -- an offseason that potentially will have better free agents but also more teams with salary cap space to compete against. Also, the Grizzlies traded away a key veteran, Mike Miller, and the draft rights to Kevin Love, to move up two spots in the draft to get O.J. Mayo.
Now the Grizzlies are one of the youngest teams in the league, have a huge glut of guards and are paper thin on the front line. In other words, you thought last season was bad? You haven't seen anything yet.
However, as in Golden State, there is a bright side: The Grizzlies do have lots of young talent. Rudy Gay and Mayo have the potential to be All-Stars someday. Mike Conley has a bright future, too. And the Grizz also got a late first-round steal in the draft in Darrell Arthur.
If GM Chris Wallace can parlay some of that talent into some NBA vets as his former boss Danny Ainge did (remember when we were all bemoaning how young and inexperienced the Celtics were?) or if they can use their significant cap space next summer to lure a talented free agent or two, we may be speaking differently about the Grizzlies next August.
But this season? It isn't going to be pretty.
Chad Ford covers the NBA for ESPN Insider.
FREE AGENCY 2008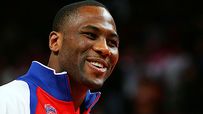 The NBA offseason has been busier than expected, thanks in part to Elton Brand's joining the 76ers. Keep up with the latest moves.
Transactions
News
•
George's deal with Mavs made official
•
Brown returns to New Orleans to back up Paul
•
Veteran Finley re-signs with Spurs
•
Nuggets re-sign Smith to multiyear deal
•
Miles signs with champion Celtics
•
George, Mavs agree to two-year deal
•
Clips re-sign free-agent center Paul Davis
•
Iguodala signs six-year deal with Sixers
•
Sources: 76ers, Iguodala agree to multiyear deal
•
Hawks match Grizzlies' $58M offer, retain Smith
•
Heat's Williams reaches terms with Clippers
•
Bobcats' Boykins signs European contract
•
Restricted free agent Williams re-signs with 76ers
•
Cavs shore up backcourt, sign ex-Grizzly Kinsey
•
Arroyo signs with Maccabi Tel-Aviv
•
Ex-Clipper draftee Skinner signs deal with team
•
Bulls sign Deng to six-year extension
•
Sources: Deng, Bulls on verge of deal
•
Hawks sign ex-Magic G Evans to contract
•
Sources: Okafor, Cats agree on new deal
•
Nets lose Krstic to Moscow team
•
Clippers sign swingman Davis from Heat
•
Vujacic officially signs multiyear deal with Lakers
•
Agent: Brown, Pistons agree to deal
•
Warriors re-sign Biedrins to 6-year, $62M deal
•
Sources: Biedrins, Warriors agree to 6-year deal
•
Wolves agree to deal with Gomes
•
Lakers, Vujacic agree to 3-year, $15 million deal
•
Ellis inks $67 million deal to stay with Warriors
•
Summer star Roberson signs with Knicks
•
Andersen bolts Hornets to return to Denver
•
Telfair re-signs with Timberwolves
•
Childress leaves NBA for Greece
•
Spurs re-sign Kurt Thomas
•
Suns sign ex-Warrior Barnes to one-year deal
•
Turiaf to play for Warriors
•
Jazz, Williams agree to 4-year extension
•
Sources: Clippers, Azubuike agree to offer sheet
•
Bucks add veterans Allen, Lue
•
Posey agrees to 4-year deal with Hornets
•
Arenas signs six-year deal with Wiz
•
Mason's hard work pays off in contract with Spurs
•
Wright re-signs with Mavericks
•
Clippers officially sign Davis to multiyear contract
•
Family ties: Brent is 3rd Barry to play for Rockets
•
Warriors ink forward Maggette to deal
•
Magic sign, introduce ex-Warrior Pietrus
•
Nets agree to terms with forwards Najera, Hayes
•
Sixers give frontline big boost, sign Brand to deal
•
Agent: Bucks to sign Bogut to $60M extension
•
Diop rejoins Mavs on 5-year, $31M contract
•
Gasol in Memphis: Marc, not Pau, signs contract
•
Kings re-sign point guard Udrih to five-year deal
•
Heat sign 3-point specialist Jones to 5-year deal
•
Sources say Brand will sign with 76ers
•
Sources: NBA cap at $58.68 million
•
Sources: 76ers confident of getting Brand
•
Sixers making run at Brand
•
Hawks free agent Smith visits 76ers
•
Brand opts out, and Clippers await decision
•
Calderon reaches agreement on new Raps deal
•
Wizards hang on to Jamison
•
Reports: Arenas agrees to six-year contract
•
For 2nd year in row, Cats, Okafor to discuss deal
•
Artest not opting out of final year of deal
•
Paul agrees on four-year, $68M deal
•
Davis leaving Warriors for Clippers
•
Free Agents:
2008
|
2009 and 2010
Analysis
•
Hollinger: Hornets pay heavily for Posey's ring
•
Martin: Najera's 3-point skills help seal Nets deal
•
Stein: Which teams in hot pursuit of free agents?
•
Adande: Why Brand left the Clippers
•
Broussard: Crushing blow for Clippers
•
Arnovitz: Clipper Nation in world of hurt
•
Adande: Brand's departure is business as usual
•
Hollinger: Brand new Sixers are East challengers
•
Hollinger: Five big questions on free agents
•
Stein: Davis verbally agrees to go to Clippers
•
Broussard: The Clippers' other free agent
•
TrueHoop: What is Corey Maggette Worth?
Podcast
•
Stein on Elton Brand and Baron Davis
•
Hollinger on players who may switch teams
•
Broussard on the money given to Arenas
•
Sheridan on Brand, Davis, Artest and Smith
Video
•
Bucher on how the Brand deal got done
•
Bucher on the latest NBA news
•
Arenas agrees to six-year extension