Commentary
Brand new Sixers are instant East challengers
Originally Published:
July 9, 2008
By
John Hollinger
| ESPN Insider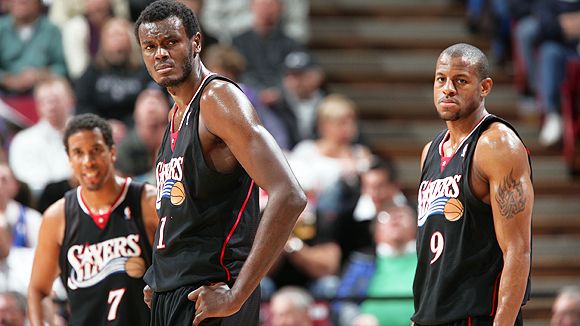 Rocky Widner/NBAE/Getty ImagesThe 76ers have been waiting for a force like Elton Brand to show up. How long? Not since Moses Malone and Charles Barkley were in town has Philly had a power player with the prowess of Brand.

Elton Brand is expected to become a Sixer, and let's just say the Eastern Conference race is now a lot more interesting.

Are the Philadelphia 76ers, as presently constituted, good enough to win the East in the 2008-09 season? Doubtful.

But are the Sixers good enough to win a playoff series or two and scare the bejeezus out of Detroit and Boston? You bet. And if they add a shooter and get another year of growth from all their young studs, will they be in position to win the conference in 2010? Absolutely.

It's amazing to think this is the same team that dealt Allen Iverson less than two years ago because their prospects had become so grim, and the same squad that fired general manager Billy King last winter in the wake of several awful contracts.

The Sixers' turnaround may not seem fast compared to Boston's worst-to-first U-turn, but has been amazingly swift by anyone else's standards. Even without Brand, Philly had rebounded impressively enough from a 5-13 start to take the Pistons to six tough games in the first round of the playoffs this spring. And Philly did this with two gaping, open sores on their roster: power forward and shooting guard.

Brand, obviously, fills the power forward slot quite nicely and gives the Sixers the half-court, low-post threat they so obviously needed. Philadelphia's primary option there last season was Reggie Evans, a warrior and a gamer whose low skill level is reflected in his stats: a pedestrian 11.05 player efficiency rating, just 9.0 points per 40 minutes and 43.8 percent shooting. The Sixers also used Thaddeus Young, a teenaged rookie who is going to be unbelievably good but was undersized for the 4 spot at 6-foot-8, 220 pounds, and another, much less impressive rookie in Jason Smith.
Now they can replace Evans and Smith with Brand, move Young back to his natural small forward spot, and plug Evans into the backup big man role that he was meant to play. Plus, moving Young to small forward means moving Andre Iguodala to shooting guard, which takes care of the other problem in the Sixers' starting lineup.
Willie Green moves to the bench and soaks up the minutes vacated by the trade of Rodney Carney, Louis Williams stays in his sixth-man Microwave role behind Andre Miller at the point, and everybody lives happily ever after.
Here's how the math works. Let's be conservative and say Brand isn't quite the player he was before the Achilles injury, and puts up a PER of "only" about 20. (His career PER is 22.7, and not counting his 2007-08 lost season, his lowest mark in L.A. was 21.7.) That's still better than anybody on the Sixers had last season, and nearly doubles the PER of Evans and Smith. My basic rule of thumb is every additional point of PER over 2,000 minutes of play is worth an additional win, meaning replacing the Smith/Evans combo with Brand should be worth nearly 10 wins.
If so, that takes the Sixers from 42.5 wins a season ago (their expected wins based on their point differential) to 52 in 2008-09.
And 52 wins in the East makes you a pretty strong contender.
That, mind you, is without considering any improvement from the rest of the roster. But one has to think the Sixers would have been better in the coming season even without adding Brand. Consider that Young boasted a 16.58 PER as a 19-year-old rookie last season even while playing half his minutes out of position, or that Williams was at 16.71 when he should have been a junior in college, or that Smith can still get better and first-round pick Marreese Speights should provide added frontcourt beef.
Conversely, the only key player one could reliably expect to perform worse than last season is Miller, a 32-year-old point guard. Even here, the Sixers are somewhat insured -- he's in his walk year, and Williams is waiting in the wings.
If there's a reason the Celtics shouldn't be exactly quaking in their boots quite yet, it's because Philly still has one glaring weakness: outside shooting. Philly was last in 3-point percentage last season and at some point the Sixers need to get a shooter to make defenses pay for double-teaming Brand and collapsing against the drives of Iguodala, Miller and Young.
Unfortunately, the Sixers had to trade an ace shooter, Kyle Korver, in order to generate the cap space to bring in Brand. It's a deal they'd do again in a heartbeat, obviously, but it's also somewhat ironic. Fortunately, they're now in position to nab prospective veteran free agents who are looking to join a contender -- a status that was unthinkable nine months ago -- and should be able to pick up a shooter on the cheap at some point between now and the playoffs.
Philly also has to do some housekeeping by retaining Iguodala -- a restricted free agent who could become the target of a big-money raid by the Clippers, especially if they're hell-bent on revenge -- and Williams, who is also restricted. But that shouldn't be a major obstacle given their solid cap position and ability to match any offer.
Even with poor shooting, the Sixers should ascend into the East's upper crust. Boston and Detroit are obviously where the discussion begins in this conference, and Orlando (which made an underrated pickup of their own today in Mickael Pietrus), Cleveland and perhaps Toronto also have to be seen as strong threats.
But none of those teams bursts with potential the way Philly does, and now the Sixers have a 29-year-old low-post rock to be the centerpiece. Much like Kevin Garnett in Boston, Brand could become the key piece to a conference champion. The big difference is that, given his new team's youth, in Brand's case it will likely take more than a year to break through.
John Hollinger writes for ESPN Insider. To e-mail him, click here.
FREE AGENCY 2008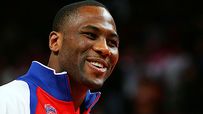 The NBA offseason has been busier than expected, thanks in part to Elton Brand's joining the 76ers. Keep up with the latest moves.
Transactions
News
•
George's deal with Mavs made official
•
Brown returns to New Orleans to back up Paul
•
Veteran Finley re-signs with Spurs
•
Nuggets re-sign Smith to multiyear deal
•
Miles signs with champion Celtics
•
George, Mavs agree to two-year deal
•
Clips re-sign free-agent center Paul Davis
•
Iguodala signs six-year deal with Sixers
•
Sources: 76ers, Iguodala agree to multiyear deal
•
Hawks match Grizzlies' $58M offer, retain Smith
•
Heat's Williams reaches terms with Clippers
•
Bobcats' Boykins signs European contract
•
Restricted free agent Williams re-signs with 76ers
•
Cavs shore up backcourt, sign ex-Grizzly Kinsey
•
Arroyo signs with Maccabi Tel-Aviv
•
Ex-Clipper draftee Skinner signs deal with team
•
Bulls sign Deng to six-year extension
•
Sources: Deng, Bulls on verge of deal
•
Hawks sign ex-Magic G Evans to contract
•
Sources: Okafor, Cats agree on new deal
•
Nets lose Krstic to Moscow team
•
Clippers sign swingman Davis from Heat
•
Vujacic officially signs multiyear deal with Lakers
•
Agent: Brown, Pistons agree to deal
•
Warriors re-sign Biedrins to 6-year, $62M deal
•
Sources: Biedrins, Warriors agree to 6-year deal
•
Wolves agree to deal with Gomes
•
Lakers, Vujacic agree to 3-year, $15 million deal
•
Ellis inks $67 million deal to stay with Warriors
•
Summer star Roberson signs with Knicks
•
Andersen bolts Hornets to return to Denver
•
Telfair re-signs with Timberwolves
•
Childress leaves NBA for Greece
•
Spurs re-sign Kurt Thomas
•
Suns sign ex-Warrior Barnes to one-year deal
•
Turiaf to play for Warriors
•
Jazz, Williams agree to 4-year extension
•
Sources: Clippers, Azubuike agree to offer sheet
•
Bucks add veterans Allen, Lue
•
Posey agrees to 4-year deal with Hornets
•
Arenas signs six-year deal with Wiz
•
Mason's hard work pays off in contract with Spurs
•
Wright re-signs with Mavericks
•
Clippers officially sign Davis to multiyear contract
•
Family ties: Brent is 3rd Barry to play for Rockets
•
Warriors ink forward Maggette to deal
•
Magic sign, introduce ex-Warrior Pietrus
•
Nets agree to terms with forwards Najera, Hayes
•
Sixers give frontline big boost, sign Brand to deal
•
Agent: Bucks to sign Bogut to $60M extension
•
Diop rejoins Mavs on 5-year, $31M contract
•
Gasol in Memphis: Marc, not Pau, signs contract
•
Kings re-sign point guard Udrih to five-year deal
•
Heat sign 3-point specialist Jones to 5-year deal
•
Sources say Brand will sign with 76ers
•
Sources: NBA cap at $58.68 million
•
Sources: 76ers confident of getting Brand
•
Sixers making run at Brand
•
Hawks free agent Smith visits 76ers
•
Brand opts out, and Clippers await decision
•
Calderon reaches agreement on new Raps deal
•
Wizards hang on to Jamison
•
Reports: Arenas agrees to six-year contract
•
For 2nd year in row, Cats, Okafor to discuss deal
•
Artest not opting out of final year of deal
•
Paul agrees on four-year, $68M deal
•
Davis leaving Warriors for Clippers
•
Free Agents:
2008
|
2009 and 2010
Analysis
•
Hollinger: Hornets pay heavily for Posey's ring
•
Martin: Najera's 3-point skills help seal Nets deal
•
Stein: Which teams in hot pursuit of free agents?
•
Adande: Why Brand left the Clippers
•
Broussard: Crushing blow for Clippers
•
Arnovitz: Clipper Nation in world of hurt
•
Adande: Brand's departure is business as usual
•
Hollinger: Brand new Sixers are East challengers
•
Hollinger: Five big questions on free agents
•
Stein: Davis verbally agrees to go to Clippers
•
Broussard: The Clippers' other free agent
•
TrueHoop: What is Corey Maggette Worth?
Podcast
•
Stein on Elton Brand and Baron Davis
•
Hollinger on players who may switch teams
•
Broussard on the money given to Arenas
•
Sheridan on Brand, Davis, Artest and Smith
Video
•
Bucher on how the Brand deal got done
•
Bucher on the latest NBA news
•
Arenas agrees to six-year extension