Commentary
New college class: Advanced stats
Advanced stats not just for NBA anymore
Updated:
March 15, 2010, 2:41 PM ET
By
John Hollinger
| ESPN.com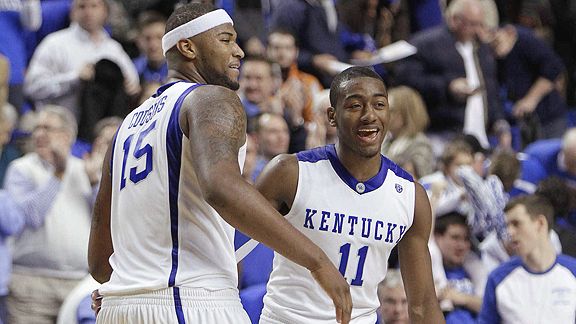 Lexington Herald-Leader/Zuma Press/Icon SMIHow good have UK's DeMarcus Cousins and John Wall been this year? Check out Hollinger's new stats.
• Click here for Hollinger's college leaders
We've been running advanced player stats for NBA players on ESPN.com for a few years now, and a lot of people have asked me when we would start doing it for college. Well, the wait is over. We're introducing advanced stats for all NCAA players in games against Division I opponents. These measures include PER, rebound rate, assist ratio, and turnover ratio.
For those of you unfamiliar with PER, it stands for player efficiency rating. This is the catch-all metric I developed to sum up what you see in the box score -- a method I developed to provide apples-to-apples comparisons of NBA players who are playing under different circumstances.
It doesn't see everything because not everything is counted -- for instance, the box score doesn't have good defensive stats besides blocks and steals. But it's adjusted for the pace of the game and calculated on a per-minute basis, so it's a great way to get a statistical snapshot of a player's efficiency and effectiveness. Given the vast differences in environments between different NCAA teams, it's particularly useful for comparing somebody walking it up in 44-42 games at Air Force with another who runs and guns at Providence.
One thing you'll notice immediately is that it doesn't adjust for the competition -- several of the players near the top of the leaderboard are from smaller conferences, and presumably they'd drop a few rungs if they were playing in a tough conference like the SEC. On the other hand, last year's PER leader, Stephen Curry of tiny Davidson, seems to be getting along just fine at the next level.
The other numbers measure performance in individual categories. Rebound rate and its offspring, offensive rebound rate and defensive rebound rate, are simply the percentage of available rebounds that a player snares. This allows easy comparison between players on different teams and in different conferences, especially since it's pace-adjusted.
The other three columns (assist ratio, turnover ratio and usage rate) provide details on a player's offensive game. Assist ratio and turnover ratio are the percentage of possessions that a player uses which result in assists and turnovers, respectively, while usage rate is how many possessions a player uses in a typical 40-minute game -- an average number is in the high teens.
We'll look to add to our toolbox in the future. For now, we present these key metrics for evaluating college basketball players as you enjoy March Madness.
• Click here for Hollinger's college leaders


ESPN Insider John Hollinger
• Twitter @johnhollinger | ESPN.com | TrueHoop | Email | Stats
• Follow ESPN's NBA coverage on Twitter | On Facebook | On Google+
EDITORS' PICKS
Without KD, the Thunder have had trouble winning on the road. Against the Suns, things changed.
Royce Young »

Marred by injuries, the Rockets continue to find ways to win. Having James Harden doesn't hurt, either.
Watkins »

Who could land Justise Winslow and Jahlil Okafor? Try our lotto mock draft.
Play »

MOST SENT STORIES ON ESPN.COM