Commentary
PER Diem: Feb. 3, 2009
How will injuries to Chris Paul, Deron Williams, Jameer Nelson and Andrew Bynum affect their teams' playoff chances?
Updated:
February 3, 2009, 4:48 PM ET
By
John Hollinger
| ESPN.com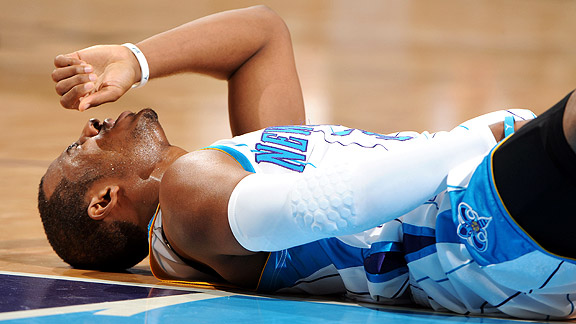 Andrew D. Bernstein/NBAE/Getty ImagesThe injury bug was not kind on Monday as Chris Paul went down with a strained groin.

Injuries are the NBA's Great Equalizer, and the Equalizer struck with unusual fury on Monday -- Andrew Bynum, Jameer Nelson, Chris Paul and Deron Williams all made the medical report, radically altering their teams' chances.
The question is, by how much? As most of you know, I have a tool that calculates the odds of each team making the playoffs and projects a possible final record for them. And as long as a team has more or less the same key players playing that whole time, it works out very well.
Daily Gems
Here are John Hollinger's top five NBA observations for Tuesday. Insider

Injuries could impact All-Star Game
Watch out for Lakers C Chris Mihm
Can Magic survive Nelson injury?
Gerald Wallace's awful replacement
Overlooked fact in Kobe's big game
But if you subtract Bynum from the Lakers, Nelson from the Magic, Paul from the Hornets and Williams from the Jazz … well, that's going to shift those odds dramatically.
Bynum had an MRI in New York on Monday, and the Lakers announced he'll miss 8-12 weeks with a torn right MCL.
Nelson suffered a torn labrum in his dislocated right shoulder in Monday night's loss to Dallas and could be out for several weeks, with the exact length to be determined during the next week when a course of treatment is decided upon.
Paul injured his groin in the third quarter of Monday night's loss to Portland. While the team is calling it a strain and is maintaining optimism that he can return quickly, groin injuries are notorious for taking obnoxiously long to heal, and players who return too quickly have a habit of reinjuring them.
The least serious of the four appears to be Williams, who sat out Monday night with a bruised quadriceps after scoring 35 points in Portland on Saturday. But even he is a bit of a worry for Utah -- quad bruises can be nagging.
The impact for all four teams is pretty serious, and in each case what the Playoff Odds are reporting needs to be revised downwards, because those odds are based on the teams playing as they did before the injuries.
Bynum's loss probably has the greatest impact on the championship race, but the least on the Playoff Odds. L.A. is virtually assured of being the top seed in the West even without Bynum, so the real question is whether he can make it back for the playoffs and, if so, what kind of shape he'll be in. L.A. can certainly win frequently even without the behemoth big man, as it showed Monday night, but it's harder for them to get out of the West -- let alone challenge Boston or Cleveland in the Finals -- if Bynum isn't there.
In the case of the Magic, Nelson' injury probably relegates them to the No. 3 seed in the East. Monday night's loss to Dallas already pushed Orlando two wins behind the Cavs and Celtics in the East, and it seems unlikely they'll make up ground with the very shaky Anthony Johnson (PER 9.08) taking over for Nelson (20.98).
As a result, Orlando's projection of 63 wins and a tie with Cleveland for second in the East seems dubious. Instead, the Magic will be hard-pressed to get to 60. Of course, the much larger question is whether Nelson can be back by the postseason.
At least the Magic have done enough work to guarantee themselves a high playoff seed. The same can't be said of the Hornets. Losing Paul for any length of time would put their playoff hopes in peril; although New Orleans has a five-game lead in the loss column on Utah, the team will have a hard time scratching out many victories minus the league's second-ranked player in PER -- as witnessed when Portland outscored the Hornets 38-15 while Paul sat out the fourth quarter Monday night.
New Orleans currently projects to finish with 50 wins, but to get there they'll need a 22-15 finish. But if Paul's injury lingers and he is hobbled for longer than expected, they'll struggle to win half their remaining games, which would put them in the mix with Utah, Dallas and Phoenix to be the one Western contender to miss the playoffs.
And I know I sound like a broken record, Hornets fans, but once again the decision to use the midlevel on Posey is rearing its head. New Orleans essentially ignored the backup point guard and backup center spots to sign Posey, and now its starters at both positions are out of the lineup. Meanwhile, Posey has one bucket in the past three games.
Of course, the Hornets still may make the postseason if the Jazz can't put together a healthy roster. Utah's projection depends on whether any of its walking wounded will be coming back. The Jazz are without Williams, Andrei Kirilenko and Carlos Boozer right now, and it's possible none will be back until after the All-Star break. If so, they may have trouble just maintaining their current 44-win pace projected by the Playoff Odds … unless they roar to the finish with an intact lineup after the break.
John Hollinger writes for ESPN Insider. To e-mail him, click here.
EDITORS' PICKS
Follow the action

Leonard nets 22

Russ being Russ

MOST SENT STORIES ON ESPN.COM