Commentary
PER Diem: Feb. 17, 2009
The Suns are going back to their old style, but how long will it take them to click?
Updated:
February 17, 2009, 4:09 PM ET
By
John Hollinger
| ESPN.com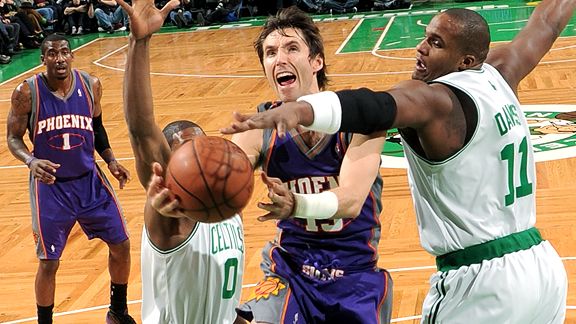 Brian Babineau/NBAE/Getty ImagesIf Steve Nash and Co. want to make the playoffs, they had better turn things around fast.
PHOENIX -- It was a big, newsy weekend for the Suns. Between the All-Star Game, the firing of coach Terry Porter, and the will-they-or-won't-they drama of trading Amare Stoudemire, Phoenix has been dominating the headlines. The team is generating so much news that the one-game suspension of guard Jason Richardson barely registered here (Richardson was arrested over the weekend for reportedly driving 55 mph over the speed limit with his child unrestrained in the back seat).
While Richardson might have been a bit too enthusiastic about adopting the team's new up-tempo style, the other Suns are on board and ready to roll. But now that the games are about to start, let's ask another question: How long will it take for the Suns to click?
Daily Gems
Here are John Hollinger's top five NBA observations for Tuesday. Insider

Teams taking financial hits
Celtics dump Cassell on Kings
Pistons make big move
Nets-Rockets talking trade?
One final thought on the Suns
This isn't as easy as flipping a switch. The Suns played a certain style for 51 games, and they now are trying to change gears and play a different way after only one practice.
"It's going to take time," Steve Nash said at Monday's practice. "We have to get in shape, we have to get the mentality back, we have to get some cohesion."
And while Nash and Stoudemire should have no problem re-adopting a system in which they played for four seasons, the same isn't true of most of the roster. Leandro Barbosa is the only other Sun with extensive experience in the Suns' Mike D'Antoni-era offense, with Grant Hill and Shaquille O'Neal having spent only a brief time under D'Antoni and every other player arriving after D'Antoni left.
Nash said Sunday's practice felt like one of D'Antoni's, and interim coach Alvin Gentry confirmed that the Suns used a five-second clock in the backcourt during practice, an old D'Antoni staple. But one of the other staples, a 14-second shot clock, won't be implemented for a little bit -- Gentry said his team isn't quite ready for that yet.
And it's not as easy as having everyone speed up and down the floor, either.
"It's a very fine line," Nash said of the Suns' creative disorder under D'Antoni. "It's something that looked like chaos, but there are some rules and some reminders."
Of course, Gentry has a very good resource on speed dial. He said he and D'Antoni talk at least once a week and that the two caught up Sunday night after Gentry found out he'd be replacing Porter. While Gentry wouldn't reveal the content of the conversation, I'm guessing they weren't discussing the stimulus package.
But the Suns don't have forever to pick up where they left off at the end of last season. They have only 31 games left in the season and are a game out of the West's final playoff spot heading into the second half; given that the team they trail (Utah) is getting two key players back in the coming days, the Suns have their work cut out for them.
So while the players -- and fans -- greet the Suns' renewed focus on the old style with considerable excitement, there also is the issue of managing expectations. Things might not click right away, which is why it's probably a good thing that the first three games of the Gentry era are against teams that are 13-40. The hope, at this point, is that the Suns click soon enough to salvage the season.
John Hollinger writes for ESPN Insider. To e-mail him, click here.
SPONSORED HEADLINES
MORE NBA HEADLINES
MOST SENT STORIES ON ESPN.COM
EDITORS' PICKS
Derrick Rose's jumper late in overtime snapped Golden State's run of 19 straight home wins.
The Ten

Memphis appears primed for something special.
Kevin Arnovitz »

Who gets snubbed? Marc Stein picks his All-Star reserves.
Stein »