Commentary
PER Diem: Mar. 4, 2009
The Bobcats in the playoffs? With Brown at the helm, the odds are in Charlotte's favor
Updated:
March 4, 2009, 3:22 PM ET
By
John Hollinger
| ESPN.com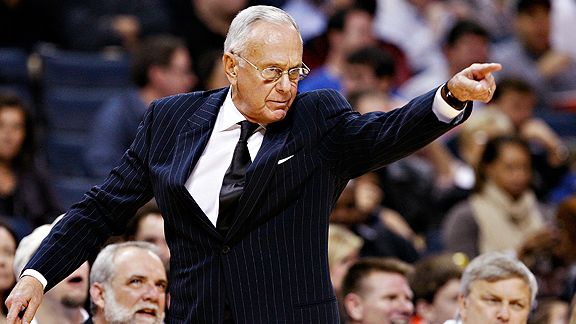 Streeter Lecka/Getty ImagesCan Larry Brown direct his sixth different team to the playoffs in his first season there?
Let's talk about the Bobcats.
No, really. Let's.
Specifically, let's talk about the idea of the Bobcats being in the playoffs. Because after their fourth straight win -- a vitally important defeat of Chicago on Tuesday night -- the Cats are within two games of the No. 8 spot in the East.
Charlotte also owns the tiebreaker over the Bulls by virtue of the win, their second over Chicago this season, and the Bobcats will also own the tiebreaker against Indiana and New Jersey if they can prevail in the final two meetings between those teams on March 21 and April 13, respectively.
But the biggest reason to think Charlotte has a shot at the playoffs -- a much greater shot than the 19.8 percent chance today's Playoff Odds suggests -- is the history of the man on the sidelines.
Daily Gems
Here are John Hollinger's top five NBA observations for Wednesday. Insider

A lot riding on Utah-Houston game
A lack of progress from the foul line
Gooden a good fit in San Antonio
Swift another weapon for Suns
The Pacers have Portland's number
Look at Larry Brown in his first year at a new stop and you'll notice one incredibly strong trend: His teams stutter and stammer for half the season, and then get scorching hot in the final two months:
• In Detroit, his first team started 34-24, then finished 20-4 and won the NBA title.
• In Philadelphia, his first team started 15-33, finished 16-18 and was in the playoffs a season later.
• With the Clippers, he took over a 22-25 team at midseason, finished 25-13 and nearly shocked Utah in the first round of the playoffs.
• In Indiana, his first Pacers team started 16-23, finished 31-12 and went to the Eastern Conference finals.
• In New Jersey, his first Nets team also started 16-23, then finished 28-15 to make the playoffs.
The only two stops where Brown didn't show this tendency were his debacle in New York, and a 21-61 season in San Antonio where half his team was hurt. (Of course, it's also a statement about Brown's career that we have such a large sample of "first seasons in a new town" to work with, but let's put that aside for now.)
Otherwise, his imprint is clear. Brown spends half the season breaking his team down and building it back up again, positioning them to make a charge down the stretch. So it should surprise nobody that the Bobcats, after beginning the season 11-22, are 15-13 in their past 28 games.
Clearly, this is the start of Charlotte's big charge. The Bobcats are now a very different team from the start of the year. Jason Richardson and Matt Carroll are gone, Sean May might as well be, and the team has rifled through an amazing 23 players searching for seven or eight who can play.
But now they've found them. They have a healthy, compact rotation of Raymond Felton and Raja Bell at the guards with D.J. Augustin in reserve, Gerald Wallace and Boris Diaw at forward with Vladimir Radmanovic backing them up, and Emeka Okafor in the middle with DeSagana Diop backing up. Juwan Howard and Cartier Martin get cameos as situations require, but otherwise that's his eight-man unit.
You'll notice what a difference that is from the start of the year -- when Diaw, Bell, Radmanovic, Diop, Howard and Martin weren't on the team, and Felton was seeing heavy-duty time at shooting guard, and nobody was really sure who would play power forward on any given night.
And looking ahead, it's easy to be optimistic about Charlotte's hopes of emerging at the top of the five-team pack chasing the East's last playoff spot. Tuesday's win over Chicago was enormous, both for the tiebreaker and to close the gap with Chicago to one game, and it may come down to these two teams' meeting on April 11 to decide which one gets the last spot.
The other clubs in the mix each have obvious flaws. Milwaukee and Indiana are MASH units right now, so it's hard to imagine either club keeping pace down the stretch. New Jersey helped the Bobcats immensely by beating the Bucks in Brewtown on Tuesday night. The Nets still lead Charlotte by a game and a half, but they have a fearsome closing schedule that includes a five-game West Coast trip and six remaining games against the East's power trio of Boston, Cleveland and Orlando.
Meanwhile, the schedule isn't as harsh on the Bobcats down the stretch. Yes, they close with four straight on the road, but the last of those should be a gimme -- a season finale in Orlando with the Magic presumably locked into the No. 3 seed and resting their starters. Nine of the 17 games between now and that final road trip are in Charlotte, and of those 17 only two -- road games in San Antonio and Boston -- seem unwinnable.
Yes, plenty of obstacles remain. The Bobcats still have to hurdle four teams in five weeks, and they don't have the depth to withstand a major injury if one hits, especially if Okafor were to be sidelined.
But I've seen this movie before, and I'm pretty sure what the ending looks like. The Playoff Odds tool doesn't know of Larry Brown's history with teams in his first season, but if it did the Bobcats' odds of making the postseason would come in at much, much higher than 19.8 percent.
John Hollinger writes for ESPN Insider. To e-mail him, click here.
EDITORS' PICKS
Stuck in the bottom of the West, the skidding Nuggets have fired Brian Shaw.
Story »

February return

Which rosters are best equipped from now until June?
Elhassan

MOST SENT STORIES ON ESPN.COM