Commentary
PER Diem: Dec. 12, 2008
So why can't we just give Cleveland the NBA crown right now? Well, because the C's and Lakers have something to say about it.
Updated:
December 12, 2008, 3:10 PM ET
By
John Hollinger
| ESPN.com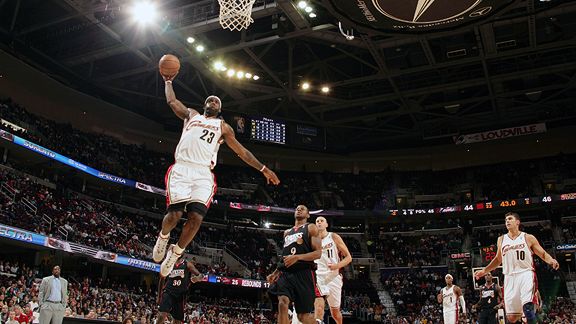 David Liam Kyle/NBAE/Getty ImagesLeBron James is leading the high-flying Cavs to one of the best offensive and defensive seasons ever.

Dear John: Even if those computers in Bristol run each game of the season 5,000 times, giving the LeBron's a 50 percent chance of winning the Finals is absurd. I'm an unbiased basketball fan, but there is no way the odds could possibly be that disproportional between the Celtics and Cavaliers. -- Mike

Daily Gems

John Hollinger answers five more mailbag questions heading into Friday's action. Insider

• How is Derrick Rose's PER not higher?
• Mavs ahead of Magic in Playoff Odds?
• Melo isn't an All-Star? How is that possible?
• Do Suns have a roster-coach mismatch?
• Smart move to trade Carlos Boozer?

Several letters along the lines of this one have filled my mailbag recently, and not all of them have been from crazed Celtics fans. According to Friday's Playoff Odds, the Cavs have a 54.5 percent chance of winning the NBA title, compared to just 23.5 percent for the defending champion Celtics.
In their mostly forgettable 38-year history, the Cavs have never won a game in the Finals, and even last season, they were a pretty average team. As a result, fans have had trouble getting their arms around the idea that Cleveland suddenly could be an unstoppable juggernaut.
So picture me grabbing you by the shoulders and shaking you while I say, "Cleveland suddenly is an unstoppable juggernaut."
The standings don't make this completely clear, because Boston is still a game ahead of Cleveland and beat the Cavs by five on opening day. In fact, the Celtics are working on a pretty impressive season of their own that could see them match last season's win total (66).
Based on that, you'd think the Playoff Odds would project Boston to repeat as champion. And if this were last season, they would.
But there's a teeny little problem: Out of the blue, the Cavs are having a season for the ages. Cleveland's plus-13.4 average victory margin this season, if it holds up, would be the best of all time in the league. And here's a scary thought -- it could get better. The Cavs still have 10 games left against the six bottom-feeders in the West.
At the moment, Boston is the only thing preventing the Cavs from another awesome accomplishment -- becoming the second team in history to lead the league in both offensive efficiency and defensive efficiency in the same season. Only the legendary 1995-96 Bulls managed that feat, but Cleveland is mighty close.
Thanks to recent acquisitions like Mo Williams, Delonte West and Wally Szczerbiak, LeBron James suddenly is surrounded by deadly midrange shooters. As a result, Cleveland leads the league with an offensive efficiency mark of 112.0, well ahead of second-place Portland's 110.2 -- an impressive turnaround for a unit that was below the league average last season.
But the Cavs have done it without sacrificing D -- even though Williams was about as apathetic a defender as you'll ever see last season in Milwaukee. The Cavs' 96.8 defensive efficiency mark is well ahead of that of every other team in the league … except one. That one would be Boston -- with a 95.4 defensive efficiency mark -- which cemented its grip on the top spot in Thursday's 122-88 rout of Washington.
With such impressive results so far, it's no wonder the Playoff Odds like the Cavs so much. The amazing part isn't that they come out favored over Boston; it's that the Lakers and the Celtics are themselves so strong that in half the scenarios, Cleveland fails to win the title. In almost any other season, we'd already be planning the parade route.
John Hollinger writes for ESPN Insider. To e-mail him, click here.
Hollinger's PER Diem

Want a deeper look into all of the latest NBA action? Check out John Hollinger's new daily column -- full of analysis, observations and more -- every Monday through Friday.



Jan. 13, 2009
•
PER Diem: Lakers-Rockets injury battle
•
Insider: OKC's problems
Jan. 12, 2009
•
PER Diem: Magic join top ranks
•
Insider: Portland travel problems
Jan. 9, 2009
•
PER Diem: Billups stealing the spotlight
•
Insider: A can't miss game
Jan. 8, 2009
•
PER Diem: Sixers young spark
•
Insider: Wolves continue to sizzle
Jan. 7, 2009
•
PER Diem: Boston's bench problem
•
Insider: Miles won't wait too long
Jan. 6, 2009
•
PER Diem: Nuggets under luxury-tax line
•
Insider: Tense few days for some teams
Jan. 5, 2009
•
PER Diem: Bucks, Pistons Ranking debate
•
Insider: T-Mac's blatant mail-in job
Dec. 31, 2008
•
PER Diem: Spurs' playoff forecast
•
Insider: Calderon's free-throw feat?
Dec. 30, 2008
•
PER Diem: The Year of the Great Divide
•
Insider: Rip with a new role?
Dec. 29, 2008
•
PER Diem: Battle for top spot
•
Insider: Portland's top offense
Dec. 24, 2008
•
PER Diem: The Good Bynum
•
Insider: Passing of torch
Dec. 23, 2008
•
PER Diem: Magic near top crust
•
Insider: O.J. making run at Rose
Dec. 22, 2008
•
PER Diem: Tough Sunday for Pistons
•
Insider: Crisis mode for Raptors
Dec. 19, 2008
•
PER Diem: Orlando's lack of credit on D
•
Insider: A big story up north
Archive
December
1
|
2
|
3
|
4
|
5
|
8
|
9
|
10
|
11
|
12
|
15
|
16
|
17
18
November
3
|
4
|
5
|
6
|
7
|
10
|
11
|
12
|
13
|
14
|
17
|
18
|
19
|
20
|
21
|
24
|
25
|
26
October
28
|
29
|
30
|
31

MOST SENT STORIES ON ESPN.COM