Commentary
PER Diem: Dec. 15, 2008
The age old question: To foul or not to foul in the closing seconds if your team is up by three points?
Updated:
December 15, 2008, 2:31 PM ET
By
John Hollinger
| ESPN.com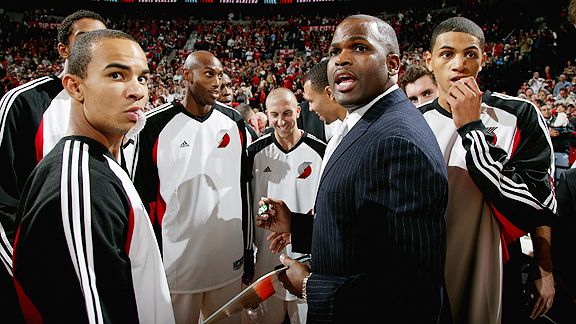 Sam Forencich/NBAE/Getty ImagesYou won't find Nate McMillan telling his team to foul with a three-point lead in the final seconds.
If you want to start a fight, a good way to go about it would be to get together a group of analysts and coaches and start talking about what to do when a team is down by three points in the final seconds and has the ball.
Daily Gems
Here are John Hollinger's top five NBA observations for Monday. Insider



• Kapono's ridiculous 3-point numbers
• Embarrassing NBA All-Star balloting
• Disabled Player Exception for the Knicks?
• The puzzling question for the Clippers
• Race for the gutter in the East

The debate over whether to foul in this situation is a long-running one, and people on both sides of the fence seem to have little hope of convincing those on the other side of their position.
It's an incredibly relevant debate, too, as the situation crops up with great frequency. For instance, on Friday night, Portland was clinging to a 3-point edge in the final seconds against the Clippers, with Baron Davis dribbling at the top of the key -- a clear situation to foul.
But Portland coach Nate McMillan opted not to foul, Davis sank a fadeaway 3-pointer over Rudy Fernandez, and the Blazers went on to lose 120-112 in double overtime.
I talked to McMillan about the decision afterward, and he said he didn't believe in fouling in that situation. Among other things, he pointed out that the only way you can lose is by fouling, because the player can get a four-point play.
This is the essence of being a coach -- the big worry is "What Can Go Wrong," because "What Can Go Wrong" is also "What Gets You Fired." If Davis makes a great shot, then he'll get the credit. But if Fernandez had mistimed the foul and Davis made three foul shots to tie the game, then McMillan would be the one getting the blame. This is why the majority of coaches don't foul in this situation (although a few will).
So it's the right survival strategy (especially the way coaches are dropping like flies these days) … but is it the right winning strategy?
The answer is: It depends.
On lots and lots of factors, not least of which is how clever the protagonists are on each side of the ball. A smart offensive player who knows you're going to foul can take advantage of the situation by timing his shot for the foul; on the other hand, a smart defensive player can wait until the opponent has just started a dribbling motion and then take one for the team. With the veteran Davis working against the rookie Fernandez, one can see how the Blazers might have been skittish.
It also depends on how well each team rebounds -- sending an opponent to the line with the clock nearly expired, their strategy will be to miss the second shot intentionally. In this case Portland would have been in pretty good shape, with Joel Przybilla and Greg Oden, two of the league's best defensive rebounders, on the court.
Ultimately, I wonder if the best strategy might be to mix it up -- to give the foul sometimes and not give it other times, so the opponent never quite knows if it's coming or not and won't be looking to time his shot for the foul. Of course, coaches probably want to be more consistent than that with what they tell their team. Otherwise, maybe that's what gets them fired.
John Hollinger writes for ESPN Insider. To e-mail him, click here.
SPONSORED HEADLINES
MORE NBA HEADLINES
MOST SENT STORIES ON ESPN.COM
Hollinger's PER Diem

Want a deeper look into all of the latest NBA action? Check out John Hollinger's new daily column -- full of analysis, observations and more -- every Monday through Friday.



Jan. 13, 2009
•
PER Diem: Lakers-Rockets injury battle
•
Insider: OKC's problems
Jan. 12, 2009
•
PER Diem: Magic join top ranks
•
Insider: Portland travel problems
Jan. 9, 2009
•
PER Diem: Billups stealing the spotlight
•
Insider: A can't miss game
Jan. 8, 2009
•
PER Diem: Sixers young spark
•
Insider: Wolves continue to sizzle
Jan. 7, 2009
•
PER Diem: Boston's bench problem
•
Insider: Miles won't wait too long
Jan. 6, 2009
•
PER Diem: Nuggets under luxury-tax line
•
Insider: Tense few days for some teams
Jan. 5, 2009
•
PER Diem: Bucks, Pistons Ranking debate
•
Insider: T-Mac's blatant mail-in job
Dec. 31, 2008
•
PER Diem: Spurs' playoff forecast
•
Insider: Calderon's free-throw feat?
Dec. 30, 2008
•
PER Diem: The Year of the Great Divide
•
Insider: Rip with a new role?
Dec. 29, 2008
•
PER Diem: Battle for top spot
•
Insider: Portland's top offense
Dec. 24, 2008
•
PER Diem: The Good Bynum
•
Insider: Passing of torch
Dec. 23, 2008
•
PER Diem: Magic near top crust
•
Insider: O.J. making run at Rose
Dec. 22, 2008
•
PER Diem: Tough Sunday for Pistons
•
Insider: Crisis mode for Raptors
Dec. 19, 2008
•
PER Diem: Orlando's lack of credit on D
•
Insider: A big story up north
Archive
December
1
|
2
|
3
|
4
|
5
|
8
|
9
|
10
|
11
|
12
|
15
|
16
|
17
18
November
3
|
4
|
5
|
6
|
7
|
10
|
11
|
12
|
13
|
14
|
17
|
18
|
19
|
20
|
21
|
24
|
25
|
26
October
28
|
29
|
30
|
31
FANMATS Los Angeles Clippers Court Runner Shop »