Commentary
PER Diem: Jan. 8, 2009
The disparity between the production of rookie Marreese Speights' and that of the Sixers' other three bigs is absolutely glaring.
Updated:
January 8, 2009, 3:23 PM ET
By
John Hollinger
| ESPN.com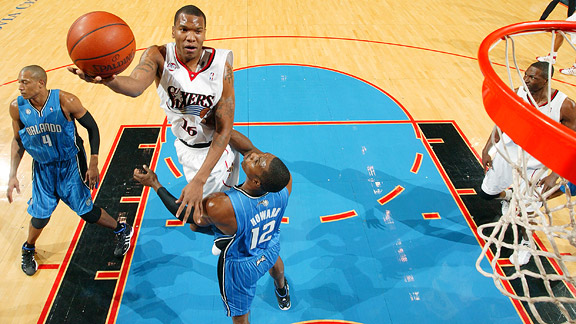 Jesse D. Garrabrant/NBAE/Getty ImagesMarreese Speights has played like a season veteran and not like the rookie he is.
For at least one night, we saw what the Sixers might look like if they were to make jump shots consistently. Philadelphia shot 8-for-15 on 3-pointers to score a much-needed 110-105 win in Milwaukee on Wednesday, and the difference came on the same day that coach Tony DiLeo implored the team to stop passing up open 3s.
Daily Gems
Here are John Hollinger's top five NBA observations for Thursday. Insider

Thunder get a gem in Nuggets trade
Two bizarre trades on Wednesday
Danny Granger for Team USA
Wolves continue sizzling win streak
Rockets better with T-Mac's new schedule
The Sixers came into the game ranked last in 3-point percentage and are still tied with Washington in the bottom spot at 30.3 percent. They also were last in made 3s at 123, averaging fewer than four shots made a game heading into Wednesday.
Although the Sixers' 15 attempts were only one more than their regular-season average, they didn't pass up any 3s they shouldn't have, a behavior that in particular had drawn DiLeo's ire. And on Wednesday, their 3s were quality, not contested hoists at the end of the shot clock (or contested heaves by Lou Williams anywhere in the shot clock).
The game-clinching play was a rare event. Andre Miller faced up Michael Redd and took a contested 3 with 28 seconds left and hit net, putting the Sixers up 107-103. It was his second triple of the game -- marking the first time he'd hit two in the same game since Nov. 14, 2006. Last season he made only three triples the entire season.
One other positive for the Sixers was the play of Marreese Speights in crunch time. Speights played much of the fourth quarter and finished with eight points, four boards and a block in 14 minutes, leaving me scratching my head again as to why he sat most of the game while Theo Ratliff and Reggie Evans took turns in the middle ahead of him. (I'm told Samuel Dalembert played as well, but I had difficulty proving this.)
Speights leads all rookies in PER by a wide margin, and although that might overstate his contribution a bit (the dude still needs some work on his help-side D), the production disparity between him and the Sixers' other three bigs is absolutely glaring. Speights averages 21 points per 40 minutes, more than double what the other three average, and his PER is nearly double theirs.
Sixers' bigs
| Player | Min/game | Pts/40 | Reb/40 | FG% | PER |
| --- | --- | --- | --- | --- | --- |
| Marreese Speights | 15.0 | 21.0 | 10.1 | 51.5 | 20.54 |
| Samuel Dalembert | 24.4 | 9.3 | 13.3 | 46.5 | 11.34 |
| Reggie Evans | 11.5 | 7.6 | 13.6 | 42.6 | 9.35 |
| Theo Ratliff | 13.9 | 4.5 | 9.0 | 42.1 | 8.71 |
But somehow, Speights is playing only 15 minutes a game, and his playing time hasn't increased much even while Elton Brand sits out with an injured shoulder.
In the meantime, the Sixers' season is far from hopeless. Philadelphia projects to finish in a tie for eighth in the East at 38-44 according to Thursday's Playoff Odds, and its past three games (a two-point loss at San Antonio, a home win over Houston and a win at underrated Milwaukee) are good omens going forward.
If the Sixers can hit a few more 3s and redistribute playing time in the frontcourt, they very well could end up salvaging something from what so far has been a disappointing campaign.
John Hollinger writes for ESPN Insider. To e-mail him, click here.
SPONSORED HEADLINES
MORE NBA HEADLINES
MOST SENT STORIES ON ESPN.COM
Hollinger's PER Diem

Want a deeper look into all of the latest NBA action? Check out John Hollinger's new daily column -- full of analysis, observations and more -- every Monday through Friday.



Jan. 13, 2009
•
PER Diem: Lakers-Rockets injury battle
•
Insider: OKC's problems
Jan. 12, 2009
•
PER Diem: Magic join top ranks
•
Insider: Portland travel problems
Jan. 9, 2009
•
PER Diem: Billups stealing the spotlight
•
Insider: A can't miss game
Jan. 8, 2009
•
PER Diem: Sixers young spark
•
Insider: Wolves continue to sizzle
Jan. 7, 2009
•
PER Diem: Boston's bench problem
•
Insider: Miles won't wait too long
Jan. 6, 2009
•
PER Diem: Nuggets under luxury-tax line
•
Insider: Tense few days for some teams
Jan. 5, 2009
•
PER Diem: Bucks, Pistons Ranking debate
•
Insider: T-Mac's blatant mail-in job
Dec. 31, 2008
•
PER Diem: Spurs' playoff forecast
•
Insider: Calderon's free-throw feat?
Dec. 30, 2008
•
PER Diem: The Year of the Great Divide
•
Insider: Rip with a new role?
Dec. 29, 2008
•
PER Diem: Battle for top spot
•
Insider: Portland's top offense
Dec. 24, 2008
•
PER Diem: The Good Bynum
•
Insider: Passing of torch
Dec. 23, 2008
•
PER Diem: Magic near top crust
•
Insider: O.J. making run at Rose
Dec. 22, 2008
•
PER Diem: Tough Sunday for Pistons
•
Insider: Crisis mode for Raptors
Dec. 19, 2008
•
PER Diem: Orlando's lack of credit on D
•
Insider: A big story up north
Archive
December
1
|
2
|
3
|
4
|
5
|
8
|
9
|
10
|
11
|
12
|
15
|
16
|
17
18
November
3
|
4
|
5
|
6
|
7
|
10
|
11
|
12
|
13
|
14
|
17
|
18
|
19
|
20
|
21
|
24
|
25
|
26
October
28
|
29
|
30
|
31