Commentary
PER Diem: Dec. 8, 2008
Time's a-wasting for players to make their case for the All-Star Game, John Hollinger writes.
Updated:
December 8, 2008, 1:50 PM ET
By
John Hollinger
| ESPN.com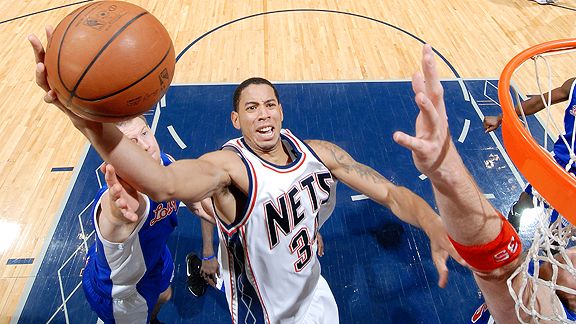 David Dow/NBAE/Getty Image The Nets' Devin Harris is having an All-Star-caliber start to the season with a PER of 27.60.

Every year as the season hits the one-quarter post, one of the questions I start asking myself is who might make the All-Star team from each conference.
Usually at this point there's still an overflow of qualified candidates from both conferences, which makes narrowing the list difficult. This season, unusually, there isn't.
Daily Gems
Here are John Hollinger's top five NBA observations for Monday. Insider



• Marcus Camby's strong start
• Teams in lottery hunt already
• Detroit's Sunday woes continue
• Kwame Brown playing like his old self
• Battle of the rebounding machines

Take the East, for instance, where only 10 players playing heavy minutes entered Sunday's game with a player efficiency rating above 20 -- the typical threshold of All-Star-caliber performance.
Among those 10 is a rising star we wouldn't have expected to be there at the start of the season: point guard Devin Harris of New Jersey, who has a PER of 27.60.
The list also includes some surprising bounce-back veterans. Harris' thought-to-be-declining teammate, Vince Carter (22.80), has regained his old form, while in Cleveland, center Zydrunas Ilgauskas (24.59) is having his best season yet.
Throw in the usual suspects -- center Dwight Howard (28.31), forwards LeBron James (32.64), Kevin Garnett (21.28) and Chris Bosh (24.31) and guard Dwyane Wade (31.82) -- and you have eight of the 12 All-Star roster spots filled.
For the last four spots, there are a lot of contending players who have strong PER ratings. Three front-runners for those spots include Boston's Rajon Rondo and Ray Allen and Atlanta's Joe Johnson. Rondo has a PER of 19.40 and is the league's best defender at his position, Allen (19.44) has been a go-to scorer on the juggernaut with a 20-2 record, and Johnson (19.97) just misses the 20 rating and is the best player on one of the league's most surprising teams.
That leaves us with spot No. 12, where the two best remaining PERs belong to Antawn Jamison (22.56) and Caron Butler (21.81) of Washington -- a team that is just 3-15. The biggest name that hasn't been accounted for belongs to Paul Pierce (16.15), who is scuffling along at just 39.7 percent from the field.
The leader at this moment would have to be Indiana's Danny Granger (18.73). He's off to a strong start and should see his numbers improve now that the Pacers' brutal early schedule is over.
Out West, it's only slightly more complicated.
Five guard spots are basically signed, sealed and delivered for Kobe Bryant (24.99), Chris Paul (31.65), Brandon Roy (22.22), Tony Parker (28.05) and Chauncey Billups (22.09). Three forward spots can be etched in stone for Tim Duncan (26.07), Dirk Nowitzki (23.69) and Amare Stoudemire (22.74). And, of course, Yao Ming (22.87) is expected to be voted in at center again.
That leaves three spots up for grabs, which is interesting because we have taken only one Laker, and I haven't mentioned Deron Williams or Carlos Boozer yet.
In addition, we have a surplus of qualified backup center candidates. L.A. has two in Andrew Bynum (21.49) and Pau Gasol (22.03), but Denver's Nene (20.32), Minnesota's Al Jefferson (22.32) and Golden State's Andris Biedrins (21.05) have all made strong cases with their early play.
Unfortunately for Biedrins and Jefferson, they'll likely face the same obstacle that Jamison and Butler do: Coaches are extremely hesitant to vote for players on teams with losing records unless they put up overwhelming numbers.
So in the end, Gasol and Williams (presuming a return to preinjury form) figure to get two of the final three spots, with Bynum and Boozer slugging it out for the last invitation. If so, that would leave Nene and Dallas' Jason Terry out in the cold although their teams have winning records and they've performed at All-Star levels thus far.
Of course, a lot of water can and will go under the bridge between now and February in terms of hot streaks, slumps and injuries, so the eventual 12-man squads might look very different from those presented above. But if anyone I didn't mention wants to make a case for belonging, time's a-wasting.
John Hollinger writes for ESPN Insider. To e-mail him, click here.
SPONSORED HEADLINES
MORE NBA HEADLINES
MOST SENT STORIES ON ESPN.COM
Hollinger's PER Diem

Want a deeper look into all of the latest NBA action? Check out John Hollinger's new daily column -- full of analysis, observations and more -- every Monday through Friday.



Jan. 13, 2009
•
PER Diem: Lakers-Rockets injury battle
•
Insider: OKC's problems
Jan. 12, 2009
•
PER Diem: Magic join top ranks
•
Insider: Portland travel problems
Jan. 9, 2009
•
PER Diem: Billups stealing the spotlight
•
Insider: A can't miss game
Jan. 8, 2009
•
PER Diem: Sixers young spark
•
Insider: Wolves continue to sizzle
Jan. 7, 2009
•
PER Diem: Boston's bench problem
•
Insider: Miles won't wait too long
Jan. 6, 2009
•
PER Diem: Nuggets under luxury-tax line
•
Insider: Tense few days for some teams
Jan. 5, 2009
•
PER Diem: Bucks, Pistons Ranking debate
•
Insider: T-Mac's blatant mail-in job
Dec. 31, 2008
•
PER Diem: Spurs' playoff forecast
•
Insider: Calderon's free-throw feat?
Dec. 30, 2008
•
PER Diem: The Year of the Great Divide
•
Insider: Rip with a new role?
Dec. 29, 2008
•
PER Diem: Battle for top spot
•
Insider: Portland's top offense
Dec. 24, 2008
•
PER Diem: The Good Bynum
•
Insider: Passing of torch
Dec. 23, 2008
•
PER Diem: Magic near top crust
•
Insider: O.J. making run at Rose
Dec. 22, 2008
•
PER Diem: Tough Sunday for Pistons
•
Insider: Crisis mode for Raptors
Dec. 19, 2008
•
PER Diem: Orlando's lack of credit on D
•
Insider: A big story up north
Archive
December
1
|
2
|
3
|
4
|
5
|
8
|
9
|
10
|
11
|
12
|
15
|
16
|
17
18
November
3
|
4
|
5
|
6
|
7
|
10
|
11
|
12
|
13
|
14
|
17
|
18
|
19
|
20
|
21
|
24
|
25
|
26
October
28
|
29
|
30
|
31