Commentary
PER Diem: Dec. 9, 2008
The Wolves might have a new coach, but is this really a new beginning for the franchise?
Updated:
December 9, 2008, 2:14 PM ET
By
John Hollinger
| ESPN.com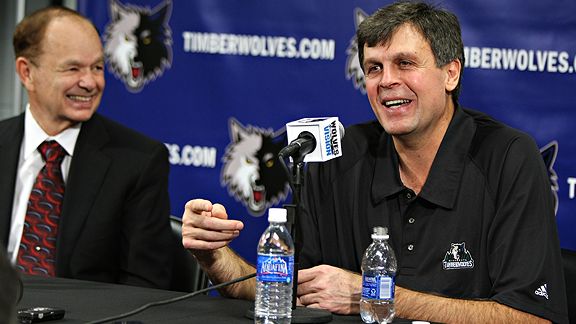 David Sherman/NBAE/Getty ImagesOwner Glen Taylor and Kevin McHale are all smiles, but is it just a matter of time before things turn sour?

Is it a new beginning? A light at the end of the tunnel?
Only time will tell, but Minnesota Timberwolves fans probably are feeling just a wee bit more optimistic this morning after learning that Kevin McHale will take over for Randy Wittman on the sidelines -- and, more importantly, will be excused from his personnel duties while he coaches.
Daily Gems
Here are John Hollinger's top five NBA observations for Tuesday. Insider



• L.A.'s incentive to push at end of season
• What about Ginobili, Nash for All-Star team?
• The "Chris Quinn" play in Miami
• The Pistons' slide in the rankings
• The changes the Spurs, Mavs made

The latter point is the far more relevant one, because it's McHale's decade-long series of gaffes that has put Minnesota in such an untenable position in the first place. Since he drafted Kevin Garnett with the fifth overall pick in 1995 -- an outstanding choice, obviously -- his reign has rivaled that of Isiah Thomas in New York for sheer idiocy. The smaller size of Minnesota's market is the only thing shielding him from a harsher spotlight.
Granted, the optimism should be cautious -- the folks now in charge in the front office are either unknown quantities (Jim Stack, Fred Hoiberg) or, less encouragingly, known quantities (Rob Babcock). Plus, it's likely that McHale still will have owner Glen Taylor's ear, even though there's no logical reason for Taylor to continue listening. In fact, it's Taylor's James Dolan-esque stewardship of the Wolves, including his baffling reluctance to fire McHale, that's the real story here.
Still, one can always hope. The new guys can't possibly draft any worse than McHale did and should do a better job of resisting the urge to re-sign every Minnesota free agent at inflated prices. I'd like this move much better if Taylor had gone out and hired a real GM with a track record, like the Knicks did in importing Donnie Walsh to wash away the stain of the Isiah era, rather than handing off to a committee. However, McHale being stripped of personnel power is the first step in the painful rebuilding process.
As a coach, perhaps he'll be an improvement on Wittman -- one item even McHale's critics concede is that he's a good low-post teacher, which could help Al Jefferson and Kevin Love quite a bit.
Or maybe not. As former Wolves and current Nuggets guard Anthony Carter told the Rocky Mountain News' Chris Tomasson of McHale's first coaching stint in Minnesota (an interim position in 2005), "He was trying to draw plays, and it was like a little Etch A Sketch. Like a kid just messing around."
The cynic in me might think this all is just a brilliant tactic by Taylor to tank for the lottery by hiring the most overmatched coach available, except I don't think he is smart enough to concoct such a ruse. But if Monday's move hastens McHale's eventual departure, all the better for beleaguered Wolves fans. For the first time, one at least gets the sense that the clock is ticking.
John Hollinger writes for ESPN Insider. To e-mail him, click here.
SPONSORED HEADLINES
MORE NBA HEADLINES
MOST SENT STORIES ON ESPN.COM
Hollinger's PER Diem

Want a deeper look into all of the latest NBA action? Check out John Hollinger's new daily column -- full of analysis, observations and more -- every Monday through Friday.



Jan. 13, 2009
•
PER Diem: Lakers-Rockets injury battle
•
Insider: OKC's problems
Jan. 12, 2009
•
PER Diem: Magic join top ranks
•
Insider: Portland travel problems
Jan. 9, 2009
•
PER Diem: Billups stealing the spotlight
•
Insider: A can't miss game
Jan. 8, 2009
•
PER Diem: Sixers young spark
•
Insider: Wolves continue to sizzle
Jan. 7, 2009
•
PER Diem: Boston's bench problem
•
Insider: Miles won't wait too long
Jan. 6, 2009
•
PER Diem: Nuggets under luxury-tax line
•
Insider: Tense few days for some teams
Jan. 5, 2009
•
PER Diem: Bucks, Pistons Ranking debate
•
Insider: T-Mac's blatant mail-in job
Dec. 31, 2008
•
PER Diem: Spurs' playoff forecast
•
Insider: Calderon's free-throw feat?
Dec. 30, 2008
•
PER Diem: The Year of the Great Divide
•
Insider: Rip with a new role?
Dec. 29, 2008
•
PER Diem: Battle for top spot
•
Insider: Portland's top offense
Dec. 24, 2008
•
PER Diem: The Good Bynum
•
Insider: Passing of torch
Dec. 23, 2008
•
PER Diem: Magic near top crust
•
Insider: O.J. making run at Rose
Dec. 22, 2008
•
PER Diem: Tough Sunday for Pistons
•
Insider: Crisis mode for Raptors
Dec. 19, 2008
•
PER Diem: Orlando's lack of credit on D
•
Insider: A big story up north
Archive
December
1
|
2
|
3
|
4
|
5
|
8
|
9
|
10
|
11
|
12
|
15
|
16
|
17
18
November
3
|
4
|
5
|
6
|
7
|
10
|
11
|
12
|
13
|
14
|
17
|
18
|
19
|
20
|
21
|
24
|
25
|
26
October
28
|
29
|
30
|
31