Commentary
PER Diem: Dec. 19, 2008
The Magic's D isn't good; it's great, and deserves higher praise.
Updated:
December 19, 2008, 3:04 PM ET
By
John Hollinger
| ESPN.com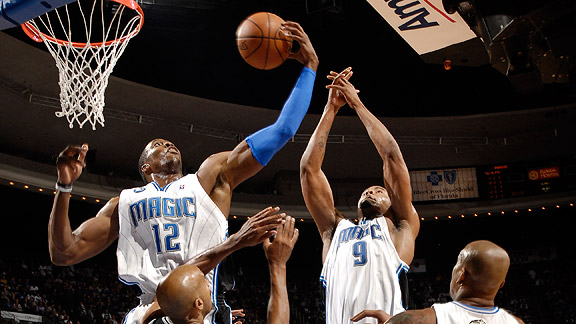 Fernando Medina/Getty ImagesWith Dwight Howard back in the mix, the Magic turned their defensive power on against the Spurs.
Pity me, for on Thursday I decided to watch the early game and then turn in early for some shut-eye. So I saw Orlando pound San Antonio 90-78, and missed seeing Brandon Roy score 52 points (with NO turnovers) on Phoenix.
Daily Gems
Here are John Hollinger's top six NBA observations for Friday. Insider



• A big story up to the north in Toronto
• Interesting night for the Rankings
• Closer look at Thursday's PER Diem
• Can losing Elton Brand help the Sixers?
• Brandon Roy's PER jump
• Houston gets healthy at the right time

Thus, you'll have to pardon me while I discuss the Magic a bit. Orlando won again Thursday, its 20th win in its past 24 games, and has moved up to seventh in the Power Rankings. Yet there still seems to be some confusion as to how the Magic are winning.
The national TV audience heard Orlando described as "getting better" on defense, while the screen flashed up a few numbers that had them ranked between eighth and tenth in the league.
This, again, is where per-possession stats are really illuminating. Orlando plays a relatively fast pace, ranking ninth in pace factor at 95.6, and as a result only ranks ninth in opponent scoring at 94.8.
Those stats make the Magic sound like a nice little team that's somewhat above average on defense.
In reality, they're ferocious.
Orlando is third in the NBA in defensive efficiency at 98.2, more than five points better than the league average. While they've compiled those results against a soft early schedule, Orlando is far enough ahead of the No. 4 Lakers that we can reasonably expect them to maintain this lofty position even as the competition gets more difficult.
We saw a good example of the Magic's defensive power Thursday, when they completely shut San Antonio out of the paint and forced them to shoot jumpers all night (or not shoot them, in Tony Parker's case). With Dwight Howard leading the league in shot-blocking and rebounding and coach Stan Van Gundy getting the most out of the fairly average group of defenders surrounding Howard, the Magic have become an elite defensive squad.
As good as the Cavs and Celtics have been, the Magic's D might not be enough to save them from another second-round elimination. But let's not give them short shrift, either -- their stellar defensive play is worthy of far more praise. The Magic get compliments, but in my opinion, deserve higher praise.
John Hollinger writes for ESPN Insider. To e-mail him, click here.
Hollinger's PER Diem

Want a deeper look into all of the latest NBA action? Check out John Hollinger's new daily column -- full of analysis, observations and more -- every Monday through Friday.



Jan. 13, 2009
•
PER Diem: Lakers-Rockets injury battle
•
Insider: OKC's problems
Jan. 12, 2009
•
PER Diem: Magic join top ranks
•
Insider: Portland travel problems
Jan. 9, 2009
•
PER Diem: Billups stealing the spotlight
•
Insider: A can't miss game
Jan. 8, 2009
•
PER Diem: Sixers young spark
•
Insider: Wolves continue to sizzle
Jan. 7, 2009
•
PER Diem: Boston's bench problem
•
Insider: Miles won't wait too long
Jan. 6, 2009
•
PER Diem: Nuggets under luxury-tax line
•
Insider: Tense few days for some teams
Jan. 5, 2009
•
PER Diem: Bucks, Pistons Ranking debate
•
Insider: T-Mac's blatant mail-in job
Dec. 31, 2008
•
PER Diem: Spurs' playoff forecast
•
Insider: Calderon's free-throw feat?
Dec. 30, 2008
•
PER Diem: The Year of the Great Divide
•
Insider: Rip with a new role?
Dec. 29, 2008
•
PER Diem: Battle for top spot
•
Insider: Portland's top offense
Dec. 24, 2008
•
PER Diem: The Good Bynum
•
Insider: Passing of torch
Dec. 23, 2008
•
PER Diem: Magic near top crust
•
Insider: O.J. making run at Rose
Dec. 22, 2008
•
PER Diem: Tough Sunday for Pistons
•
Insider: Crisis mode for Raptors
Dec. 19, 2008
•
PER Diem: Orlando's lack of credit on D
•
Insider: A big story up north
Archive
December
1
|
2
|
3
|
4
|
5
|
8
|
9
|
10
|
11
|
12
|
15
|
16
|
17
18
November
3
|
4
|
5
|
6
|
7
|
10
|
11
|
12
|
13
|
14
|
17
|
18
|
19
|
20
|
21
|
24
|
25
|
26
October
28
|
29
|
30
|
31