Commentary
PER Diem: Dec. 23, 2008
The Magic are nearing the upper crust of the NBA's top teams.
Updated:
December 23, 2008, 2:26 PM ET
By
John Hollinger
| ESPN.com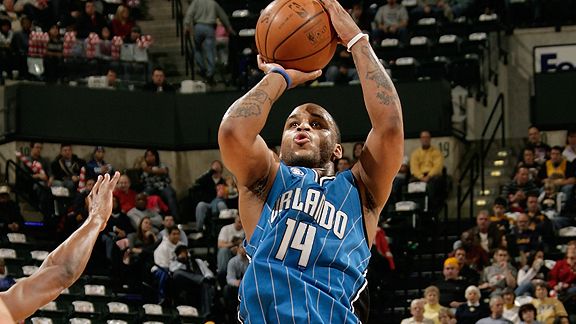 Ron Hoskins/NBAE/Getty ImagesThe All-Star whispers for Orlando's Jameer Nelson have been getting louder after his past few games.
Is it too outlandish to say the top three teams in basketball might all be in the same conference?
Daily Gems
Here are John Hollinger's top five NBA observations for Tuesday. Insider



• O.J. Mayo's unreal start
• An unordinary coaching move
• Denver's hoping for more snow
• The Birdman flying high
• Baron Davis being well, Baron Davis

It's getting less so after watching Orlando dismantle another opponent while the Lakers continue to scuffle along. The Magic stayed within half a game of the Lakers at 22-6, after Monday's 113-81 blowout of Golden State, and they're coming off consecutive wins over the Lakers and Spurs. Orlando also is tied with three other teams for the league lead with 10 road wins.
The Magic are now within less than 0.1 of the Lakers in the current Power Rankings, and finish only one win behind L.A. in today's Playoff Odds, so certainly they have a case.
Looking at the talent on the two rosters, it doesn't seem clear how that could be. But it's high time we reevaluated one perceived weakness for the Magic -- point guard.
Orlando's Jameer Nelson shot 9-for-9 from the field Monday, capping a four-game run where he's averaged 26.3 points while shooting 35-of-64. For the season he's at 53.2 percent from the floor and 43.2 percent on 3-pointers, and his PER of 20.87 makes the All-Star whispers you're starting to hear seem justifiable.
Oddly, Nelson has done this in part by going to the basket much less often. His free throw rate is barely half of what it was a year ago, while he's taking far more midrange jumpers and canning them at a ridiculous rate -- he's 51-for-87 so far (58.6 percent). As with Memphis' O.J. Mayo (see Insider Gems) he's unlikely to keep canning them at quite such a spectacular rate; but even if his numbers drop off a bit, Nelson grades out as one of the league's most improved players, and a huge reason the Magic are threatening to move into the NBA's upper crust.
John Hollinger writes for ESPN Insider. To e-mail him, click here.
Hollinger's PER Diem

Want a deeper look into all of the latest NBA action? Check out John Hollinger's new daily column -- full of analysis, observations and more -- every Monday through Friday.



Jan. 13, 2009
•
PER Diem: Lakers-Rockets injury battle
•
Insider: OKC's problems
Jan. 12, 2009
•
PER Diem: Magic join top ranks
•
Insider: Portland travel problems
Jan. 9, 2009
•
PER Diem: Billups stealing the spotlight
•
Insider: A can't miss game
Jan. 8, 2009
•
PER Diem: Sixers young spark
•
Insider: Wolves continue to sizzle
Jan. 7, 2009
•
PER Diem: Boston's bench problem
•
Insider: Miles won't wait too long
Jan. 6, 2009
•
PER Diem: Nuggets under luxury-tax line
•
Insider: Tense few days for some teams
Jan. 5, 2009
•
PER Diem: Bucks, Pistons Ranking debate
•
Insider: T-Mac's blatant mail-in job
Dec. 31, 2008
•
PER Diem: Spurs' playoff forecast
•
Insider: Calderon's free-throw feat?
Dec. 30, 2008
•
PER Diem: The Year of the Great Divide
•
Insider: Rip with a new role?
Dec. 29, 2008
•
PER Diem: Battle for top spot
•
Insider: Portland's top offense
Dec. 24, 2008
•
PER Diem: The Good Bynum
•
Insider: Passing of torch
Dec. 23, 2008
•
PER Diem: Magic near top crust
•
Insider: O.J. making run at Rose
Dec. 22, 2008
•
PER Diem: Tough Sunday for Pistons
•
Insider: Crisis mode for Raptors
Dec. 19, 2008
•
PER Diem: Orlando's lack of credit on D
•
Insider: A big story up north
Archive
December
1
|
2
|
3
|
4
|
5
|
8
|
9
|
10
|
11
|
12
|
15
|
16
|
17
18
November
3
|
4
|
5
|
6
|
7
|
10
|
11
|
12
|
13
|
14
|
17
|
18
|
19
|
20
|
21
|
24
|
25
|
26
October
28
|
29
|
30
|
31

MOST SENT STORIES ON ESPN.COM