Commentary
PER Diem: Jan. 5, 2009
What the win-loss records for the Bucks and Pistons really mean.
Updated:
January 5, 2009, 1:44 PM ET
By
John Hollinger
| ESPN.com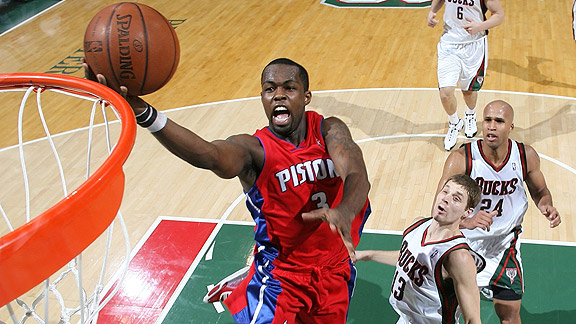 Gary Dineen/NBAE/Getty ImagesIs Detroit's win-loss record ready to take a dive during the coming weeks?
One of the concepts I've been hammering during the past couple seasons has been the idea that a team's win-loss record might not necessarily be a good reflection of how well they're playing. In the Eastern Conference right now, we have two extreme examples of that phenomenon, in Detroit and Milwaukee.
The Pistons own one of the best records in basketball at 21-11 and have won seven straight games. The Bucks are 16-19 and are currently holding down the No. 8 position in the East.
Daily Gems
Here are John Hollinger's top five NBA observations for Monday. Insider



• T-Mac's blatant mail-in job
• Marc Gasol destroys Dallas
• Grizzlies' building blocks
• Lakers don't get top spot
• Kudos to official Zach Zarba

Yet in Monday's Power Rankings, the Bucks are a lofty fifth, while the Pistons are a mere 15th.
Shine a little light on those records and it's easier to comprehend why each team ranks where it does. For starters, Detroit might be riding the worst seven-game win streak in NBA history: The Pistons beat Oklahoma City at the buzzer, held off New Jersey at home after Vince Carter was ejected in the first half and barely squeaked past Sacramento at home. On Sunday the Pistons needed a horrific Al Thornton goaltending call for an 88-97 win against a Clippers team that was missing both Zach Randolph and Baron Davis -- hardly a sign of quality, though at least Detroit finally won a Sunday game (previously they were 0-6 on Sundays this season).
Yes, there have been a couple good wins, including one, ironically, against Milwaukee, but the Rankings aren't bowled over by Detroit's past 10 games against opponents with a combined .422 winning percentage. And the Pistons' full-season numbers (plus-1.0 average scoring margin, .461 opponents' winning percentage) are similarly ho-hum.
Milwaukee, on the other hand, has won only six of its past 10 games. But that stretch includes wins by 15, 24, 34 and 28, a win at San Antonio and a win over Utah. The Bucks have played just 14 home games versus 21 road games, and their opponents have a .522 mark when not playing Milwaukee -- yet the Bucks have a positive scoring margin on the season, and a plus-8.1 margin in the past 10 games.
That Milwaukee is as high as No. 5 is partly a commentary on the league's "Great Divide": There is no "real" No. 5 right now; there's more of an indistinguishable, gelatinous mass between No. 5 and No. 14. But the Bucks are very much a quality team, and as soon as they get some games in their building, that fact should become much more obvious.
So, while it might seem odd to see the Bucks ranked higher than a team it trails by seven games in the standings, it's a better reflection of how the two teams are playing heading into this week. And while the Bucks' next five opponents sport losing records, the Pistons face a Portland-Denver-Utah road swing, so we're likely to see that gap close very quickly.
John Hollinger writes for ESPN Insider. To e-mail him, click here.
Hollinger's PER Diem

Want a deeper look into all of the latest NBA action? Check out John Hollinger's new daily column -- full of analysis, observations and more -- every Monday through Friday.



Jan. 13, 2009
•
PER Diem: Lakers-Rockets injury battle
•
Insider: OKC's problems
Jan. 12, 2009
•
PER Diem: Magic join top ranks
•
Insider: Portland travel problems
Jan. 9, 2009
•
PER Diem: Billups stealing the spotlight
•
Insider: A can't miss game
Jan. 8, 2009
•
PER Diem: Sixers young spark
•
Insider: Wolves continue to sizzle
Jan. 7, 2009
•
PER Diem: Boston's bench problem
•
Insider: Miles won't wait too long
Jan. 6, 2009
•
PER Diem: Nuggets under luxury-tax line
•
Insider: Tense few days for some teams
Jan. 5, 2009
•
PER Diem: Bucks, Pistons Ranking debate
•
Insider: T-Mac's blatant mail-in job
Dec. 31, 2008
•
PER Diem: Spurs' playoff forecast
•
Insider: Calderon's free-throw feat?
Dec. 30, 2008
•
PER Diem: The Year of the Great Divide
•
Insider: Rip with a new role?
Dec. 29, 2008
•
PER Diem: Battle for top spot
•
Insider: Portland's top offense
Dec. 24, 2008
•
PER Diem: The Good Bynum
•
Insider: Passing of torch
Dec. 23, 2008
•
PER Diem: Magic near top crust
•
Insider: O.J. making run at Rose
Dec. 22, 2008
•
PER Diem: Tough Sunday for Pistons
•
Insider: Crisis mode for Raptors
Dec. 19, 2008
•
PER Diem: Orlando's lack of credit on D
•
Insider: A big story up north
Archive
December
1
|
2
|
3
|
4
|
5
|
8
|
9
|
10
|
11
|
12
|
15
|
16
|
17
18
November
3
|
4
|
5
|
6
|
7
|
10
|
11
|
12
|
13
|
14
|
17
|
18
|
19
|
20
|
21
|
24
|
25
|
26
October
28
|
29
|
30
|
31

MOST SENT STORIES ON ESPN.COM