Commentary
More than a pocketful for Posey in this lucrative deal
Originally Published:
July 16, 2008
By
John Hollinger
| ESPN Insider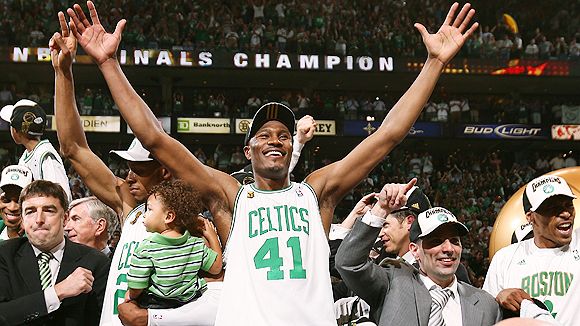 Nathaniel S. Butler/NBAE/Getty ImagesThe shine of playing for the title-winning team pays off for James Posey. But is he worth it?

You knew this was coming -- the inevitable overreaction to a role player on a championship team in free agency. Every year there's one guy whom teams can't stop fawning over, and this year it was James Posey. Sure, he was an integral part of championship teams for both Miami and Boston, but as with a lot of players who win rings it can be hard for us to look at him rationally.
That's why role players on title winners tend to get unusually generous contracts, and Posey appears to be the latest example. The same guy who inked a two-year deal (the second was a player option) for just a portion of the midlevel exception last summer to join the Celtics suddenly finds himself enriched with a four-year, $25 million deal by the Hornets. If that seems excessive for a 31-year-old who hasn't averaged more than 8.1 points per game in any of the past four seasons, it's because it is.
It's true that Posey brings three things to the table: defense, rebounding and 3-point shooting. He's not an all-defense guy, but he's an above-average defender who can play multiple positions, and that's certainly helpful. So are the 3s -- in his past three campaigns he's hit 40.3 percent, 37.5 percent and 38.0 percent from downtown. And he's an underrated defensive rebounder who had the third-best defensive rebound rate among small forwards last season.
But those strengths need to be seen in the context of the bigger picture. The guy has all but abandoned shooting anything besides a 3 -- two-thirds of his shots were triples, the fourth-highest rate in the league and the highest among nonguards -- so despite the 3s, he's a fairly inert offensive player.
And, as I mentioned, he's a 31-year-old who will be handsomely paid 'til age 35. Nobody wanted to pay him this kind of dough when he was 30, and his production wasn't any different last year -- just the result in June.
And since this is so hard for people to remember, I'll say it again: The Hornets aren't paying for what Posey gave the Celtics last year, or what he gave the Heat in 2006, but for what he can potentially give the Hornets from 2008 to 2012. And that production is likely to diminish substantially from its already modest levels.
Comb through the books and try to find perimeter players who played well until 35 -- it's tough. Now try to find some who played well 'til that age after scoring single figures in their 20s. Good luck.
For better insight into Posey's future, let's take a look at what happened to some similar players -- those who rated as statistically similar based on their performance at the same age, played primarily on the wing and were in his league as a defender. The top names on that list are Bryon Russell, Dan Majerle, Jaren Jackson, Rick Fox and Raja Bell.
• Bell is only a year older and declined noticeably last season.
• Majerle declined sharply starting at 30 and had his last useful season at 32.
• Jackson had a quality season at 32 but played 25 games the rest of his career.
• Russell lost it at 31 and never got it back, though he managed to hang around for four more years.
• Fox played reasonably well until 33 and then lost it, hard, and was out of the league by 35.

Swim deeper in the similarity pool and you'll find similar stories from Walter McCarty, Shandon Anderson, Lucious Harris, Doug Christie, Eddie Jones and Aaron McKie.
Yes, you'll find a couple exceptions if you look hard enough, most notably Mario Elie and Bruce Bowen. But the big-picture takeaway is that most players decline sharply between ages 31 and 35, and if Posey wasn't that good at 31 he's likely to be unplayable by the time he's 35. That's why nobody else wanted to give him four guaranteed years.
I have two other problems with this signing from the Hornets' perspective. First, it doesn't address their main weaknesses. New Orleans badly needs additional frontcourt depth and it seemed only reasonable that it would use the midlevel exception to address that need.
If not a frontcourt player, one presumed the Hornets would at least use the midlevel to target a shooting guard, where Morris Peterson was up and down this past season. Perhaps they think Posey can play the 2 full time, but that seems a major stretch for a guy who has played almost exclusively the 3 and 4 with Miami and Boston.
Second, Posey creates a playing-time problem because he's a natural 3 who can swing to the 4 in small-ball lineups -- just like their 2007 first-round pick, Julian Wright. Presumably Wright will now be buried on the bench -- even though he was immensely productive in his limited minutes last season and figures to be better in his second season.
As for Boston, losing Posey certainly was a blow, but it was correct not to match the Hornets' overreaction. If Tony Allen comes back healthy he can replace a lot of the defensive mettle Posey provided, while the hope is that rookies J.R. Giddens and Bill Walker can also fill in some of the departed production. And if those options don't work out, of course, it's easier for the Celtics to sign or trade for a replacement if they're not saddled by a long-term midlevel commitment to Posey.
So I'm not a big fan of his move. The Hornets have the nucleus of an outstanding team with Chris Paul, David West and Tyson Chandler, but I worry that they're forcing the issue with big-money veteran signings like Posey and Peja Stojakovic two years ago instead of a more patient approach. The fact that this move didn't address any apparent need, while overpaying a player who seems certain to decline, only makes it more puzzling. New Orleans has enough talent on hand that the Hornets may very well make a deep playoff run anyway, but it's hard for me to see how this improved their odds much.
John Hollinger writes for ESPN Insider. To e-mail him, click here.
MORE NBA HEADLINES
MOST SENT STORIES ON ESPN.COM
FREE AGENCY 2008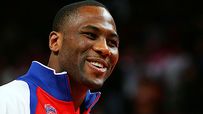 The NBA offseason has been busier than expected, thanks in part to Elton Brand's joining the 76ers. Keep up with the latest moves.
Transactions
News
•
George's deal with Mavs made official
•
Brown returns to New Orleans to back up Paul
•
Veteran Finley re-signs with Spurs
•
Nuggets re-sign Smith to multiyear deal
•
Miles signs with champion Celtics
•
George, Mavs agree to two-year deal
•
Clips re-sign free-agent center Paul Davis
•
Iguodala signs six-year deal with Sixers
•
Sources: 76ers, Iguodala agree to multiyear deal
•
Hawks match Grizzlies' $58M offer, retain Smith
•
Heat's Williams reaches terms with Clippers
•
Bobcats' Boykins signs European contract
•
Restricted free agent Williams re-signs with 76ers
•
Cavs shore up backcourt, sign ex-Grizzly Kinsey
•
Arroyo signs with Maccabi Tel-Aviv
•
Ex-Clipper draftee Skinner signs deal with team
•
Bulls sign Deng to six-year extension
•
Sources: Deng, Bulls on verge of deal
•
Hawks sign ex-Magic G Evans to contract
•
Sources: Okafor, Cats agree on new deal
•
Nets lose Krstic to Moscow team
•
Clippers sign swingman Davis from Heat
•
Vujacic officially signs multiyear deal with Lakers
•
Agent: Brown, Pistons agree to deal
•
Warriors re-sign Biedrins to 6-year, $62M deal
•
Sources: Biedrins, Warriors agree to 6-year deal
•
Wolves agree to deal with Gomes
•
Lakers, Vujacic agree to 3-year, $15 million deal
•
Ellis inks $67 million deal to stay with Warriors
•
Summer star Roberson signs with Knicks
•
Andersen bolts Hornets to return to Denver
•
Telfair re-signs with Timberwolves
•
Childress leaves NBA for Greece
•
Spurs re-sign Kurt Thomas
•
Suns sign ex-Warrior Barnes to one-year deal
•
Turiaf to play for Warriors
•
Jazz, Williams agree to 4-year extension
•
Sources: Clippers, Azubuike agree to offer sheet
•
Bucks add veterans Allen, Lue
•
Posey agrees to 4-year deal with Hornets
•
Arenas signs six-year deal with Wiz
•
Mason's hard work pays off in contract with Spurs
•
Wright re-signs with Mavericks
•
Clippers officially sign Davis to multiyear contract
•
Family ties: Brent is 3rd Barry to play for Rockets
•
Warriors ink forward Maggette to deal
•
Magic sign, introduce ex-Warrior Pietrus
•
Nets agree to terms with forwards Najera, Hayes
•
Sixers give frontline big boost, sign Brand to deal
•
Agent: Bucks to sign Bogut to $60M extension
•
Diop rejoins Mavs on 5-year, $31M contract
•
Gasol in Memphis: Marc, not Pau, signs contract
•
Kings re-sign point guard Udrih to five-year deal
•
Heat sign 3-point specialist Jones to 5-year deal
•
Sources say Brand will sign with 76ers
•
Sources: NBA cap at $58.68 million
•
Sources: 76ers confident of getting Brand
•
Sixers making run at Brand
•
Hawks free agent Smith visits 76ers
•
Brand opts out, and Clippers await decision
•
Calderon reaches agreement on new Raps deal
•
Wizards hang on to Jamison
•
Reports: Arenas agrees to six-year contract
•
For 2nd year in row, Cats, Okafor to discuss deal
•
Artest not opting out of final year of deal
•
Paul agrees on four-year, $68M deal
•
Davis leaving Warriors for Clippers
•
Free Agents:
2008
|
2009 and 2010
Analysis
•
Hollinger: Hornets pay heavily for Posey's ring
•
Martin: Najera's 3-point skills help seal Nets deal
•
Stein: Which teams in hot pursuit of free agents?
•
Adande: Why Brand left the Clippers
•
Broussard: Crushing blow for Clippers
•
Arnovitz: Clipper Nation in world of hurt
•
Adande: Brand's departure is business as usual
•
Hollinger: Brand new Sixers are East challengers
•
Hollinger: Five big questions on free agents
•
Stein: Davis verbally agrees to go to Clippers
•
Broussard: The Clippers' other free agent
•
TrueHoop: What is Corey Maggette Worth?
Podcast
•
Stein on Elton Brand and Baron Davis
•
Hollinger on players who may switch teams
•
Broussard on the money given to Arenas
•
Sheridan on Brand, Davis, Artest and Smith
Video
•
Bucher on how the Brand deal got done
•
Bucher on the latest NBA news
•
Arenas agrees to six-year extension