Commentary
LeBron vs. Wade: More than just a game
Originally Published:
November 12, 2009
By
John Hollinger
| ESPN.com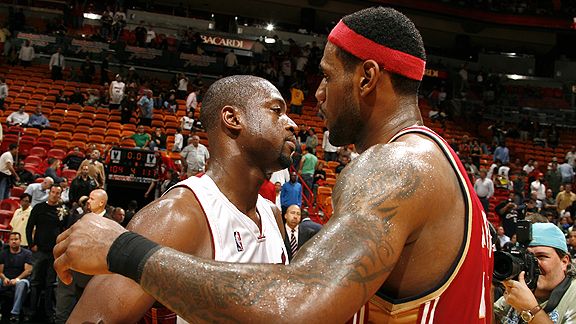 Issac Baldizon/NBAE/Getty Images MVP candidates: Miami's Dwyane Wade and Cleveland's LeBron James put on a show in Miami.

MIAMI -- Here's the difference between November basketball and May basketball: In May, it's always about The Game. In November, sometimes it's about The Show.

Thursday, with a 111-104 Cleveland win over the Heat, undoubtedly was one of those November nights. With superstars LeBron James and Dwyane Wade going mano a mano on national TV, with the subtext that the two possibly could join forces on the Heat a year from now, and with legends like Michael Jordan and Scottie Pippen looking on, this was great theater from the warm pregame embrace between James and Wade to their scoring duel in the final minutes.

The zebras even got in on the act, awarding the two players a total of 39 free throw attempts with the help of several touch fouls as James and Wade combined for 70 points. So brightly did the dynamic duo shine over the rest of the participants that Shaquille O'Neal's return to Miami barely caused a murmur. At times, he wasn't even the best O'Neal on the court. Not that it mattered; the other eight players on the court might as well have been wearing camouflage.

So perhaps it's fitting that the one play from this game anyone will remember a week from now came from a player on the losing team in the first quarter. Coming down the lane on a three-on-three fastbreak, Wade angled from the right sideline into the lane and unleashed a dunk over Anderson Varejao that seems headed for the pantheon of all-timers. It sent Varejao sprawling into the basket support while launching even the most taciturn observers into slobbering fits of exclamation -- including Varejao's teammate James.

"Probably top 10 all-time," said James, who revealed he's been studying up on his NBA history by citing memorable flushes like Julius Erving over Michael Cooper, Tom Chambers over Mark Jackson and Jordan over Patrick Ewing. "D-Wade could very easily crack the top 10 with that one right there. That was an unbelievable play by a great player."

As for his posterized teammate?

"I love Andy," he said with a chuckle, perhaps pondering the heckling Varejao undoubtedly will endure in the team's next film session. "He's been my teammate, but I'm speaking as a fan right now. When I'm old and gray and my grandkids are sitting around with me watching NBA games, that play still will be on."

Even in Brazil. It was that good.

While The Show went on, there also was the little matter of The Game. In that event, James's supporting cast outplayed Wade's to lead the Cavs to the victory -- just in case anyone noticed.

In fact, Thursday night served as a bit of an exclamation point for the Cavs' righted ship, giving them back-to-back road wins on this Florida trip over a pair of teams that had lost only three times all season before encountering Cleveland.

Two keys stood out for the Cavs: the revamped starting lineup with forward J.J. Hickson, and the renewed aggressiveness from guard Mo Williams. Williams combined for 53 points in the two Florida games, posting his two largest shot totals of the season. It seems he finally discovered the right balance between playing through Shaq in the post and looking for his own offense.

But perhaps the bigger development was Hickson's play. As a more offensive-minded frontcourt complement to Shaq, Hickson has helped solve some of the spacing issues that plagued Cleveland's offense in the season's first five games, which Varejao started. It's no accident that the Cavs won three straight road games, breaking the century mark each time, after inserting Hickson into the lineup.

He scored a career-high 18 points Thursday night, and afterward, coach Mike Brown pointed out that Hickson's ability to finish at the rim provides a great outlet when defenders cheat on James or O'Neal -- he's instructing his players to throw the ball to the rim and let Hickson get it. Hickson also has a solid midrange jumper, making opponents more skittish about leaving him to pester O'Neal and James.

Nonetheless, if Brown had to point to the biggest difference in the past three games, he'd point right in the mirror. Brown told me after Thursday night's game that one of the biggest challenges wasn't for the players to learn to play with Shaq, but for him to learn what plays and combinations would work with his new post threat.

That's especially true since the Cavs are trying to incorporate several other new pieces on the fly. At the same time, they toned down the intensity of training camp so they'd have something left in the tank in May and June.

"I needed to figure out how to coach Shaq and the rest of the team first," Brown said. "Not only offensively and defensively, but rotation-wise. Once I started figuring that out a little bit, then I could put more guys in a better position.

"I just kind of had bodies out there and didn't know how to put them in the right spot offensively, didn't have the right combinations out there. With me being disjointed, they were disjointed."

As for the Heat, the loss was a disappointment when viewed in the framework of the team's surprising 6-1 start, but few expect Miami to stay above Cleveland in the standings for long. The Heat's league-leading 3-point defense surrendered 9-of-19 shooting from distance, which likely was a case of the law of averages catching up to them but nonetheless resulted in their poorest defensive result of the young season.

Of course, if they can just convince James to wear a Heat uniform next season, all those problems will be solved. That subplot was one of many reasons The Show was of much greater importance than The Game on Thursday, and Wade's epic dunk only cemented that conclusion.

Nonetheless, there might be a bigger takeaway from all this. It's real easy for The Show to supercede The Game when LeBron and Wade meet for one simple reason: While most view those two players as equals, nobody sees their two teams the same way.


ESPN Insider John Hollinger
• Twitter @johnhollinger | ESPN.com | TrueHoop | Email | Stats
• Follow ESPN's NBA coverage on Twitter | On Facebook | On Google+
EDITORS' PICKS
Losers of two straight, the Griz look to bounce back.
NBA Now

Marred by injuries, the Rockets continue to find ways to win. Having James Harden doesn't hurt, either.
Watkins »

Who could land Justise Winslow and Jahlil Okafor? Try our lotto mock draft.
Play »

MOST SENT STORIES ON ESPN.COM