Commentary
Getting J-Rich(er): This deal looks like a steal for the Suns
The Suns got a major offensive weapon in Jason Richardson, helping them regain their offensive identity.
Updated:
December 11, 2008, 1:18 AM ET
By
John Hollinger
| ESPN.com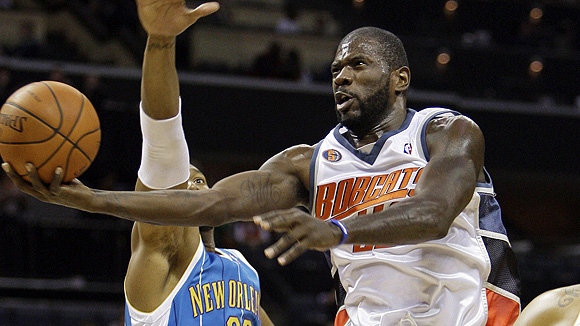 AP Photo/Chuck BurtonJason Richardson looks like a good fit for the Suns, especially when playing at a fast tempo.

Phoenix Suns GM Steve Kerr has faced a lot of questions during his short stewardship of the Suns, but the only question to ask after Wednesday's trade with Charlotte is whether he was wearing a ski mask. The deal for Jason Richardson, Jared Dudley and a 2010 second-round pick cost him only Raja Bell, Boris Diaw and Sean Singletary, and it immediately restores the Suns' flagging hopes of breaking back into the West's upper crust.
For that, he can thank Bobcats coach Larry Brown. This is the danger when you hire Larry -- that he'll almost immediately want to trade everyone on his roster and that the people in charge won't have enough spine or clout to wave off his requests.
The Suns-Bobcats Trade
Today's Playoff Odds project the Suns to win 43 games and the Bobcats to win 32, but those odds don't know about the five-player trade that transpired Wednesday.
With the Suns undeniably making themselves better and the Bobcats likely making themselves worse, it's time for a rethink on where both teams might end up in the standings. Insider

Clearly, the Bobcats don't qualify on the latter point. This has all the markings of a Larry deal, as he's trading a proven scorer for a veteran role player he has coached before (Bell). Besides, nobody finds it plausible that Michael Jordan slipped away from the golf course long enough to broker a five-player trade -- clearly his trigger-happy coach was the one providing the impetus.
So this time, it's Charlotte fans asking the questions. For starters, why did the team include Dudley? The trade worked without him, and he's an inexpensive quality performer because he's still on his rookie contract.
A bigger question, however, is this one: How are the Bobcats going to score? They were 26th in the NBA in offensive efficiency, and were 30th before Richardson came back from an early-season injury. To trade him for two role players essentially damns Charlotte to finish at or near the bottom of the league in offense -- it's inconceivable that the team could replace his 21.3 points per 40 minutes with the likes of Bell and Diaw.
Richardson also is a great fit in Phoenix, especially if the Suns revert to playing more up-tempo. He's a high-flying finisher in transition, but he also led the NBA in 3-pointers made last season and is hitting 45.6 percent on 3s this season. With post threats Amare Stoudemire and Shaquille O'Neal to set him up, one shudders to think how many triples he can rain in with the Suns.
Dudley is 23 but plays much older -- he's a subpar athlete but a smart, strong combo forward with a knack for rebounding and scoring around the basket. The second-year forward figures to fill Diaw's role as a reserve forward, though it's possible he could supplant Matt Barnes at small forward if he plays well.
From Charlotte's end, Diaw is the key to the deal. Theoretically, he solves the team's glaring hole at power forward, though in practice he's hardly bigger than Dudley. Although he's an undersized 4, he's capable of defending the position and can take advantage of slower bigs at the other end with his ballhandling skill. However, Diaw is a mediocre shooter and a reluctant scorer; in this sense, he strongly resembles another former Brown favorite, Derrick McKey.
Bell had been visibly declining over the past two seasons and is probably better suited to a bench role at this point in his career. That might happen if the Bobcats opt to use D.J. Augustin and Raymond Felton together in the backcourt. Brown will value Bell's feistiness, but his offensive output and lateral movement aren't what they once were.
Charlotte gets one other benefit -- a $5.4 million cap savings in the key summer of 2010, thanks to Bell's expiring contract. If the Bobcats don't re-sign Felton, May or Adam Morrison, they could be about $12 million under a projected cap of $60 million (the exact amount would depend on the salary slot for next year's draft pick); although it's highly unlikely that a LeBron James or Chris Bosh would choose the Queen City, several lesser stars also will be on the market that summer.
But in the short term, Kerr is the one who saves his employers a few ducats with this deal. The new players make nearly $1 million less than the old ones in 2008-09, and that amount doubles because the Suns are over the luxury-tax line. Although a portion of that advantage will go away once Phoenix signs another player to meet league roster requirements, the team still comes out ahead on the deal.
Perhaps the best thing about this deal is that it's a turning point away from the Suns' recent fascination with being a bad imitation of the Spurs. Instead, it marks a move back toward the running, gunning style that had them near the top in the first place. Bell and Diaw were arguably Phoenix's two best defenders (though that's a backhanded compliment these days), and Richardson's explosiveness has never translated terribly well into the quick, short steps needed for effective D.
In the wake of his trade, look for the Suns to re-establish themselves as an elite offensive team and try to overwhelm teams with their scoring prowess. With four big-time offensive players in the starting lineup and a fifth potent scorer (Leandro Barbosa) coming off the bench, it doesn't seem implausible that they could lead the league in offensive efficiency in the final three-quarters of the season. If so, those "What's wrong with Phoenix?" questions might quickly become a distant memory.
John Hollinger writes for ESPN Insider. To e-mail him, click here.
Hollinger's PER Diem

Want a deeper look into all of the latest NBA action? Check out John Hollinger's new daily column -- full of analysis, observations and more -- every Monday through Friday.



Jan. 13, 2009
•
PER Diem: Lakers-Rockets injury battle
•
Insider: OKC's problems
Jan. 12, 2009
•
PER Diem: Magic join top ranks
•
Insider: Portland travel problems
Jan. 9, 2009
•
PER Diem: Billups stealing the spotlight
•
Insider: A can't miss game
Jan. 8, 2009
•
PER Diem: Sixers young spark
•
Insider: Wolves continue to sizzle
Jan. 7, 2009
•
PER Diem: Boston's bench problem
•
Insider: Miles won't wait too long
Jan. 6, 2009
•
PER Diem: Nuggets under luxury-tax line
•
Insider: Tense few days for some teams
Jan. 5, 2009
•
PER Diem: Bucks, Pistons Ranking debate
•
Insider: T-Mac's blatant mail-in job
Dec. 31, 2008
•
PER Diem: Spurs' playoff forecast
•
Insider: Calderon's free-throw feat?
Dec. 30, 2008
•
PER Diem: The Year of the Great Divide
•
Insider: Rip with a new role?
Dec. 29, 2008
•
PER Diem: Battle for top spot
•
Insider: Portland's top offense
Dec. 24, 2008
•
PER Diem: The Good Bynum
•
Insider: Passing of torch
Dec. 23, 2008
•
PER Diem: Magic near top crust
•
Insider: O.J. making run at Rose
Dec. 22, 2008
•
PER Diem: Tough Sunday for Pistons
•
Insider: Crisis mode for Raptors
Dec. 19, 2008
•
PER Diem: Orlando's lack of credit on D
•
Insider: A big story up north
Archive
December
1
|
2
|
3
|
4
|
5
|
8
|
9
|
10
|
11
|
12
|
15
|
16
|
17
18
November
3
|
4
|
5
|
6
|
7
|
10
|
11
|
12
|
13
|
14
|
17
|
18
|
19
|
20
|
21
|
24
|
25
|
26
October
28
|
29
|
30
|
31