Kobe Bryant is out, Chris Webber is out, Karl Malone is out, Shaquille O'Neal may be out.
Brad Miller is in.
Very, very in.
Miller is among those who will actually be playing Friday night at Arco Arena as the Lakers and Kings, or at least what will have to pass for Los Angeles and Sacramento for the injury-pocked moment, renew passions for the first time in 2003-04, and he is among the "in" crowd. He is happening.
We now pause to allow anyone who has ever known Miller to stop laughing.
In personality, he is cutting edge like a flannel shirt. The only hip he deals with is where to wade when he's fishing. Indiana farmboy proud, Miller is all about pickup trucks and hunting, and chewing tobacco while sitting at his locker with a paper cup at the ready.
In reality, he is entirely now. Peja Stojakovic is the obvious All-Star in Sacramento, except it's been Miller who has kept the Kings among the elite while Webber recovers from knee surgery.
Miller has been the biggest solo acquisition from the offseason, and not just on the team.
The Lakers had great early success with the package deal of free agents Malone and Gary Payton. And Minnesota has surged despite its own injury problems thanks to Sam Cassell and Latrell Sprewell joining Kevin Garnett. But Miller has had a singular impact.
Part of it is because of the team.
The Kings are the best passing team in the league and, beyond that, they're selfless -- the difference between being capable and following through. They don't revolve around one offensive weapon, even with Stojakovic on pace to reach the All-Star break in the top three in scoring, though his numbers will likely drop as Webber gains greater minutes in the second half of the season. And, the Kings offense goes through the inside, previously with Vlade Divac as the top passing center in the league and one of the best ever, and now with Webber as one of the best passing power forwards of the moment, health willing.
Part of it is because of the person.
As much as they believed Miller would fit in, accepting another possible luxury-tax hit to take on his new contract and giving up key reserves Scot Pollard and Hedo Turkoglu to get the sign-and-trade done, the Kings didn't imagine it would be like this. While there have been struggles on defense, namely handling the quicker power forwards of the West -- Miller has almost gone out a few times with whiplash as some bigs went past him at a warp speed not normally seen in his former Eastern Conference life -- his role in the offense has been seamless and beyond initial expectations.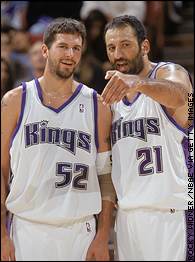 We know Vlade Divac, right, hasn't had to show Brad Miller how to pass the ball.
"I had heard he was a very good passer, but I think the thing that surprised me the most is what a smart player he is," coach Rick Adelman said. "You can have some passing skills for a big guy, but Brad has the ability to see the play developing. He usually sees what the defense is trying to do and anticipates and makes the play. I think he's a really smart basketball player at both ends of the court. He really understands exactly what's going on, what's happening.
"Everybody has him as this big country boy, but he's a smart guy on the court. He studies teams; he studies players. When we play the East, he knows everything about the Eastern teams. He's obviously very observant. The other thing he does is he just gives such a consistent effort. He's gone on the floor this year for us more than I've seen most big guys through their whole career. He just plays. He doesn't have great quickness, he doesn't have great speed, but he pursues and keeps playing, keeps playing and keeps playing. That's the thing that you really appreciate about him."
Aw, shucks.
"Story of my life, right there," Miller said.
It began as an honorable mention All-America as a senior at Purdue, when he finished second in the Big Ten in shooting, third in rebounding, fourth in blocks and fifth in scoring and didn't get drafted. Then he got signed by Charlotte as a free agent but left as a free agent to sign with Chicago, only to be traded to Indiana as part of the Jalen Rose-Ron Artest deal. There he makes the All-Star team ... only to have the Pacers decide to let him go as a free agent, getting Pollard in return as part of the three-way deal that also included Turkoglu landing in San Antonio.
He goes somewhere, proves himself and then moves along. He goes somewhere and proves himself again. And again.
"It's given me a chance to open my game up more and try a few things, in terms of catching the ball up top and trying to play through the big guys, where you get to dribble it a lot," Miller said. "It's something that I've been trying to get better at each year, but when you're 7-foot and in the East they don't really like you handling the ball much. So it's been a fun relief to come out here and just try to expand and add more to my game."
He has become a deserving All-Star candidate again, even among the depth of the Western Conference. That is a certainty. Whether he has become a permanent starter in the Kings' lineup remains to be seen.
That is the curiosity. Webber will be the power forward when he is healthy again and builds back up to starter's minutes, although no one can say for sure when either will happen. He has just started scrimmaging and, down the line, still has the undetermined suspension from the league for his summer plea bargain in the perjury case in Michigan. But when he is ready, the question shifts to center.
Divac's role goes far beyond his statistics. He is an emotional leader and, with the way the offense works, an ideal piece. But the way Miller has been going, it's impossible not to imagine him getting the bulk of the minutes, a role first projected for next season, and helping Divac stay fresher for the playoffs. Adelman, predictably, is remaining non-committal, either because he really believes it is not a major issue for the moment or, just maybe, because he has been around the Kings long enough to know major injuries are not rare.
So there can be no look-ahead moment for either Pacific rival as the first meeting arrives with "Hi My Name Is ..." tags being handed out at the opening tip. No Bryant, no Webber, no Malone, maybe no O'Neal. Miller, however, will be there, not just as part of the crowd of Laker-haters, but as part of the "in" crowd.
That trend-setter.
Scott Howard-Cooper, who covers the NBA for the Sacramento Bee, is a regular contributor to ESPN.com.
SPONSORED HEADLINES
MORE NBA HEADLINES
MOST SENT STORIES ON ESPN.COM
EDITORS' PICKS
What are the scouts saying? Marc Stein has the scoop.
Scouts Takes »

Bill Simmons tries to predict how the dust will settle in an ugly East.
Grantland »

Kobe Bryant will make his season debut on Sunday.
Story »