O'Brien couldn't defend Ainge's actions
Updated:
January 31, 2004, 9:27 AM ET
By
Peter May
| Special to ESPN.com
Jim O'Brien had turned around the fortunes of the Boston Celtics with an unwavering commitment to defense.
That all changed on Dec. 15 -- a date that, in the O'Brien household, will live in infamy.
That's the day that Danny Ainge, against O'Brien's expressed wishes, traded Eric Williams, Tony Battie and Kedrick Brown to the Cavaliers for Ricky Davis, Chris Mihm and Michael Stewart.
The Celtics suddenly went from a team that O'Brien wanted to coach, and one that had started to recover from the Antoine Walker trade, to one that he eventually realized he could not coach because of its defensive shortcomings. As Dr. Jack Ramsay noted, "The team has lost its defensive heart. It's just a very, very difficult mix of players."
So O'Brien did what few coaches are willing to do -- he walked away. Ainge walked away once, too, but not because he felt his boss was undermining every thing he was trying to accomplish. The Ainge-O'Brien relationship seemed to be working in spite of Ainge's belief that he had to build for the future at the expense of the present, which is where O'Brien lived.
O'Brien could live with the Walker trade, although the only benefit he was getting out of it was Jiri Welsch because Raef LaFrentz was shut down for the season and Chris Mills wasn't even around. By then, he was used to coaching different teams; the Celtics made significant offseason additions in each of his two years and then added in-season trades to boot.
But the Davis deal was the back-breaker. Davis hasn't been the showboat knucklehead that he was in Miami, Charlotte and Cleveland. But he has been glacial to grasp the Celtics' defensive schemes, as has Mihm. O'Brien's last game as coach of the Celtics saw the Celtics surrender 110 points to a struggling New Jersey team.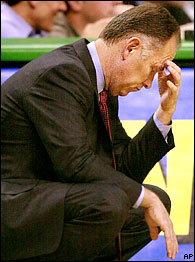 AP PhotoJim O'Brien's defensive beliefs conflicted with Danny Ainge's offensive blueprint.
Then came an exchange with Ainge two days later and a resignation.
O'Brien knew and understood that Ainge had been given the power to retool the team by the new owners. One of Ainge's first acts after taking over last May was to give O'Brien a contract extension so O'Brien would not be put in the same, impossible position that Byron Scott found himself in with the Nets.
O'Brien represented stability. The Celtics were a laughingstock when Rick Pitino resigned in January 2001 -- and turned the team over to his longtime lieutenant. Most thought at the time that it was a temporary gig; O'Brien was given the proverbial "interim" tag until the team started to respond to him and played reasonably well.
He took the Celtics to the playoffs in each of his two full seasons -- and he had them in sixth place in the East when he resigned. Last season, his team upset the Pacers in the first round, and it was in no small part due to his outcoaching the overmatched Isiah Thomas. He brought in Dick Harter, who also is leaving, to overhaul the defense.
Now, the Celtics are back to where they were. They make news not with their play but with their transactions. Assistant coach John Carroll is the new "interim" head coach, and he has about as much chance of staying long-term as Dennis Kucinich has of winning the White House. If Carroll were to go 36-0 and roll through the playoffs, he might be able to present himself as an acceptable candidate to Ainge.
But he's not Ainge's guy. Neither is O'Brien. Ainge and O'Brien co-existed and publicly praised each other, but, you always knew at some point, Ainge was going to want his own guy in there. It was inevitable, even as O'Brien seemed to be adjusting to the Davis deal while trying to get the team back on a defensive track. But he eventually tired of what he saw was a hopeless task.
The Celtics aren't Atlanta or Chicago. They are 22-24, which, these days, almost gives you homecourt advantage in the East. But among the curiosities of that record is a 6-1 road mark against Western Conference teams and home triumphs over the Mavericks and Kings. The Celtics have also lost to the Hawks, Bulls, Magic and twice to the pre-Isiah Knicks.
They've gone through the whole, sad Vin Baker saga -- Who would've thought that O'Brien would be gone before Baker? -- and they are a team bereft of any kind of inside threat and woeful at rebounding. Walter McCarty, who should be enjoying the view as the 11th or 12th man, is now a sometimes starter at power forward.
Paul Pierce, their one undeniable star, has had to wear far too many hats this season, and it's starting to show. Pierce is shooting 32 percent over the last seven games. He's second in the league in total minutes and third in turnovers. The way he's playing, you simply can't make a convincing case for his inclusion on the Eastern Conference All-Star team.
In spite of all this, O'Brien had the Celtics in contention to the point where they would be tied for first in the Atlantic Division had they beaten the Nets on Sunday. But, instead, they got bludgeoned.
Forty-eight hours later, both coaches from that game are gone. One left involuntarily, one left by his own choosing. For one day, O'Brien had the distinction of being the coach in the Eastern Conference with the longest tenure with the same team. Then he decided he couldn't go another day.
Looking back, it's a wonder he lasted as long as he did after the Dec. 15 trade. He had lobbied hard against the deal, to no avail. He then tried to make it work, to no avail. Now Ainge can get his own guy in there, but you know what? The new guy is going to have to deal with the same issues and problems. The difference will be that he's dealing with them knowing he has the backing and blessing of his boss.
Peter May, who covers the NBA for the Boston Globe, is a regular contributor to ESPN.com.
SPONSORED HEADLINES
MORE NBA HEADLINES
MOST SENT STORIES ON ESPN.COM
EDITORS' PICKS
No longer teammates, LBJ and Wade are as tight as ever.
Wallace »

Josh Smith has chosen to sign with Houston, per sources.
Story »

Heat fans should celebrate their time with LeBron.
McMenamin »