Undertaker of the Celtics
Updated:
February 28, 2004, 12:43 AM ET
By
Peter May
| Special to ESPN.com
The two coaches ran into each other at courtside before the game.
"How's it going?" Bucks assistant Jim Todd asked.
"Great," deadpanned Celtics head coach for the here and now, John Carroll.
"Been there, done that," Todd said.
They both laughed.
Coaching can be a bruising profession in the NBA; we need only look at the volatile Eastern Conference for incontrovertible evidence. Todd knows exactly what Carroll is going through. He succeeded Chris Ford in the middle of a dreadful, going-nowhere 1999-2000 Clippers season, and finished the year with four victories in 37 games. To no one's surprise, he was then not invited back for the 2000-01 season.
Carroll is on a similar track with Boston, although, like Todd, it's through no fault of his own. He is a dead man walking and everyone knows it. He's lost 13 pounds since he replaced Jim O'Brien a month ago and he'd like to believe it was because he recently went on the South Beach diet. But as a coaching lifer, he knows otherwise. It's hard to keep anything down watching what he has to watch.
Talk about a tough job. Does anyone in the NBA have it tougher or harder now than Carroll, the man whose everyday presence defines the word "interim"?
Atlanta's Terry Stotts is Jerry Sloan compared to the unfortunate Carroll, who has unwittingly presided over a meteoric freefall which has seen the Celtics lose 13 of 14 games and plummet from sixth to 11th in the Eastern Conference. If there's a playoff bonus in his contract, he'd better not spend it ahead of time.
Let's start with the obvious. The Celtics didn't make the coaching change. O'Brien forced their hand. It's the worst possible scenario: Popular head coach resigns and heretofore invisible assistant is elevated -- but only for the time being.
O'Brien, of course, benefited from the fact that the team he inherited had one thing in common: The players all hated Rick Pitino. Lawrence Frank benefited from the fact that the Nets were going through the motions for Byron Scott and wanted him out of town. In both cases, the teams responded and played well once the change was made.
The Celtics went the other way, further sealing Carroll's fate. Maybe -- maybe -- if he had gone undefeated he might have convinced hoops boss Danny Ainge to consider him for another year. But that's not going to happen. Ainge knows it. Carroll knows it. And the players know it. That creates an untenable condition for the coach, defining the Celtics, right now, as the Team You'd Most Like To Play. Home or away.
Ricky Davis, for instance, is playing for his fifth coach in the last 1½ seasons. Think he's going to tune in Carroll? Free agent Mark Blount is counting the games until he can go elsewhere next season, hopefully to reunite with O'Brien. Somehow, Carroll has to try and put together a competitive package with all the parts flying in different directions.
It's a ridiculous situation, hopeless and sad. Fans who ponied up big bucks for season tickets expected to be discussing playoff seedings at this time of the year, not lottery probability numbers. Perhaps they are getting wise to what's going on; already this season, there have been seven, sub-14,000 crowds at the FleetCenter. That never happened even when Pitino was prowling the sidelines, losing games and trading barbs with hecklers.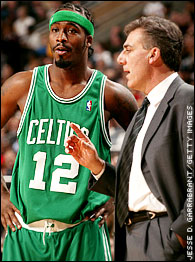 Getty ImagesCeltics interim coach John Carroll, right, is talking but is Ricky Davis listening?
Ainge isn't dropping any clues as to who he has in mind to take over. He has consistently and emphatically said he does not want to coach and, so far, has stayed true to those words. He also has said that Carroll is going to stay for the rest of the season, a season, by the way, which Ainge has all but dumped into the recycle bin. But if the person Ainge had in mind was available, why wouldn't Ainge already have brought him in to at least get acquainted with all concerned?
Scott Skiles would have been high on Ainge's list. But he's already employed -- at least for now. (Those Bulls really responded to the dismissal of Bill Cartwright, didn't they?) Would Paul Westphal be tempted to leave the wondrous sights of Malibu and Pepperdine to come back to the NBA for a third head coaching gig? He coached Ainge in Phoenix. What about Lionel Hollins, who had an ill-fated stint in Vancouver (as everyone did in Vancouver) and is now one of Hubie Brown's assistants in Memphis? He was an assistant in Phoenix under Westphal when Ainge played there.
Whoever comes in will do so as Danny's Guy. That much is clear. There won't be any disputes/philosophical differences over playing style. (Hint to prospective new hire: Use the word "defense" sparingly in your job interview.)
One of Ainge's first acts as the Celtics' hoops el jefe was to give O'Brien an extension. While the two came from different basketball backgrounds, it looked as if their mutual desire to reform the team from last year's 3-point shooting monstrosity would make the relationship work.
But it didn't. Ainge upended the apple cart with trades and then saw his coach get up and leave. In stepped Carroll, whose last head coaching experience had been at Duquesne almost a decade earlier.
Carroll is no rube. He knows what's going on. He's been around the NBA in one form or another for almost 10 years and was a trusted lieutenant of P.J. Carlesimo at Seton Hall. When he replaced O'Brien, he was savvy enough to demand a raise commensurate with what the lower-tiered coaches are making. Hey, if nothing else, maybe he'll be able to pay off his mortgage.
But for sheer impossible coaching situations, nothing surpasses the Celtics these days. It will remain so until Ainge makes a change. Until then, the players will continue to go in different directions, the losses will stockpile, and the team DVD from the season will be titled, "The Road to Secaucus." Carroll will soon be a footnote in Celtics history, but, right now, he's living the dead life, day by day.
Peter May, who covers the NBA for the Boston Globe, is a regular contributor to ESPN.com.
EDITORS' PICKS
As the season grows near, our countdown rolls ahead.
ICYMI: The Ten »

The Wolves have made Eric Bledsoe a max offer.
Windhorst »

Spurs No. 1!