Gasol deserves a lucrative deal
Updated:
September 10, 2004, 1:44 PM ET
By
Peter May
| Special to ESPN.com
I've never been very accomplished at math, but I still have trouble figuring this one out: How come the best player on the Memphis Grizzlies is the team's eighth highest-paid player?
Easy answer: The rookie cap. Pau Gasol, by any yardstick the Grizzlies' top performer, is still in his rookie contract, entering Year 4. So he's trapped, if you can call making $4-plus million a year trapped.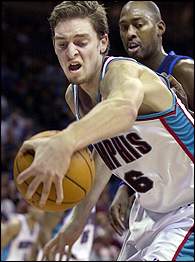 Pau Gasol has averaged over 18 points and eight points a game in three seasons.
But here's what I don't understand: Why haven't Jerry West, Michael Heisley and the rest of the folks in Grizzly Land given Gasol what he so richly merits: a longterm, many-zeroed, enough-for-future-Gasols-to-live-on-comfortably extension?
Through a team spokesperson, West declined to comment, noting Gasol is still under contract. But Gasol is coming off a show-stopper of an Olympics, where he was the best basketball player in the tournament. Manu Ginobili got the MVP and Yao Ming had a couple of jaw-dropping games, but, night in and night out, Gasol was uniformly spectacular. It's his misfortune, and that of his countrymen, that he got paired up against the USA on the one day -- the only day -- that the Yanks actually made some shots.
Over in Athens, Gasol told reporters he wasn't worried about an extension, that he was happy in Memphis, that he wanted to stay in Memphis and that he hoped something would get done. There is time; teams have until Oct. 29 to sign players from Gasol's draft class (first-rounders) to extensions.
But you'd think Memphis wouldn't have needed or wanted to wait. After all, the Nets locked up Richard Jefferson last month. The Grizzlies themselves have already extended Shane Battier to the tune of six years and $36.8 million. (That deal, as would one for Gasol, kicks in next season.) Teams that want to keep their studs usually don't wait; the Celtics, for goodness sakes, extended Paul Pierce in August.
Maybe money is standing in the way? Gee, that would be a news bulletin. Gasol's people can make a case for him being a player worthy of a maximum deal -- if he's not, he's pretty darn close to it. The Grizz can make a case for Gasol being a very good player, but not equal to the really big names who are earning max deals. But is Gasol worse than Pierce? Or Vince Carter? Or Shawn Marion?
The Grizzlies run the risk of finding that out next summer if they don't give him an extension by the end of October. Gasol would then become a restricted free agent, and there could be a team with cap room who would target him. Memphis would maintain its right to match, but the Grizzlies have to know, or should know, that there's going to be someone next summer who will gladly shower Benjamins on Gasol.
Thus, it behooves them to act, not mimic Donald Sterling.
Gasol's case is not unique, except perhaps in his draft class. Looking back on the Class of 2001 may one day make NBA execs reach for the wretching bucket. Of the 28 first-round picks, only Jefferson and Battier so far have been given longterm, lucrative extensions.
What does it say that more second-round picks from that year -- Trenton Hassell, Gilbert Arenas and Mehmet Okur -- have inked more long-term deals than first-rounders? Of the first-rounders, Gasol is the most obvious name missing from the extension list. Another is Zach Randolph, who should be in line to start cashing more of Paul Allen's microdollars soon. Another is Tony Parker, the last pick of the first round that year.
But it will be interesting to see what happens to the players at the top of the '91 draft next summer: Kwame Brown, Eddy Curry, Tyson Chandler, Jason Richardson. You can make a safe bet that the first three names will be restricted free agents. The Warriors like Richardson, so they might do something to keep him. The next obvious candidates for some kind of longterm commitment are Joe Johnson of Phoenix, Vladimir Radmanovic of Seattle and, perhaps, Troy Murphy of Golden State.
What's scary are the names of guys who not only won't get extensions, they're either out of the league or close to it. Eddie Griffin, Rodney White, Kedrick Brown, Kirk Haston, Joseph Forte, Jeryl Sasser, Brandon Armstrong and Gerald Wallace were all first-rounders in 2001. Haston, Sasser, Griffin and Forte are gonzo. White never had his fourth year extended and is a free agent. Wallace got plucked by Charlotte in the expansion draft. Griffin, White and Brown were all lottery picks. So too was DeSagana Diop, yet another question mark.
Gasol was the Rookie of the Year in 2001, and nothing has happened in the subsequent two seasons to take him off the podium (to extend an Olympic metaphor). He still is the best player from that class; you could make a case for Arenas or Jefferson maybe being No. 2. But at 7 feet, and still young (he turned 24 in July), Gasol is a keeper.
He was once endured the same knock a lot of Euro players must endure -- a lack of toughness. That's a crock. He went right at the Americans in Athens and had 25 points over three quarters before they belatedly decided it might be a good idea to stop the guy. And some came against FIBA poster boy Tim Duncan. Gasol also was in the top eight last season in free-throw attempts -- a pretty amazing feat given he played a shade more than 31 minutes a game. No, he's not going to make the All-Defensive Team anytime soon, but he was 16th in total blocked shots.
Eventually, the Grizzlies will get it done because West is too smart and savvy to let this one sit. There's a lot of talk in Memphis about upgrading, which is fine. But how much do you upgrade over Gasol? Ahead of him you're talking about the untouchables, players like Garnett and Duncan. And if this was solely a money issue, why did West fork over $33 million for Brian Cardinal?
No, Spain is not Memphis and the Olympics aren't the NBA. But if you had any lingering doubts about Gasol's toughness, attitude and commitment before Athens, they were erased as surely as a shots penetrating Ben Wallace's no-fly zone. I can't believe West is going to risk having his best player become a restricted free agent next summer. But until the new deal is done, that possibility is still out there.
Peter May, who covers the NBA for the Boston Globe, is a regular contributor to ESPN.com.
EDITORS' PICKS
Can Memphis overcome West-leading Golden State?
Wallace »

Another surgery will keep KD out the rest of the season.
J.A. Adande »

Who are the best -- and worst -- owners in the league?
Rankings »

MOST SENT STORIES ON ESPN.COM