Durant's unimpressive outings leave new coach unfazed
Updated:
July 10, 2007, 4:37 PM ET
By
Chris Sheridan
| ESPN.com
LAS VEGAS -- After two games of the Las Vegas Summer League, Kevin Durant is struggling with his shot, absent on the boards and still seeking his first assist.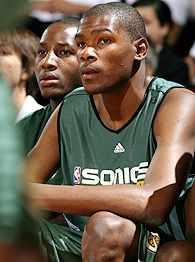 Garrett Ellwood/NBAE via Getty ImagesDurant takes a rest during his second game as a pro.
Durant sank his first attempt Monday night, a 3-pointer less than a minute into Seattle's 87-74 loss to the New York Knicks, and then missed 15 of his next 18 attempts. He also finished with just one rebound and no assists for the second straight game.
So, should we rush to judge him?
His coach will not.
"I said before we started, if he scored 40 or scored 10, I'm not going to evaluate. He's just here to get his feet wet and make progress. I'm not going to do an evaluation each game or each practice," incoming Sonics coach P.J. Carlesimo said.
Durant, who finished with 18 points and went 8-for-8 from the line, was defended primarily by Renaldo Balkman, although rookie Roderick Wilmont of Indiana also took a turn in the final quarter. And any time a defender was able to get up on Durant, he was unable to convert his jumpers.
Durant is 9-for-36 (25 percent) from the field over two games, including 3-for-10 from 3-point range.
"He's played two games of summer league and only had a couple practices, so you've got to be out of your mind to try to make predictions on him after two games of summer league. Talking to him about things he needs to work on, he understands better than anybody," said Carlesimo, who again brought up the fact that Tim Duncan struggled against Greg Ostertag in his first summer league game.
"One of the best things Duncan does is he's one of the best teammates I've ever seen, and it's early, but I really like Kevin's interaction with the other guys," Carlesimo said. "He wants to be one of the guys on this team, which is a great thing."
Durant isn't slated to play in the Sonics' next game (Wednesday vs. Milwaukee), so check Henry Abbott's TrueHoop blog and Marc Stein's ongoing coverage for more news on how Durant is looking. I'm getting out of Vegas for a few days before returning for Team USA's minicamp July 20-22.
Chris Sheridan covers the NBA for ESPN Insider. To e-mail Chris, click here.
NBA Summer League
The NBA's young stars get their first chance to shine for their teams in the 2007 Las Vegas Summer League.
Follow our complete coverage of all the Summer League camps.
SCHEDULE/RESULTS
• Las Vegas Summer League
• Orlando Summer League
• Rocky Mountain Revue

RECAPS AND NEWS
• Durant skips game to attend ESPYs
• Report: Tonsillectomy ending Oden's summer
• Durant's shot still off
• Oden better on Sunday

COLUMNS
• Buckley: Final calls from Rocky Mountain Revue
• Buckley: Horford, Law lead young Hawks
• Buckley: Durant a hit in lone Utah game
• Buckley: Louis Williams, sunny king of summer
• Windhorst: Best and worst of Vegas league
• Windhorst: Sonics duo finishes strong
• Buckley: Horford looks good for Hawks
• Windhorst: Durant breaks out for 32 points
• Buckley: Almond could fit Utah's shooting needs
• Denton: Rookies struggle in Orlando
• Windhorst: Iavaroni likes the look of his Grizz
• Denton: Noah, the sitting Bull who won't sit still
• Stein: Where will Yi finally land?
• Denton: The understudy point man of Jersey
• Stein: Midpoint awards from Vegas
• Denton: Redick on fire in Orlando
• Stein: The Belinelli buzz grows
• Stein: Latest on Mo Williams, Fisher
• Sheridan: Carlesimo patient with Durant
• Denton: Tyrus shines in Orlando Day 1
• Stein: Oden struggling early on
• Stein: Yi impresses in debut
• Sheridan: Oden, Durant debuts

TRUEHOOP BLOGS
• Projecting the game of Cheikh Samb, I am
• Legend of Ostertag's domination of TD
• Pierre Pierce's past ever present
• First impressions of Vegas scene
• Summer storylines
• Summer League notes

INSIDER NEWS


• Stein: Oden, Durant first meeting set for Sunday
• Sheridan: News and notes from Vegas

SCOUTS INC.


• Evaluating Redick's summer game

PODCASTS
• Chad Ford/Marc Stein on summer ball