Commentary
Team USA update: Going small could cause big problem
Originally Published:
June 20, 2008
By
Chris Sheridan
| ESPN.com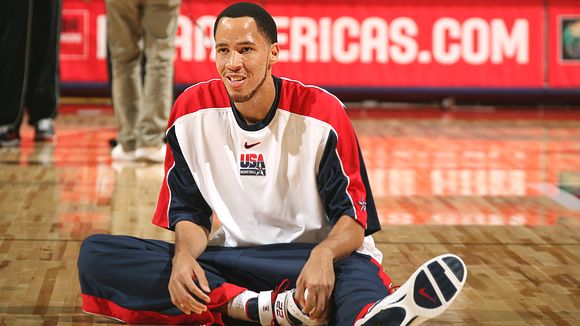 Nathaniel S. Butler/NBAE via Getty ImagesTayshaun Prince brings impressive defensive versatility, but not the heft Team USA might need.

Three bigs.

That's it.

When the United States tries to win the gold medal in Beijing this summer, it appears it will try to do it with only three true power forwards and centers -- Dwight Howard, Chris Bosh and Carlos Boozer.

The opinion here?

This is a mistake with the potential to go down as the singular example of the hubris of Mike Krzyzewski and Jerry Colangelo's leadership of Team USA.

Reports surfaced Friday that Tayshaun Prince had been picked for the final spot on Team USA's 12-man roster, which means the coaching staff, executive committee and scouts voted not to bring along Tyson Chandler, deciding instead to go with versatility over size for the final roster spot.

SPORTSNATION'S DREAM TEAM
It's your turn, SportsNation. How would you construct Team USA? What would your Olympic roster look like? Rank 'Em
Howard, Boozer and Bosh will be the three true bigs on a roster also expected to include Kobe Bryant, LeBron James, Carmelo Anthony, Dwyane Wade, Jason Kidd, Chris Paul, Deron Williams, Michael Redd and Prince.
Howard is expected to start at center, with Anthony at power forward, James at small forward, Bryant at shooting guard and Kidd at point guard.
The team will be formally announced Monday at a news conference in Chicago.
In recent months, the overall roster of 33 had been trimmed to 15 viable candidates, and Chauncey Billups and Amare Stoudemire withdrew their names from consideration in the past few days. That left Colangelo, USA Basketball's managing director, and Krzyzewski, the head coach, in charge of deciding whether to bring an additional big man. After they polled the assistant coaches (Mike D'Antoni, Nate McMillan, Jim Boeheim) and scouts and examining the draw and the opposing rosters, the perceived need for an additional interchangeable part won out.
The 12-man roster will be submitted to the USOC on July 1. There will also be six alternates named, although it is difficult to make changes after July 1 unless there is a verifiable injury to one of the 12 players (which is part of the reason why Larry Brown was unable to throw Stephon Marbury off the Athens team just a week before the 2004 Olympics).
[+] Enlarge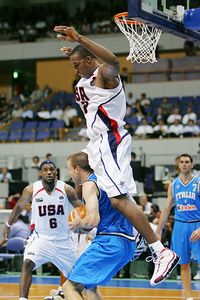 Garrett W. Ellwood/NBAE/Getty ImagesDwight Howard might want to stay away from these kind of fouls.
The danger in taking only three big men is obvious: Foul trouble and/or injuries would leave the Americans vulnerable under the boards against any opponent with size, even though Team USA's plan calls for Anthony to get the bulk of the minutes at the 4 spot.
Think about it: If you are the coach of Upper Moldovistan and you need to devise a plan to defeat Goliath, you open your Coaching 101 textbook and decide to send two 7-footers to the offensive boards every possession while having the three other players drop back to defend against the fast break. The second thing you tell your 7-footers is to draw fouls against Howard, Boozer and Bosh, even if it calls for flopping. If you can make offensive rebounding and second-chance points the key statistics, half the battle is already won.
When Team USA lost to Greece in the semifinals of the 2006 World Championship in Japan, the Greeks' size and girth were huge factors. The Americans had trouble defending Greece's high pick-and-roll, on which the picker was continually able to get himself matched against a far smaller defender and then attack the basket before a help defender could arrive. And when the help came too early, someone was left open at the 3-point line.
Another point: FIBA basketball tends to be far more physical than NBA basketball, although the Americans historically tend to run into the arbitrary referee who chooses to call things tight in the paint. (Tim Duncan watched much of the 2004 Olympics from the bench in Athens for this very reason.)
FIBA rules also call for players to be disqualified after their fifth foul (rather than their sixth, as is the case in the NBA), and technical fouls count against a player's personal foul limit. (Memo to Howard: If you don't agree with that third foul you'll draw in the first quarter against Russia-Lithuania-Spain-Argentina, keep your mouth shut. If you don't, it'll be your fourth.)
You're supposed to protect yourself against those potential troubles through depth, but the Americans aren't.
Four years ago, the Americans didn't send any pure shooters to Athens, so everyone played 40 minutes of zone against them, and they lost three times.
The members of Team USA's brain trust made it easy then for the rest of the world to devise a defensive game plan, and they're doing it again by being too biased toward trying to impose their will and exploit their advantages in speed and athleticism.
That "we're going to beat you our way, not your way" attitude will work fine against the likes of China and Angola, but the risk will come in the final three single-elimination games against opponents poised, talented and tall enough to turn their match against the United States into a grind-it-out, half-court battle of brawn.
Here's the dirty little secret about Olympic basketball: The first round doesn't matter. There are six teams in each group, only four of the 12 are eliminated, and what's of paramount importance is where your energy and health levels are going into the final five days.
You want to peak at the end, not the beginning.
The Americans' first-round opponents in Beijing are China, Angola, Spain and two other teams who will emerge from a pre-Olympic qualifier to be held in Athens next month. Four of the teams with the most size -- Russia, Lithuania, Spain and Australia -- are on the other side of the draw, as is reigning Olympic champion Argentina, along with a third team to be determined in the pre-Olympic qualifier.
The tournament format switches to single elimination in the quarterfinals, when the Americans (assuming they finish first in Group B) will play the fourth-place finisher from Group A on Aug. 20. The semifinals take place two days later, and the gold- and bronze-medal matches come on the final afternoon of the Olympics, Aug. 24.
The Americans expect to be playing in that final match, and there's no doubt they have the talent to get there.
But do they have enough size? Are the Gasol and the Lavrinovic brothers; the Russian front line of Andrei Kirilenko, Aleksey Savrasenko and Nikita Morgunov; the Andrew Boguts and Luis Scolas of the world -- are they licking their chops?
Two months from now, Tyson Chandler will be sitting on his easy chair with the rest of America, and we'll all know for sure whether Team USA's gold-medal drought will extend past its current eight-year run.
And maybe, just maybe, we'll look back on these late days of June as the time when the gold-medal decision was ultimately, erroneously made.
Chris Sheridan is an ESPN.com Insider. He has covered the U.S. senior national team since the 1996 Olympics.
SPONSORED HEADLINES
MORE NBA HEADLINES
MOST SENT STORIES ON ESPN.COM
Team USA: Going For Gold In Beijing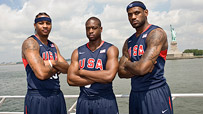 Team USA aims for the gold medal at the Beijing Games, playing its opening game against host China on Aug. 10.
Roster
|
Schedule
|
TV
News
•
Kobe & Co. arrive to heroes' welcome in Beijing
Pre-Olympic Tour
•
Jackson: Team USA will miss Amare
•
Sheridan: Flaws exposed against Aussies
•
Sheridan: Point-guard change?
•
Sheridan: D-Wade is back
•
Sheridan: Meet the Doberman
•
Sheridan: King James mastering FIBA rules
•
Jackson: Melo aiming for gold and more
Video
•
Watch: Best internationals in action
SportsNation
•
Who would you have picked?