Commentary
Rondo taking gamble with Team USA
Updated:
August 2, 2010, 10:28 PM ET
By
Chris Sheridan
| ESPN.com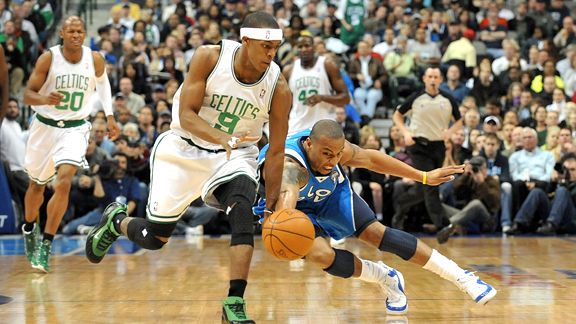 Patrick Green/Icon SMIDespite a crowded backcourt at Team USA camp, late add Rajon Rondo could prove to be a steal.
LAS VEGAS -- Now that Rajon Rondo has finally decided to try to make the 12-man Team USA roster, something he never heard in Boston is being made clear to him: It is OK to gamble.
And we're not talking about slots, craps or roulette.
We're talking about taking a chance, on the basketball court, at forcing a turnover when he applies full-court, man-to-man pressure against the ball handler he is defending.
The Celtics almost never press. And coach Doc Rivers has continually preached to Rondo that he needed to subjugate his desire to force turnovers through risky gambles that, if they failed, would result in his older teammates having to scramble to recover.
"I think there's more gambling in the international game. You gamble and rotate, try to force the tempo with the opponents, speed it up and try to make them turn the ball over," Rondo said Wednesday. "Everyone can play defense, but I try to bring a different type of level of intensity when I pick up the ball at the guard spot. They want me to.
"

I try to bring a different type of level of intensity when I pick up the ball at the guard spot. They want me to.

"

-- Rajon Rondo
"I don't do it in the NBA because there's 82 games and I'm playing 39-42 minutes, but I won't play so many minutes here, so when I'm tired I can come out."
First, of course, Rondo needs to make the final 12-man roster, which is not a given on a team that is loaded (overloaded, really) with talented point guards.
And with one of those spots seemingly destined to go to Chauncey Billups, Rondo is competing against the past two Rookies of the Year (Tyreke Evans and Derrick Rose) and a playmaker in Russell Westbrook, whom team insiders say has excelled tremendously over the first two days of practice at Team USA's minicamp.
With coach Mike Krzyzewski putting an emphasis on finding players who are capable of playing multiple positions, it is a negative for Rondo that he is pigeonholed as a pure point guard -- one with a highly unreliable jump shot and a history of being unable to knock down free throws. But Rondo can certainly defend. He led the league in steals last season despite Rivers' pleadings to knock off the risky stuff.
Team USA: Warmup Games
Here's Team USA's remaining schedule of exhibitions leading up to the 2010 FIBA men's basketball championship slated for Aug. 28-Sept. 12 in Istanbul, Turkey:

• Aug. 25: USA vs. Greece, Athens, Greece, Noon ET, ESPN2, ESPN3.com

•
FIBA World Championships website
"First of all, I love his ball pressure and his tenacity," Krzyzewski said. "He and Westbrook are elite in that. As a point guard if you're putting on that pressure, the very first thing is you want guys playing passing lanes behind you. If we can coordinate that denial, and everyone is out in the passing lanes instead of playing back, maybe you can hedge and maybe you can gamble a little bit more."
With a roster so deep in the backcourt, and a lack of size that has been accentuated by the losses of David Lee (finger injury) and Amare Stoudemire (contractual insurance issue), Krzyzewski has said the Americans will be playing an "unconventional" style. They will attempt to play to their greatest strength, forcing an up-tempo style and trying to create easy buckets off miscues.
"We're going to have to figure this team out instead of, 'This is one through five, and we're going to beat it down your throats.' We can't do that," Krzyzewski said.
Rondo averaged 3.4 steals per game when he was a member of the U.S. national under-21 team that went 7-1 but finished fifth at the 2005 U-21 world championship in Argentina.
He resisted overtures from USA Basketball managing director Jerry Colangelo during the regular season and the NBA playoffs to try out for the 2010 national team. But he changed his mind after a five-minute phone conversation with Colangelo two weeks ago while at his youth camp in Louisville, Ky.
"It wasn't that he needed to convince me, it was just a question of when was the right moment," Rondo told ESPN.com. "I want to play, he made the phone call and he wanted me to go, and it wasn't like negotiation or he had to convince me to play, I had just needed to get away from basketball for a minute, relax and enjoy myself and my family a little bit. Because this, if I make the team, is going to take up most of the summer. And then a week after it's over we go to training camp."
[+] Enlarge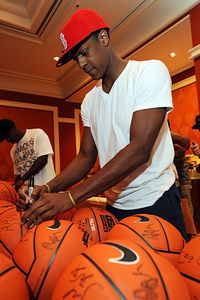 Andrew D. Bernstein/Getty ImagesDespite resisting overtures during the regular season, Rajon Rondo signed off on joining Team USA minicamp two weeks ago.
Rondo said he did not even touch a basketball for two weeks after the disappointing conclusion to the NBA Finals, his Celtics losing Game 7 to the Lakers in Los Angeles.
Mentally and physically, he was toast.
"It was just wear and tear, really," he said. "I didn't know how my body would hold up. I played a lot of minutes this year, a lot of games -- probably the most games of anybody in the NBA except for two to three guys that went to the Finals. I was worried about my body condition, my health.
"I was just trying to get to the Finals, then once that was over they really wanted me to come and have the opportunity to try out, see whether I can make the best of my opportunity.
"I think it's good branding for myself, globally and internationally, and I'm having a lot of fun with these guys. A lot of the guys are pretty young."
That's something he hasn't been able to say in Boston, where the core members of the team are practically geriatrics compared to what he'll be playing alongside if he makes the final cut and takes the floor with 11 other Americans in Turkey.
And not only will he have the freedom to gamble, he'll have a chance to defend in the half court in a way the NBA does not allow.
"You can't hand check in the NBA. Never. You can't touch at all," Rondo said. "But I like the international game, I think it fits my style better -- a lot faster pace, the rules are different, you can be more physical up top with the guards. Plus, they haven't seen my game, so I'll use my quickness to my advantage.'


ESPN Insider Chris Sheridan
• On Twitter @CSheridanESPN | On ESPN.com | On TrueHoop | On e-mail
• Follow ESPN's NBA coverage on Twitter | On Facebook
2010 FIBA World Championship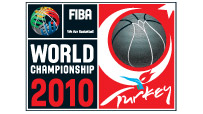 Scoreboard | Schedule | Standings
Follow ESPN's NBA coverage on Twitter
COLUMNS
NEWS
PREVIEWS
MORE