Commentary
James clarifies 'I ain't going nowhere' and leaves door ajar
Updated:
August 6, 2009, 4:14 PM ET
By
Chris Sheridan
| ESPN.com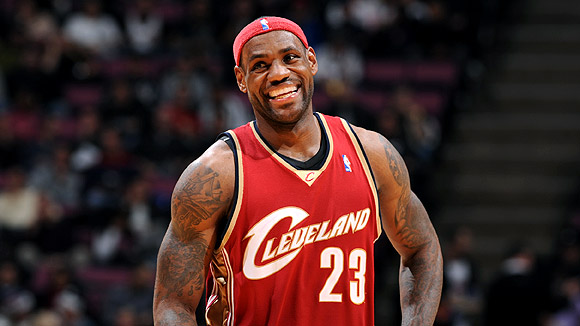 Jesse D. Garrabrant/Getty ImagesJames can become a free agent in 2010. Until then, everyone is left speculating about his intentions.

"Thank you, Cleveland. Of course you know I love you all, of course. I love Ohio, and I ain't going nowhere. I'll be here." -- LeBron James at a voter registration rally in downtown Cleveland on Oct. 4.

"I'm from there, and so home is home for me. And that's the way I was feeling at that time. Home is -- no matter where you go or if you ever move somewhere else, it don't matter -- home is always going to be home, and that was what I was basically letting them know." -- LeBron James on Tuesday night in the visitor's locker room at the Meadowlands.

EAST RUTHERFORD, N.J. -- It took 45 days, but LeBron James finally provided some clarification on what initially appeared to be his most definitive statement ever on his long-term career plans.

When James said 'I ain't going nowhere,' what exactly did he mean?

That was the question posed to James by ESPN.com some 70 minutes before the Cleveland Cavaliers won their eighth straight game with a 106-82 victory over the New Jersey Nets.

James can become a free agent in 2010, and his intentions have been the subject of intense speculation in Cleveland, the New York area, and elsewhere. As he responded to the question on Tuesday, his answer gently moved the needle once again on the state of his future.

On that sunny day in October, Cleveland fans felt the needle moved forcefully in their direction upon hearing James' comments at the voter registration rally, given the statement sounds pretty definitive. But since then, James had not clarified what he meant.

In the locker room on Tuesday, he elaborated:

"You do what's best for you and your family, you do what's best for your career. Loyalty definitely has a big part to do with it ... and every night I go out and play hard, and that's loyalty," said James.

"But it's hard because it's a business. A franchise is going to do what's best for the franchise, and the players, for some odd players, when a player does what's best for the player, it comes back and almost looks bad. But when a franchise decides to give up on a player, then it's OK. So we've got to do what's best for us."

James went on to say that he thinks this is the best Cavs' team he's been a part of since joining them in 2003, and that he doesn't think he or anyone else could ever duplicate Oscar Robertson's feat of averaging a triple-double over the course of an 82-game season. (Even during another MVP-type performance, he didn't get much closer to the Big O's standard on Tuesday when he recorded four assists to go along with his 31 points and eight rebounds.)

But the statements which might carry the most weight were the ones about his future -- a future which, if he chooses, can begin on July 1, 2010.

"When I decide to make that decision, it's going to basically put me in a position where I feel I can win multiple championships," James said. "If it's staying here, I'll be here, and if it's moving elsewhere, then I'll have to look at all my options."
Chris Sheridan covers the NBA for ESPN Insider. To e-mail Chris, click here.
SPONSORED HEADLINES
MORE NBA HEADLINES
MOST SENT STORIES ON ESPN.COM
EDITORS' PICKS
Kevin Love knows what a terrible homecoming is like.
McMenamin »

Paul Millsap and the Hawks earned an 18th straight win.
The Ten »

Adam Silver gets high marks for his first year as commish.
Marc Stein »