Commentary
Long way to go before lockout
The owners and players have learned lesson from last labor crisis -- right?
Originally Published:
February 15, 2010
By
Chris Sheridan
| ESPN.com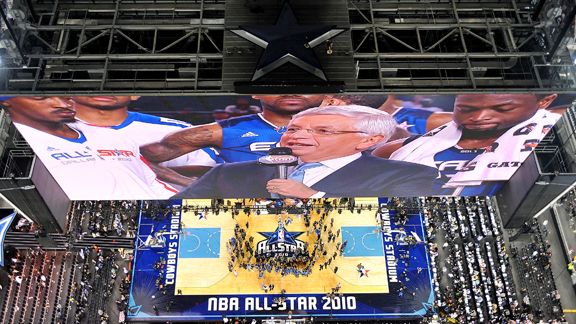 Jesse D. Garrabrant/NBAE/Getty ImagesIn the big picture, David Stern and the players have too much to lose with a loss of games.
If one thing became clearer in the NBA labor picture over All-Star Weekend, it is this: The next time you read or hear a story saying a lockout is inevitable, you should be skeptical.
Any people who say they know what will happen are misinformed because nobody -- from David Stern on down to a rookie on a 10-day contract -- can predict a future in which so many variables have yet to be determined.
The owners claim they are losing money (Stern put this season's cumulative losses at $400 million) and are determined to get a better deal, but how far they are willing to go to get a better deal is an open question -- and the time to see which side blinks first is a long way away.
Fact: A lockout is a possibility in the summer of 2011, but it is far from a certainty.
Fact: The current collective bargaining agreement is not on the verge of expiration. It will remain in effect at least through June 30, 2011, and there could be so many shifts in the NBA landscape between now and then -- not to mention whatever economic changes arise domestically and globally -- that what was discussed this weekend might have become completely moot by the time the real hard bargaining takes place.
Fact: Neither side benefits from a work stoppage, and both sides know it. It took the NBA nearly half a decade to recover from the effects of the 1998-99 lockout, and simple logic suggests that the appetite for peace instead of war will increase as the owners and players move toward the eleventh hour.
It is worth bearing in mind that the 1998-99 lockout came at a transitional time for the NBA, with the impending end of Michael Jordan's Bulls playing career affecting the negotiating dynamic more than many people realized at the time. If there is a lockout in July 2011, it will come with LeBron James, Kobe Bryant and other superstars near the peak of their careers, and an interruption in what should be a 20-year upward growth chart for the NBA as a business entity would have an even more devastating effect than the '98-99 lockout.
So despite all the rhetoric and apocalyptic talk that flew around Dallas the past few days, it is important to remember a few things:
• There is plenty of time to make a new deal.
• There are already mechanisms in place to control the amount of basketball-related income that flows to the players, and those mechanisms can be adjusted to redistribute the money in whatever proportion the sides ultimately agree upon.
• Despite their adversarial positions, commissioner Stern and union director Billy Hunter have forged a strong relationship in the dozen years since they went to war, and each has grown accustomed to the way the other does business: Stern always asks for the moon, the stars, the sun and the wind, hoping he can get two or three of the four. Hunter is open to making concessions, but each of those concessions comes with a price.
For example, the establishment of maximum salaries in 1999 coincided with the birth of the middle-class exception, which Hunter used to sell the deal to the majority of his membership). Hunter also gave the owners luxury-tax certainty and an age limit in 2005, but he got the owners to guarantee the players 57 percent of revenues and to raise the calculation on which the salary cap is set from 48.01 percent of BRI (basketball-related income) to 51 percent.
Hunter and Stern have grown accustomed to that particular dynamic being part of the bargaining equation, which helps explain why the owners made such a draconian opening proposal -- an offer union VP Adonal Foyle called "ludicrous" -- before withdrawing it at Friday's negotiating session in Dallas.
The answer, in great part, is this: Stern and deputy commissioner Adam Silver (nominally the lead negotiator) are representing a largely different group of owners from the ones who imposed the lockout in the summer of 1998, and this new generation of owners -- Phoenix's Robert Sarver, Boston's Wyc Grousbeck, Oklahoma City's Clay Bennett and Cleveland's Dan Gilbert are among those on the owners' negotiating committee -- paid big bucks for their teams and thus are more financially leveraged than their predecessors, and therefore are approaching the talks with the same hard-line stance they'd bring to negotiations in their other businesses.
Also, there is the flux factor: The Nets and Bobcats are in the process of being sold; the Memphis Grizzlies would be sold if Michael Heisley could find a buyer; and the Pistons, Wizards and Jazz are effectively being run by the estates of recently deceased owners Bill Davidson, Abe Pollin and Larry Miller, respectively.
The representatives on the owners' negotiating committee from among (what can be loosely called) the old-school group of owners include the Hornets' George Shinn, Denver's Stan Kroenke, Jeannie Buss (the daughter of Lakers owner Jerry Buss) and James Dolan of the Knicks. Also represented on the committee are Portland's Paul Allen (through team president Larry Miller), Orlando's Rich DeVos (through son-in-law and team president Bob Vander Weide) and Minnesota's Glen Taylor, chairman of the board of governors.
Pollin and Utah's Miller were members of the owners' negotiating committee in 1998, and playing a lesser role in those talks was San Antonio Spurs owner Peter Holt, who is now chairman of the owners' negotiating committee. (Interesting side note: Before contracts were limited to a maximum of seven years, it was Holt's opinion that teams should have the choice of locking up a player for 8, 9 or 10 years if they were fortunate enough to land someone like Tim Duncan or David Robinson. That note becomes even more interesting given the fact that Holt is now leading the charge to limit contracts to a maximum of four years.)
One of the big X factors in this labor deal will be how much sway those new owners will hold when it comes to decision time, and Allen, DeVos, Miami's Micky Arison, the Clippers' Donald Sterling, Houston's Les Alexander, Golden State's Chris Cohan and Sacramento's Maloof family are no longer watching from the sideline.
In a way, it is somewhat akin to the situation the NBA's superstars (except Chris Paul, who is on the players' negotiating committee) found themselves in before the owners' new proposal served to galvanize the players, with 11 All-Stars showing up unexpectedly at Friday's official bargaining session in Dallas.
It was at that meeting that the union's chief outside attorney, Jeffrey Kessler, gave a particularly abrasive (Stern called it "theatrical" at his Saturday night news conference) presentation on exactly how ludicrous the players felt the owners' proposal was, a rant that included the threat of decertification, the so-called "nuclear option" the union has stored in its arsenal but has not threatened to use since 1995.
The next step in the process is for the players to present a proposal of their own, which should happen before the NBA Finals.
More rhetoric will follow, then the owners will make a counterproposal, and so on and so on.
But whether this labor negotiation remains consistently contentious will hinge on whether the sides can bridge the fundamental difference they have regarding whether the current system is broken and unsustainable, as the owners say, or working -- albeit imperfectly -- as the union contends.
All signs point to this negotiation going down to the eleventh hour, which will be June 30, 2011 (or a couple of days later, if the sides do what labor negotiators often do and stop the clock at 11:59 p.m. while continuing to talk). It'll then be D-Day, and we'll either have a lockout or we won't.
And if there is a lockout, the true drop-dead date to avoid losing games probably will fall somewhere toward the end of October, or early November, 2011. (Abbreviated training camps could then be held, followed by a full 82-game schedule with the start of the playoffs pushed back a week or two.)
But most importantly, a labor deal eventually will get done. Both sides might be a little crazy, but neither is suicidal.
Meanwhile, we still have the rest of this season, this summer's free-agent frenzy and all of next season ahead of us.
So until then, remember this: We're still a long, long way from doomsday, and predictions of Armageddon have historically proved to be overstated. So enjoy the basketball this season and next, then go ahead and worry about the next labor deal. Because eventually, lockout or not, there will be a next labor deal.


ESPN Insider Chris Sheridan
• On Twitter @CSheridanESPN | On ESPN.com | On TrueHoop | On e-mail
• Follow ESPN's NBA coverage on Twitter | On Facebook
EDITORS' PICKS
The Nets survived late heroics by Steph Curry to beat the Warriors on a game-winner by Jarrett Jack.
Recap

James Harden has been suspended one game for kicking LeBron James.
Story »