Greatness was often understated
James Worthy was often in the background, except when it mattered most -- prime time.
Updated:
September 15, 2003, 4:25 PM ET
By
Sam Smith
| Special to ESPN.com
James Worthy always was easy to overlook.
In college, he played with Michael Jordan, and perhaps his greatest college game symbolized his pro career. He was the best player on the floor that night in 1982, the most outstanding player of the 1982 NCAA tournament when his North Carolina team won the national championship. Yet, the only time you see highlights of that game, it's of Jordan's winning shot.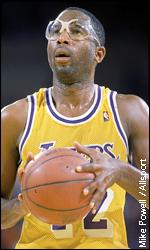 James Worthy got his big game reputation for good reason.
Worthy played virtually his entire professional career with Magic Johnson and Kareem Abdul-Jabbar, certainly two of the top 10 NBA players of all time, arguably two of the top five and perhaps the two greatest at their respective positions.
So just what did James Worthy do?
Win, that's all. And James Worthy did whatever was necessary for his teams to win, from yielding that final shot to freshman Jordan to readily accepting a supporting role when he was an all-American and the first pick in the NBA draft.
James Worthy was never going to be the best player in the league. His jump shot was suspect and lacking great range. He wasn't particularly flamboyant, and his NBA numbers were easy to overlook. Worthy averaged a modest 17.1 points per game in his 12 year career, never leading the league in any offensive categories.
But one: Unselfishness.
James Worthy was perhaps the ultimate coach's player, the one man most willing to sublimate his ego for the team. Perhaps no one ever in the NBA with as much natural talent was willing to show less of it than James Worthy.
James Worthy didn't need to be a star. Just a winner.
It's why he's going into the Basketball Hall of Fame. His best friends and supporters cheer and also breathe a sigh of relief.
Because they know that Worthy was never appreciated by the fans, the media and the casual observers of the game like he was by the people who made the game.
North Carolina coach Roy Williams, who scouted Worthy when Worthy was in junior high school and who was one of his coaches in college, says: "Put it this way. Even though no one loves James more than I do, I was surprised he made the Hall of Fame. I was thrilled because it showed people do see the things he did, the things we knew. But we feared because he was always so willing to step back that it would hurt him."
Yet, that always was Worthy's way.
Whatever it took to win and whatever was necessary to support and bolster his teammates.
Williams remembered Worthy at North Carolina as the player, even though he was the best on the team, who deferred until it was necessary to step up. Williams recalls a typical week in Worthy's era. North Carolina played the Citadel and Furman. Worthy had average games, scoring 16 and 11 points in two relatively easy wins. Then North Carolina went on national TV to play highly ranked Notre Dame and Worthy led the way with 26 points and 15 rebounds, Williams recalled.
"The bigger the game," said Williams, "the more involved he was."
It led to one of the great and most appropriate nicknames, and perhaps the best explanation of why James Worthy is a worthy Hall of Famer.
No one raised their level of play for the playoffs like Worthy. Not Michael Jordan or Magic or Kareem, or Larry Bird, Oscar Robertson, Bill Russell, Wilt Chamberlain, Julius Erving or Jerry West.
He was Big Game James.
The bigger the game, the better he was.
Worthy was the MVP in the NBA Finals when the Lakers won the championship in 1988. In 1989, when the Lakers repeated as champions, Worthy averaged almost 25 points per game, some five points per game in the playoff run more than anyone else on the Lakers. In 1985, when he won his only other title with the Lakers, he was second in scoring in the playoffs to Abdul-Jabbar by less than half point.
One of the true gauges of greatness in the NBA is the difference between a player's regular season scoring average and his playoff scoring average. Worthy averaged 3.5 points per game more in the playoffs than he did in the regular season, the biggest differential among the players regarded as the best in the history of the game.
It was the attribute than earned him the Big Game James moniker.
In actuality, the name came before the playoffs, more as a matter of course than anything else. It was coined by a sportswriter, Lyle Spencer, then working for the old Los Angeles Herald Examiner. Spencer traveled with the Lakers then and the routine would always be the same. Against the dregs of the league, the Clippers, the Kings, the Warriors, Worthy would get six or eight points, leaving the game early when victory was assured, never padding his stats for ego or contract. He was a player satisfied with who he was. But when it was the Jazz or Mavericks or Trailblazers, the big Western Conference teams then, or in the playoffs against the Celtics, Worthy was there with 28 points and 12 rebounds, a big basket, a rebound, whatever.
He probably could have dominated games if he wanted to, though not with the Lakers team he went to. Then-general manager Jerry West understood immediately. The top collegiate players that season were Worthy, Terry Cummings and Dominique Wilkins. Fortunate to have the high pick from a previous trade, the thought was the Lakers should go for Cummings or Wilkins.
Cummings was the true, rugged, classic power forward who'd fit best with Abdul-Jabbar, who wasn't a dominant rebounder. Wilkins was the highflying dunking machine whose highlight game would fit in Hollywood and with the Lakers' Showtime game. But West understood the value of getting along. He had two of the best players ever, and whoever came along had to understand he'd be third.
It's not as easy to accept as one might think. Not for a star. Could Michael Jordan do it? Could Bird? Could Magic? It took someone secure in his own ability and in who he was.
Some like to compare Worthy to Scottie Pippen, an All Star role player, another member of the NBA's top 50 of alltime who played a subordinate role for a champion.
Really, if you want a comparison to James Worthy it would be Julius Erving. Without the whipped cream and cherry on top. Worthy was vanilla, but awfully good.
Like Erving, he was a great finisher, though not with Dr. J's Úlan. Neither had a great outside shot, but they were good scorers. Both ran the wing as good as any ever in the NBA, and neither could really do it by himself. Dr. J. didn't win in the NBA until he had the great inside man in Moses Malone, and, of course, Worthy has Abdul-Jabbar and Magic.
Kevin McHale is an apt comparison as well, though like Pippen their games were different than Worthy's. McHale needed to be surrounded by the great scorer and big man, though there's no doubt he could have been a great scorer on his own. Were they role players? Superstars who elected to play a role for the greater good.
Worthy could have been a career 25, perhaps 27 point per game scorer if he were with a lesser team, if he were the go to scorer. He averaged more than 20 points per game four time sin his 12-year career, though never more than 21.4. His career scoring average was 17.5. It didn't need to be higher.
But when it had to be, it was. In the nine years he appeared in the playoffs, Worthy averaged more than 20 points per game six times, three times more than 23 per game. His career playoff scoring average was 21.1.
And Worthy was one of the first to develop the big, small forward position, one now popularized by the likes of Kevin Garnett, the big man who can run the floor and finish gracefully and who is a matchup nightmare at his size. Though Worthy often had to play power forward early in his career, he eventually would become the lane running small forward, a quick big man who had the speed to stay with the classic small forward of his day, yet could easily post him up. Worthy's postup moves were classic and as the years progressed, he improved his outside shot and range, though he always was among the leaders in shooting because of his inside play and scoring on the fast break.
Worthy was a dedicated worker, unselfish, the perfect fit for one of the greatest teams ever in the greatest era in the NBA. He was easy to overlook, and sometimes too subtle to appreciate. But his teams were winners, and it's all that mattered to James Worthy. James Worthy always understood that winning was what the game was about. He didn't just say it; he lived it. All sports always need more like him.
Sam Smith, who covers the NBA for the Chicago Tribune, is a regular contributor to ESPN.com.
EDITORS' PICKS
Russ being Russ

Kawhi's the key

DeMar nets 42

MOST SENT STORIES ON ESPN.COM