Vandeweghe's uncommon ways bear results
Updated:
October 1, 2004, 5:07 PM ET
By
Marc J. Spears
| Special to ESPN.com
Just what was Kiki thinking?
From J.R. Rider to Nikoloz Tskitishvili to Dennis Rodman, Nuggets general manager Kiki Vandeweghe has raised many eyebrows with his moves. Nope, Vandeweghe isn't a conventional-thinking GM. But his open-minded, risk-taking mentality has helped him quickly transform the Nuggets from one of sports' most laughable franchises into one of the NBA's best in a very short time.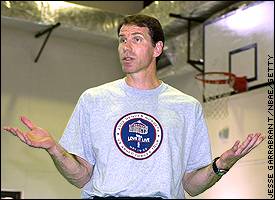 Kiki Vandeweghe will try almost anything to improve the Nuggets.
''Most of the time, if you're thinking with conventional wisdom, you end up with average results or the same thing,'' said Vandeweghe, whose team now showcases superstars like
Carmelo Anthony
and
Kenyon Martin
. ''The position we were in needed bold moves. I've always been one to take chances. Since my press conference, I've said that I would be one to try things.
''It's not always right. But at least, you always believe that if you do what you believe that nine times out of 10 it will work out.''
On Aug. 9, 2001, Vandeweghe walked into one of the toughest GM jobs in sports when he joined the Nuggets. Sure, Denver had talent with Nick Van Exel, Antonio McDyess and Raef LaFrentz on the roster. But Vandeweghe felt the roster would get the Nuggets no further than the first round of the playoffs.
Once the 2001-02 season began, McDyess' season was a wash following preseason knee surgery. Then that December, Van Exel said he wanted out of Denver, proclaiming he was tired of losing.
Using the club's three biggest pieces, with even bigger contracts, Vandeweghe made moves that strongly altered the franchise and cleared over $100 million in salary. He traded Van Exel, LaFrentz, guard Avery Johnson and swingman Tariq Abdul-Wahad to Dallas for forward Juwan Howard, guard Tim Hardaway, forward Donnell Harvey and a first-round pick on Feb. 21, 2002.
And on June 26, 2002, Vandeweghe made a then-risky draft-day deal, sending McDyess and the draft rights to guard Frank Williams to New York for center Marcus Camby and the draft rights to a little-known forward-center in Nene Hilario.
The trickle-down effect of the two trades built what is now the Nuggets' foundation.
The Nuggets acquired two starters in Camby and Nene. Although they were instantly terrible on the court, the Nuggets' poor record helped them grab Anthony with the 2003 NBA Draft's third overall pick. And with the team millions under the salary cap, Vandeweghe was able to land an All-Star like Martin, to re-sign Camby and to sign guards Andre Miller, Earl Boykins and Voshon Lenard.
Since his arrival, Vandeweghe was also able to accumulate several first-round picks, which he used as assets by sending three to New Jersey to acquire Martin without trading the coveted Nene or any other player. Over the next three years, the Nuggets still have two of their own draft picks and one from Washington.
It was just two seasons ago that Denver won just 17 games. Now entering training camp for the 2004-05 season, expectations are that the Nuggets could be one of the top teams in the Western Conference and improve on last year's surprising first-round playoff appearance.
''I did everything I could to make the team better,'' Vandeweghe said. ''Not doing anything wouldn't make things better. Luckily, I had an owner that let me do things, make a big trade (Van Exel) in the middle of the season and trade my best player (McDyess), which was a risk at the time ...
''Many times, I go against the grain. If you go with the pack all the time, you don't improve.''
While he has been quite successful, every move hasn't worked in Vandeweghe's favor.
Vandeweghe kept point guard Kenny Satterfield over Carlos Arroyo. Satterfield was in the NBDL last season while Arroyo was starting for Utah. The J.R. Rider experiment lasted just 10 games during the 2001-02 season. While the Nuggets got a first-round pick in the deal, they traded guard James Posey in 2002. Posey is now shining in Memphis. And although the Nuggets have faith that he will pan out, Tskitishvili has yet to live up to his billing as the fifth pick in the 2002 NBA Draft.
Even so, no GM is ever going to be 100 percent correct. And considering all the right moves Vandeweghe has made, the blemishes haven't kept the Nuggets from looking very pretty today.
''Are there things I wish I would have done differently? Definitely,'' said Vandeweghe, who declined to go into detail. ''I can name a bunch. But in the long run, I did a bunch of things that worked, too.''
Another attribute that makes Vandeweghe stand out is he isn't afraid to try the unorthodox.
While powder-blue uniforms didn't sound too macho at first, Nuggets jerseys are now among the NBA's top sellers. The Nuggets were the first team to acquire an NBDL player in Chris Andersen, now with New Orleans, in 2001. Famed rapper Master P. worked out for the Nuggets several times before being cut during summer-league camp in July.
There has been talk about Hall of Famer Clyde Drexler contemplating a comeback in Denver, and former NBA rebounding champ and renowned wild man Dennis Rodman came in for a second workout Thursday. While bringing in Master P., Drexler and Rodman wouldn't even be a consideration for most GMs, Vandeweghe believed he had nothing to lose while getting a lot of free national publicity in the process. And because neither was offered a guaranteed contract and the workouts didn't take place during the regular season, there is no risk involved.
''Someone who is an extraordinary athlete like Clyde Drexler or Dennis Rodman -- why not take a look?'' Vandeweghe said. ''Those guys bring a winning mentality. It's great for our guys to see superstars.''
Said Rodman: ''I never kissed no one's (butt) or took a handout. I'm going to go out there and prove to myself that I'm able to go out there and produce. Just because Kiki's my friend, he doesn't have to give me this opportunity. But he actually feels that I can do something. That I can provide some leadership or knowledge of the game to the Denver Nuggets. I respect that from him. If he is doing it because he's my friend, I don't want to come.''
By rolling the dice and not being conservative, the Nuggets are a marketable and upper-echelon team under Vandeweghe. Without him, they would probably still be the same-old Nuggets.
''It's the only way I know how to do it, for better or for worse,'' Vandeweghe said.
Marc J. Spears, who covers the NBA for The Denver Post, is a contributor to ESPN.com.
EDITORS' PICKS
Who could land Justise Winslow and Jahlil Okafor? Try our lotto mock draft.
Play »

Marred by injuries, the Rockets continue to find ways to win. Having James Harden doesn't hurt, either.
Watkins »

Why Durant is smart to go for surgery over heroism.
Adande »

MOST SENT STORIES ON ESPN.COM