Give Cooper the rest of the season
Updated:
December 31, 2004, 4:38 AM ET
By
Marc J. Spears
| ESPN.com
DENVER -- Since the season began, the Nuggets' heads have been spinning fast due to injuries, Carmelo Anthony's off-the-court drama and coach Jeff Bzdelik's recent firing.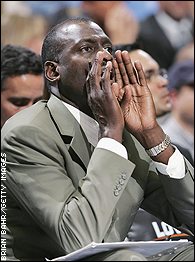 As a head coach, Michael Cooper will try to emphasize a defensive philosophy.
With all that in mind, the last thing the Nuggets need to do is bring in a third coach this season instead of giving interim coach Michael Cooper a chance. By implementing patience, the Nuggets will be better in the long run whether it's Cooper or someone else standing on the sideline after this season.
Nuggets general manager Kiki Vandeweghe has begun contacting experienced coaches for the team's head coach opening. The short list of potential candidates includes Dallas Mavericks assistant Del Harris, San Antonio assistant P.J. Carlesimo and former NBA coach George Karl.
Utah Jazz assistant Phil Johnson, however, took his name out of the running Thursday after talking to his family and the Jazz.
The Nuggets are expected to take their time in this exploratory search and it's uncertain whether any new coach will be hired at all this season.
"There are experienced coaches out there who are worth taking a look at,'' Vandeweghe said.
Cooper, named interim head coach Tuesday after Bzdelik was fired, makes his coaching debut on ESPN on Friday night against Philadelphia. While Cooper has NBA assistant coaching experience with the Lakers and Denver and won two titles and a coach of the year award with the WNBA Los Angeles Sparks, he doesn't have the NBA head coaching experience of the aforementioned veterans.
"That doesn't bother me," said Cooper, about Vandeweghe's exploratory search. "That's his job. He wouldn't be doing his job if he didn't do what he had to do to make this team good. You know what, they've given me the OK and the confidence I can get the job done. Right now, that's how I'm looking at it.
"If I can't get it done, I'll step down. If we were losing 10 or 12 more games (soon) even though the (season's) young, I would step down. You have to give a team the best chance to win whether it is from coaching or the general manager or whatever. We have to give this team the best chance. If I'm not the coach for it, I'll be the first to step down."
Cooper is used to having to prove himself. Such was the case when he played for the Los Angeles Lakers. As a third-round draft pick, he overcame long odds to become an eight-time NBA all-defensive team selection, a five-time NBA champion and the 1987 Defensive Player of the Year.
While Cooper is a treasured player in the Lakers' storied history, he always played as if he could be cut at any time. He plans on having that same mentality in trying to convince Vandeweghe that he is the man for the job.
"I got an opportunity now," Cooper said. "It's almost like it's my job to lose. As a player, I was always afraid of being traded. Here, I am afraid of being replaced. But I feel comfortable and confident in myself and my philosophy and the way I'm approaching this game. If it reaches the players, and I think it has, and we start implementing it on the court, I'll keep my job."
By sticking with Cooper, the Nuggets have little to lose and a lot to gain. If Cooper does well, the Nuggets have found their coach. If he doesn't do well, Denver will put a coaching job on the market that will be extremely attractive.
| | | |
| --- | --- | --- |
| | " | It's almost like it's my job to lose. ... But I feel comfortable and confident in myself and my philosophy and the way I'm approaching this game. If it reaches the players, and I think it has, and we start implementing it on the court, I'll keep my job. " |
| | | — Michael Cooper |
While the Nuggets are considering an experienced group now, think about the potential candidates who could be available during the offseason.
Seattle SuperSonics coach Nate McMillan, who will get Coach of the Year consideration if his team stays hot, will be a free agent this summer. Mike Brown, a well-regarded, young Indiana Pacers assistant who won a title as an assistant with San Antonio, is a hot name.
While he'd be expensive, NBA coaching legend Phil Jackson will be available and well rested. Plus, there always seems to be an unsuspected coach available along with the aforementioned veterans, who could feel more comfortable about the job in the offseason.
In 2002, numerous candidates took their name out of the hat for the Nuggets' coaching job, and Bzdelik had to be begged to take it. Now, agents will constantly be in Vandeweghe's ear about their client no matter what Cooper is doing. The job has become more appealing with Anthony, Kenyon Martin, Andre Miller, Nene, Marcus Camby and Earl Boykins on the roster.
Patience could also result in the Nuggets saving a lot of money. Sure, Denver's coaching staff is one of the lowest paid in the league. At $1.6 million, Bzdelik was making about half the average salary of an NBA head coach. But by hiring a veteran coach now, he would likely want a long-term, lucrative contract and his own assistant coaches, who will need to be paid, too.
Keep in mind that the remaining coaches from the Bzdelik regime would still have to be paid as well, and Cooper has another year and a team option on his contract. Plus, the Nuggets would have to adjust to a third coach.
"It's a great opportunity, but it's tough to go there in the middle of the year," Johnson said. "With the situation here, I don't feel I should leave."
While the Nuggets' world may seem in disarray, the future will be brighter if they settle down instead of keeping their heads spinning.
"To get to this point, it didn't happen overnight," Vandeweghe said. "It's an accumulative effect. … You would have a different team if things didn't happen. I just hope Cooper or whomever it is has a fair chance.''
Marc J. Spears, who covers the NBA for The Denver Post, is a contributor to ESPN.com.
SPONSORED HEADLINES
MORE NBA HEADLINES
MOST SENT STORIES ON ESPN.COM
EDITORS' PICKS
Without their MVP, Westbrook and OKC are keeping up with the champs.
NBA Now

Wall and the Wizards opened Christmas Day action with a win at MSG.
Recap »

Heat fans should celebrate their time with LeBron.
McMenamin »