The Lowedown on Sidney: Win or else
Originally Published:
November 4, 2002
By
Marc Stein
| ESPN.com
Jerry West is known to buzz through meals faster than the server can walk away. He'll play a round of golf in two hours. Mr. Clutch never denied that he could be the logo for impatience, too.
Only that's not the way West has ever conducted basketball business.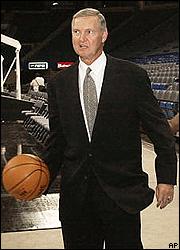 He never ran the Lakers on impulse power, and he wasn't going to show up in starting-from-nothing Memphis by making wholesale changes. Given how much he also values fairness, it was clear to anyone who has followed West's imperious GM-ing history that Sidney Lowe would get a real shot to prove himself worthy of staying on as Grizzlies coach.
Lowe and the Grizz, though, are making it increasingly difficult for West to resist his natural urges. Within a week, Lowe has vaulted to the top of your Coaches on the Hot Seat list.
Memphis is 0-3 to open the season and, tough as its schedule is this month, hasn't been competitive in even one of the games yet. Lowe openly questioned the team's emotion and energy Saturday night, leading to the inevitable conclusion that a group West has already strengthened -- by drafting Drew Gooden and trading for rookie surprise Gordan Giricek -- is already playing like it knows their coach is a lameduck.
The Grizz is allowing a league-worst average of 114.7 points per game and only cracked 100 itself in the opener when the Dallas Mavericks abandoned an effective zone to work on their own porous man-to-man alignment. Much as West expects a loss-filled first season, especially early, he will never be able to stomach a lack of effort and passion.
That's why Lowe, unless he can somehow haul Memphis out of the blahs, might not see Thanksgiving there.
Team intensity isn't his only problem, either. Pau Gasol is averaging only 12 shots per game, which means the offense can't be running right -- especially when Gasol is shooting 71 percent from the floor. Gooden, West's first-ever Memphis draft pick, is suddenly coming off the bench after starting Opening Night against the Mavericks and has played fewer minutes in each successive game (27, 24, 16), which suggests that the rotation is unsettled.
Diminished output (15 points in three games) from Shane Battier, meanwhile, has put more leadership onus on volatile point guard Jason Williams, whose relationship with Lowe has been strained since last season. West's arrival was supposed to inspire JWill, a fellow West Virginian, but the coach has more of a day-to-day impact than the GM. And though it's not Lowe's fault, Williams has the longer contract, meaning he's the one who's going to stick.
| | |
| --- | --- |
| | Lowe has to know what's coming, as someone else's hire. There are a couple outstanding coaches available at present: Jeff Van Gundy and Mike Dunleavy, the man West chose to replace Pat Riley in L.A. |
| | |
Lowe, as someone else's hire, has to know what's coming. There are a couple outstanding coaches available at present: Jeff Van Gundy and Mike Dunleavy, the man West chose to replace Pat Riley in L.A. Dunleavy has been linked with the Grizz ever since West got there and it figures that Mr. Clutch would want to grab one of them -- most likely Dunleavy -- before someone else does.
If the passive play continues, you can be sure West won't wait, with the Grizzlies' Memphis honeymoon over and a need to at least be immediately competitive, if not instantly victorious. Your opportunity to check for improvement comes Friday night on ESPN, when the Grizz visits Sacramento on the middle stop of a Blazers-Kings-Nuggets road trip. San Antonio is Memphis' opponent at home Monday.
When the change does come, with such a young team, West will undoubtedly be drawn to a veteran who can bring some authority to proceedings. A teacher. Someone to mold a roster that impresses rival teams as much as it can in the Western Conference, where a playoff spot remains a long way off.
The wait is going to test West, maybe more than anything ever has in a 40-year career spent entirely with the Lakers until now. The coach who works for him has to generate sufficient progress to distract West from that legendary impatience.
Marc Stein is the senior NBA writer for ESPN.com. E-mail him at marc.stein@espn3.com.
Senior Writer, ESPN.com
• Senior NBA writer for ESPN.com
• Began covering the NBA in 1993-94
• Also covered soccer, tennis and the Olympics
SPONSORED HEADLINES
MORE NBA HEADLINES
MOST SENT STORIES ON ESPN.COM
EDITORS' PICKS
The season of pretending can finally end, and Kobe and the Lakers will be better for it.
Shelburne »

The Cavs need to manage the wear and tear on LeBron.
Windhorst »

They have the continuity, experience and, of course, the Grit 'n' Grind. Memphis is primed for something special.
Kevin Arnovitz »