Champs deserve to be judged by different standard
If opponents measure the Lakers by a different standard, why can't the Power Rankings?
Updated:
December 6, 2002, 7:42 PM ET
By
Marc Stein
| ESPN.com
ESPN.com users sound off on senior writer Marc Stein's NBA Power Rankings from Dec. 3. Stein's responses to the top 10 responses are included.
1. Still can't find the courage to rank the Lakers in the bottom 10 where they belong? How many more do they have to lose before you writers admit that the rest of the league has figured them out and that they simply are not a good team?
Drew Hoekstra
Biloxi, Miss.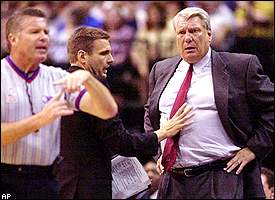 Hey, even the Nelsons of the one-loss Mavericks look at the Lakers differently.
STEIN:
Here's the thing, Drew. When all the other teams in the league stop looking at the
Lakers
with a different set of standards, so will we. Every team they play still treats it like a Super Bowl. That's a big reason why they're judged differently in the Power Rankings. None of the Other 28 sparks that sort of reaction. I remember when the Mavs won in Jersey to go 10-0, and Don Nelson brought up the Lakers -- 3-6 at the time and still without
Shaquille O'Neal
-- in his postgame address. Nelson talked about what a big game it still was, the Lakers coming into Dallas a few days later. It's a measure of power that makes 7-13 look no worse than, say, 10-10.
2. Three weeks ago I told you the Spurs were overrated, yet you ignored me. Two weeks ago I told you the Spurs were overrated, yet you ignored me. One week ago, I told you the Spurs were overrated. Are you listening? I hate to say it -- no, wait ... I love to say it -- I told you so. A loss to Denver seemed to have woken you up a little. At least you've dropped them to No. 8 (should be No. 12). Remember my name, and listen from now on. I speak the truth, and I'm only trying to give you guys the help you desperately need.
Brandon Kirk
Indianapolis
STEIN: Know why you made the cut, Brandon? More than anything you claim to have said previously about the Spurs, it's because this is one of the few e-mails from Indy that didn't moan about the Pacers not getting the No. 1 spot for their victory over Dallas. As for the Spurs ... we'll see. Dare we say it's a little early to write 'em off.
3. I'm happy to see you suck up your pride and place the Sixers in the top five where they deserve to be. They will go 3-0 this week against Boston at home, and Houston and San Antonio on the road. If they don't, I promise I'll write in next week and talk about how big an idiot I am for overestimating a team that's had an easy schedule so far. If they do go 3-0, I'll write about how embarrassed you've got to be for predicting them 17th overall earlier in the season. The bet is on the table, take it or leave it.
Andy Deihm
Lititz, Pa.
STEIN: Fine. Terms accepted. But if the Sixers do make it through the week unbeaten, or even if they don't, let's clear something up. Something other Philly fanatics have mentioned. The Sixers' placing at No. 17 in the preseason Power Rankings was just that -- a preseason ranking. Not a prediction for the season. Just like this week's No. 4 ranking isn't a prediction that the Sixers are going to the conference finals. That's where they ranked the day before camps opened, and this is where they ranked as of Tuesday morning. That's why they're called weekly Power Rankings, and not Predictions. Are we clear, Andy?
4. OK, so the Blazers have their trouble off the court. What does that have to do with the basketball on the court? I know it is hard to accept this, but the Blazers have been the most consistent team on the court with the longest playoff-appearance streak in any professional sport. Until you rank the Blazers above the worst team in the Pacific Division -- Lakers -- I will not rest.
Cory Ferrier
Portland, Ore.
STEIN: When the Blazers decide to put basketball first instead of all the nonsense, and capitalize on the unexplainable patience and bottomless checkbook of their owner, they'll move up. No one would be surprised if they recover sufficiently to make the playoffs again. They always make the playoffs, we know. But the Blazers have become synonymous with the off-court stuff, not the playoff streak, so there's no way it can be ignored.
5. The Pistons' problems with Milwaukee were not a blip. Not because the Pistons are on their way down, but because the Bucks are on their way up. Ranking them 16th makes sense right now, but you'll find it's a little low soon. Toni Kukoc will prove to be a loss, but the way they played against the Pistons shows how deep the talent goes.
Aaron Bauer
Milwaukee, Wis.
STEIN: George Karl hopes you're right. They've needed Kukoc and Michael Redd to make up for Big Dog Robinson's departed offense because Tim Thomas is still scoring less than 12 a game. The Bucks were overrun by injuries at the end of last season, which didn't help a combustible situation, and they haven't been full strength yet this season, either. A quarter of the way in, they're still looking for some continuity.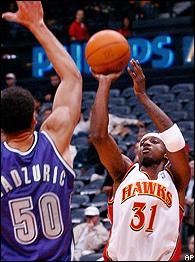 At near-empty Philips Arena, Jason Terry gets to shoot into a perfect blue background.
6.
When are you going to start giving the Hawks more props? With the addition of Big Dog they should make a huge push for the playoffs. I can honestly tell that you give the East no love.
Randy Ritzel
Lewisville, Texas
STEIN: Tell us please, Randy, why Hawks e-mails never come from Atlanta. The Hawks need you. I'd consider a move there, if I were you.
7. You ranked Toronto No. 24? Over the last week they beat your No. 6 Celts, who are "on a 6-1 spurt." They also beat the Grizzlies and barely lost to the No. 1 Mavericks, all on the road. Everybody is playing well for once, including Alvin Williams, Vince Carter, Morris Peterson and Antonio Davis. All this and they still have many key injuries. And you ranked them 24?
Louy Chilmeran
Toronto
STEIN: Yes.
8. The Kings should be No. 1. They have four players injured, two of them starters. And they are playing with guys like Damon Jones and Jim Jackson. Gerald Wallace is a starter. If they were healthy right now they would be 21-0.
José Carlos
Mexico STEIN: No.
9. How could you possibly rate the (insert team here) over the (insert another closely ranked team here)? These ratings are a joke! Let me list a few inane facts and forget the fact that this is not college football, where polls do matter. Then I will make my point with excessive punctuation!!!!!!!!!!!!!!!
Jay Harned
Dallas
STEIN: The week's obligatory dose of sarcasm. A little too much, maybe, but the effort had promise.
10. Starting next week, the Rockets will live in the Power Rankings' Top 10 for rest of the decade. No Yao-t about it.
Bryan McMath
Austin, Texas
STEIN: A bad Yao pun the committee hadn't seen before. A must-run perfect ending.
Marc Stein is the senior NBA writer for ESPN.com. To e-mail him, click here.
Senior Writer, ESPN.com
• Senior NBA writer for ESPN.com
• Began covering the NBA in 1993-94
• Also covered soccer, tennis and the Olympics
EDITORS' PICKS
Can Westbrook & Co. keep OKC rising in the West?
NBA Now

LeBron's season-high 42 points sank the Warriors.
NBA Now

The Lakers' approach to analytics is stuck in the past.
Baxter Holmes »

MOST SENT STORIES ON ESPN.COM