When ranking top 'fours,' Duncan rates first
Tim Duncan's flawless game puts him at the top of the list of the NBA's best power forwards.
Updated:
December 16, 2002, 3:08 PM ET
By
Marc Stein
| ESPN.com
A handful of e-mails are flagged each week for group discussion. Be sure to include your first and last names and city of residence if you want your question to be answered. Seriously, friends. Announce yourself to the masses.
Q: In what order would you rate these power forwards: Chris Webber, Tim Duncan, Kevin Garnett, Rasheed Wallace, Antoine Walker and Dirk Nowitzki?
Hasan Kay
New York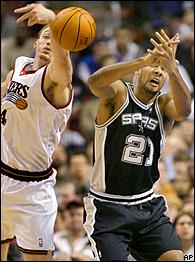 The list of NBA power forwards starts with Tim Duncan, right.
A: 1. Duncan, 2. Nowitzki, 3. Garnett, 4. Webber, 5. Walker, 6. Wallace. Let's break it down.
Duncan: Love him. Irresistible fundamentals. Only one on the list who's won it all.
Nowitzki: Love him. Best 7-foot shooter in NBA history. Gets better every year, and you can't say that about many players.
Garnett: Love him, but can't overlook his lack of development in the post. That's my only quibble. That said, KG does everything else and looks intent on answering every critic this season.
Webber: The love starts to soften here. Like him more than I used to, though. Misses too many free throws and has lost too often in the playoffs to score unconditional kudos, but Vlade Divac has sold me on Webber's underestimated role in establishing Sacramento's locker-room brotherhood. Which is some of the most love-fueled chemistry you'll see in professional sports.
Walker and Wallace: No way 'Toine should be ahead of Wallace on talent. Truth is, I don't associate 'Toine with the PF spot even if that's the position he plays. Either way, 'Toine is in line for some serious plaudits for co-carrying the Celtics back to prominence with Paul Pierce. His shot selection is hard to stomach sometimes but he's got an undeniable fire. Wallace, meanwhile, should be no lower than No. 5 on this list skill-wise. But as we seem to cover every week, he's not making full use of his gifts.

Q: I know all the hype about LeBron James. But after Yao Ming's first 20 games in Houston and his impact on the team, can you tell me if the draft was held today, who would be picked No. 1?
Kevin Lam
Los Angeles

A: We went to people smarter than us who actually make these decisions and there are a few teams out there who say (albeit insisting on anonymity) that they indeed would have picked LeBron last June if he had somehow made it into the draft. The majority, though, say they would have taken Yao, with or without the benefit of hindsight. Yao's outstanding start obviously makes it easier to say so now, but I believe that most teams would have gambled on the unique combination of Yao's size and skills. Although plenty of talent forecasters suggested Yao would not be able to do what he's doing now, the biggest Yao drawbacks were never basketball-related. They were mostly tied to Chinese government restrictions on Yao's leap to the NBA -- specifically how much training camp he'll miss every October while playing for his country, and how often the Chinese authorities plan to call him back every season.

Q: I have a comment and a question. First the comment. Recently you mentioned Allen Iverson and getting the "scroogie" from the USA Basketball selection committee. After discussing with some friends, we think that the correct spelling is "screwgie." "Scroogie" would be acceptable in monetary situations, but only then. For my question: Can Ricky Davis and Dajuan Wagner co-exist? Could this be a backcourt of the future, or does the Cavaliers' best bet center around having Dajuan play the two, Ricky the three, Darius Miles the four -- and trying to get a point guard? Or could the Cavs try something resembling the Bulls' second tour with Michael Jordan, where there was no clear point guard.
Ben Ellison
Madison, Wis.

A: First a comment in response to your comment: Sorry. A scroogie is a scroogie. That's how Fernando Valenzuela's was spelled and that's how we spell it, too. And now an answer to your question: It's a great problem to have. The Cavs have lots of interesting youngs, in NBA parlance, and just imagine if they do land LeBron in the draft. They'll have a lot of similarly sized talent to set up either a trade for something they don't have (the pure point) or to play it the MJ-Pippen-Ron Harper way. Thanks, by the way, for giving me cause to bring up Harp, who's one of our faves. Now do me a favor and go straight to Brathaus or State Street Brats or whatever it's called and load up on a couple post-game reds, just like I did on my one and only trip to Madison for an NBA exhibition game a few years back. HEAVEN!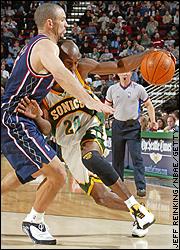 Together, Jason Kidd, left, and Gary Payton set the standard for today's NBA point guards.

Q: This is my first time sending a comment, but I felt compelled by your recent answer to a question about Gary Payton's place in the NBA. I was disappointed that you would say that Jason Kidd and Steve Nash were better point guards (in fairness you said due to age) than Payton. You also seemed reluctant to give him his due as a first-ballot Hall of Famer. With a severely biased opinion, I disagree. Payton has been the best point guard in the league for the last four years. I also would venture to say that Payton is one of the five-to-10 best point guards in the history of the NBA. More importantly, he has been an utter warrior for this franchise. He has missed (I believe) four games in his career -- only one to injury. When Gary came out of Oregon State, he was a defensive-minded point guard who could get to the hole. Over his career, he has improved each year on scoring and dishing the rock to teammates, all while maintaining the highest level of defensive intensity. Some would say Nash and Kidd orchestrate an offense better, but the numbers don't bear that out. And Nash has done it for two years -- that's it. Kidd does not possess the scoring ability of Payton, while Payton trails Kidd in distribution ability. Finally, what has amazed me about Payton in his career has been his evolution. You mentioned his tantrums getting old for everyone. Not for Sonic fans. Gary has never complained about getting more shots or being the star. He has been a solid contributor to the community and, most importantly, he has always had a fire to win. That, more than anything, makes him something special. Watching him with this young Sonics team the last two years has truly been a delight. I just wanted to take a moment to stand up for Gary -- not that you were knocking him in any way -- mainly because his leaving Seattle after this year will be a sad sight because he has been such a true joy to watch.
Nathan Cowan
Seattle

A: Good stuff, Nathan. But you didn't have to convince me. Gary's a certain future HOF inductee. Age, as you mentioned, is the only reason now why I'd take Kidd or Nash, although Nash has durability issues that Payton has avoided. The tantrums over the years, though, do bother me, and I'd venture to say they've done more in-house damage to various Sonic teams than you described. GP expecting another max deal in his mid-30s is another way of saying he wants to be the star. And there have been some bumpy times on the way to GP accepting all the kids the way he does now. But he looks as good as ever and I, too, hope he doesn't leave the Sonics. If he's smart, GP will accept a lesser salary going forward, as John Stockton has in Utah, to enable Seattle to keep him and add a free-agent piece to their ever-improving mix. Then the Sonics might really be back.

Q: So whom would you like to play for if you could choose? And what would you say your most memorable moment has been in basketball?
Justin Pingree
Logan, Utah

A: If I could play for anyone, it would have been my beloved Cal State Fullerton and then the Buffalo Braves. Those are my squads. Of course, the Braves no longer exist and neither did a college career for a slow lefty point guard who's only 5-foot-9 on a good day. Highlights? Excluding all those times I really schooled somebody down at the park -- how do you think I got this job? -- it would have be the time, as a rookie writer, that I trash-talked my way into a shooting contest with Elgin Baylor. I told him I could hit six shots with his hands in my face in 10 tries or less from my favorite spot on the baseline. Missed the first two, swished the next four, and then Elgin promptly mugged me on the next four shots after announcing that fouls were suddenly legal. An intensely competitive perfectionist to this day, just like his longtime Laker cohort Jerry West, Elgin simply couldn't bear to let me get off another clean shot. "Told you so," Elgin said, walking away in triumph. To which I replied: "Yeah, but when I tell my kids this story, it'll be how I scored four straight times on the great Elgin Baylor."

Marc Stein is the senior NBA writer for ESPN.com. To e-mail him, click here.
Senior Writer, ESPN.com
• Senior NBA writer for ESPN.com
• Began covering the NBA in 1993-94
• Also covered soccer, tennis and the Olympics
SPONSORED HEADLINES
MORE NBA HEADLINES
MOST SENT STORIES ON ESPN.COM