Numbers just didn't work in Raps-Cavs rumor
The source of the Raps-Cavs trade rumor should've checked Vince Carter's contract first.
Updated:
December 30, 2002, 1:40 PM ET
By
Marc Stein
| ESPN.com
Editor's note: As part of "The Stein Line" every Monday, ESPN.com senior NBA writer Marc Stein gives his take on things in "Slams and Dunks."
Recent speculation about Vince Carter being traded to Cleveland for Zydrunas Ilgauskas and Darius Miles, if you can even deem it speculation, was understandably scoffed at by Raptors general manager Glen Grunwald. For even if the Raptors were game for a swap of the injury-plagued Carter for the injury-tortured Big Z straight up, salary-cap strictures would prevent it. Carter is a base-year player, in the first year of his new max contract, meaning he can be traded only for someone earning half as much ($5 million) as he does until July 1.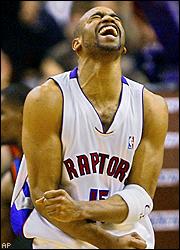 Vince Carter's Raps-to-Cavs trade rumor didn't make salary-cap sense.
The news is that this will apparently come as a disappointment to the struggling Miles, who is said to have unleashed quite the frustration tirade in the locker room last week at Cavs coach John Lucas. Limited to just 17 games this season because of knee trouble, Miles is shooting 38 percent from the floor and hasn't looked at all like the player who had Stein Line staffers (all one of us) drooling in the preseason.
Seems Luke, then, has a new fire to squelch on this combustible squad of talented prospects. Let's see how this one turns out after he got Ricky Davis to stop squawking and to focus on scoring.
Safe to say now that Jim Jackson's job with Sacramento is, uh, safe for the rest of the season. That's the latest indication from the Kings after Jackson played such a pivotal role in his new team's third-quarter turnaround during its Christmas Day dismissal of the Lakers. While L.A. continues to search for anyone not named Shaq or Kobe who can make a consistent offensive contribution, Sacramento happily flaunted its depth by slotting a newcomer so comfortably into such a big game.

Jackson will be considered a luxury item if the Kings are fully healthy in the playoffs, but coach Rick Adelman also says he sees Jackson as an enticing third option on a list of potential defenders to throw at Kobe Bryant along with Doug Christie and Bobby Jackson. By now, Adelman has to be skeptical anyway about the Kings ever finding full strength after the ever-improving Bobby Jackson was lost for six weeks.

And if you're curious, the answer is yes: Sacramento's conspiracy theorists have duly noted (and are loudly protesting the fact) that there wasn't a foul called on Shaquille O'Neal for the swipe responsible for breaking Jackson's finger.
Funny story about the recent three-team trade featuring Kenny Thomas and James Posey. It shouldn't have been allowed to happen when it did. Art Long, who went from Philadelphia to Denver in the Dec. 18 deal, was ineligible to be traded until Sunday -- 11 days later. Yet no one caught the clerical error until the players had already joined their new teams, so it was ruled that the trade would stand. According to league rules, a free agent signed in the offseason can't be traded for 90 days or before Dec. 15, whichever comes later. Long signed with Philadelphia on Sept. 30.
In other words, it hasn't been a great month for such matters. There hasn't been any loud protest from other teams about the Long snafu, but the same can't be said for the mere three-game suspension Golden State's Chris Mills received for reportedly blocking the Portland team bus with his car after the recent Warriors-Blazers melee. Especially when the Lakers' Rick Fox got six games for chasing after Christie with fists only, sans transportation and backup riding along.
| | |
| --- | --- |
| | Either Riles should have gotten a stiffer sentence for unfairly and publicly staining the reputation of a referee, or the referee crossed the uncrossable line of impartiality. |
| | |
Equally disturbing is the absence of follow-up discussion or explanation of Pat Riley's $50,000 fine for accusing referee Steve Javie of saying he takes "delight" in watching the Heat "die." The conversation Riley quotes is now a year old, and yet we are no closer to knowing why Riles received such a benign punishment in the wake of such serious allegations. Either Riles should have gotten a stiffer sentence for unfairly and publicly staining the reputation of a referee, or the referee crossed the uncrossable line of impartiality.
Just Wondering: Will Chicago ever play Jay Williams and Jamal Crawford together for a decent stretch, just to make sure those two really can't play together before trading Crawford away?

Just Wondering II: Will Jim O'Brien ever consider playing Tony Battie and Vin Baker together in a more traditionally sized starting lineup, just to see if that alignment holds any benefit for Paul Pierce and Antoine Walker ... or just for the shakeup value with the Celtics coming off a bad trip?

Just Wondering III: Will these be the last few months in Golden State for Garry St. Jean, amid assumptions that Chris Mullin is being groomed to take over the Warriors' front office?

Marc Stein is the senior NBA writer for ESPN.com. To e-mail him, click here.
Senior Writer, ESPN.com
• Senior NBA writer for ESPN.com
• Began covering the NBA in 1993-94
• Also covered soccer, tennis and the Olympics
SPONSORED HEADLINES
MORE NBA HEADLINES
MOST SENT STORIES ON ESPN.COM
EDITORS' PICKS
Which stars are ready to join the elite of the elite?
Coast To Coast »

Who'll make the playoffs? Our odds machine is back!
Playoff Odds »

How they did it