Bulls should resist hiring Jordan as GM
Hiring Michael Jordan to replace Jerry Krause as the Bulls' general manager would be a giant mistake.
Originally Published:
April 8, 2003
By
Marc Stein
| ESPN.com
Michael Jordan will get the question Tuesday in Cleveland and probably every day thereafter until the Chicago Bulls hire a general manager to replace his old buddy Crumbs Krause.
Hopefully that's all Jordan gets.
Questions.
If you are among the Windy City masses thinking it would be heaven if Jordan actually got the job, too, let us delve into our Seinfeldian dictionary and disabuse you of that notion right now. Jordan is not the perfect candidate to succeed Krause as the new front-office face of Organizations Win Championships, Inc. Jordan should not be a candidate at all.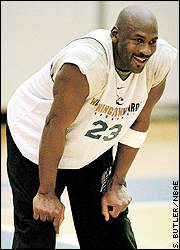 The pressure of playing for Michael Jordan would be too great for the Baby Bulls.
It is tough enough for the Bulls to play in a building with a Jordan statue standing outside as a monument to the club's glorious past. It would be decidedly tougher for the Baby Bulls to have to call MJ their boss, since that would inevitably result in most or all of them being smothered by the presence of -- and Chicago's adulation for -- an icon they can never live up to.
If you think young Wizards like Kwame Brown chafe from the enormity of playing and working for Jordan, imagine Tyson Chandler and Jay Williams and Jamal Crawford. Or have you forgotten the hubbub about Williams merely moving into Jordan's locker?
Jordan is not like Jerry West or Bill Russell. Those guys were on a long list of greats from their respective franchises and didn't overshadow the whole operation when they GM'ed or coached for the Lakers and Celtics. But Jordan is the Bulls, and he's actually even bigger than that. Finally making some progress, after five long seasons in the shadow of a six-ring dynasty, the Bulls don't need to reach back for some 1990s magic. They need to keep building on the hope that has flickered lately, those recent flashes from Chandler, Eddy Curry and a 24-14 home record that tops Philadelphia's.
The Bulls thus need a GM who can carry on the one Krause legacy that peers praise. "He was very, very hard to talk to," said one rival club executive, "but he was a very, very good talent evaluator." Krause was also a relentless workaholic when it came to scouting, which contributed to the health problems he cited in announcing Monday's shock resignation.
The club's future depends on the next GM scouring the landscape for the pieces to add to the kiddies. That gets tougher as the young Bulls get better, since their rising salaries eat up cap space and the team's draft picks get lower and lower. It's difficult to imagine Jordan embracing that stuff with the same zeal.
Technically, MJ is available. He has no contractual obligation to return to the Wizards' front office after he's done playing, and there is no assurance that Wizards owner Abe Pollin will pay the requisite millions to keep No. 23 in charge of his franchise as a team president.
The Bulls, though, would be wiser to use their big-market status to pursue a more accomplished personnel man. San Antonio's R.C. Buford, who alongside Gregg Popovich has amazingly helped position the Spurs to be a free-agent player while competing for a championship in the present -- an unprecedented combination -- is a GM to throw millions at. Perhaps Orlando's Doc Rivers, who played high school ball in the Chicago area, can be lured away from Orlando (with compensation) in a dual coach-GM role. Or if Reinsdorf is intent on hiring a longtime Bull from the glory days, broadcaster John Paxson is a sensible option, provided that an experienced personnel expert is hired with him.
| | |
| --- | --- |
| | Reinsdorf should feel comfortable undertaking a thorough search for the right hire. Here's hoping that doesn't lead him to Jordan, who will have plenty to do in Washington if he stays there and where we prefer to see Jordan complete the job he started. |
| | |
Bulls owner Jerry Reinsdorf has an opportunity now to give his franchise new life, after a miserable half-decade. No one in Chicago cares to remember that Krause gave Phil Jackson his start as an NBA head coach, or that Krause gave Jordan wingmen named Scottie Pippen and Horace Grant, and later Toni Kukoc and Dennis Rodman. Krause is largely seen instead as the paranoid Napoleon who broke up a dynasty prematurely, who hired the overmatched Tim Floyd, who turned off free agents to the point they wouldn't take the Bulls' money and who even fired Ray Clay, the great P.A. guy.
Reinsdorf nonetheless refused to fire Krause, no matter how loud public protest got in recent years, because Krause had always been so loyal ... and because the Bulls have remained so profitable. Even amid widespread suggestions that the exit wasn't totally voluntary, the fact remains that Krause himself attributes his resignation to physical problems from "the rigors and stress of the job."
Under those circumstances, Reinsdorf should feel comfortable undertaking a thorough search for the right hire. Here's hoping that doesn't lead him to Jordan, who will have plenty to do in Washington if he stays there and where we prefer to see Jordan complete the job he started. Charlotte also likely figures into the equation somehow, as speculation persists that Jordan will eventually hook up with the expansion franchise owned by his friend Robert Johnson.
Chicago? Sorry. That's just not the right kind of town for MJ the GM.
Marc Stein is the senior NBA writer for ESPN.com. To e-mail him, click here. Also, send Stein a question for possible use on ESPNEWS.
Senior Writer, ESPN.com
• Senior NBA writer for ESPN.com
• Began covering the NBA in 1993-94
• Also covered soccer, tennis and the Olympics
EDITORS' PICKS
Heartbreak city

Meet the draft's international man of mystery, Emmanuel Mudiay.
Ford

Is it time for the Spurs to panic?
Michael Wallace »

MOST SENT STORIES ON ESPN.COM