Dodge ball not part of Lakers' playground
Derek Fisher thinks a first-round series against the Kings might have actually helped the Lakers. But it looks like we'll never know.
Updated:
April 11, 2003, 12:12 PM ET
By
Marc Stein
| ESPN.com
LOS ANGELES -- They will be testy, of course, because it's Kings-Lakers, but they also have to be happy, knowing they won't have to crank up the hostility again until May.
Right?
They don't have to admit it, and never would anyway, but we can all surmise that the Kings and Lakers are really relieved that they won't be playing again in nine or 10 days.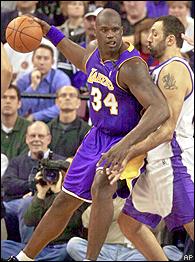 Now that Shaq is back, the Lakers fear no one, especially the Kings.
Aren't they?
C'mon. The first round is much, much too soon for more Boy Scout jabs and clanging cowbells and the prospect of a retaliatory uppercut.
Isn't it?
Common sense says it's all true, all of the above, but common sense was unavailable for comment this week. The folks you could ask, various members of the Lakers especially, came back at every such question not only with the usual bravado, but also sounding as though they're actually saddened that the teams won't be hooking up for one of the most epic first-round pairings of all time.
To wit ...
"Playing them first, I think it would have been fun," said Lakers guard Derek Fisher, bearing no trace of a just-kidding grin when he said it.
"The harder start might have helped us. We don't have those types of (ill) feelings for every team. Maybe playing them in the first round would have taken us where we need to be right away. Maybe we raise our level immediately and never let it drop."
For a maybe, it's actually tough to argue with Fisher's argument, given the Lakers' season-long struggle to find an acceptable level and stay there. The regular season has been longer and tougher than they ever imagined, and they have looked less than convincing even in recent times, in spite of their 36-12 record since the last time the Kings came to (and conquered) L.A. on Christmas Day.
A first-round matchup with the Kings would have indeed demanded a focus and crispness the Lakers have only occasionally flashed in their four-peat drive. Since the Lakers are still the Lakers, their in-house assumption is that they would have found the switch on demand.
Sacramento? In Round 1?
"No harder," said Robert Horry, "than any other start."
If you're expecting humble Lakers now, you haven't been watching much of this millennium. Fact is, they have been arrogant all season, which is partially how they managed that 11-19 start. It wasn't simply Shaquille O'Neal's injury absence for the first 12 games. It was believing, more than they ever have, that a poor start doesn't change much for them, and it's starting to look as though the Lakers can make that claim.
Phil Jackson is pretty much the only central character to voice tangible concern, since a coach can't ignore the warts. It bothers Jackson that his team is 0-4 against San Antonio, still 21st in scoring defense (97.7 points per game) and 17th in defensive field-goal percentage (.441) and nowhere near the road juggernaut (18-21) that L.A. has been in the playoffs. It didn't help his mood that O'Neal, on the eve of the Lakers' attempt to avoid an 0-2 record against the Kings at Staples Center, didn't show for Wednesday's practice and didn't call-in himself to seek clearance for the absence.
Of course, O'Neal is also looking better than he has since the Finals, having just led the Lakers in scoring eight times in a span of nine games and producing no less than 31 points each time. Bryant, meanwhile, reports that his shooting wrist is a bit tender but that his sore knees aren't so sore any more. Plus the Lakers just undressed Dallas twice in five days, and they are virtually certain to face the Mavericks in the first round -- instead of those Kings -- if they stay sixth in the West.
| | | |
| --- | --- | --- |
| | " | I think a first-round series definitely (with Sacramento) would have been something that we would have been more comfortable being in than them. As much as they probably wouldn't say that or admit that, playing us in the first round puts a lot of things at stake. " |
| | | — Derek Fisher |
That would be some prize after months of underachievement, given that Dallas' Mental Block against the champs is arguably the biggest block in the West. Or the Lakers can capitalize on unconvincing finishes from Portland and Minnesota and move up another spot or two; Sunday's visit to the Rose Garden is a chance to quickly make up a full game on the Blazers, before L.A.'s friendly Denver-Golden State finish.
Just don't expect the Lakers to share any preferences. If you can't get them to admit that they must be thrilled to have drifted away from a first-round matchup with the Kings, you're not going to get them to say if they'd rather be sixth in the West. Or fifth or fourth.
As a No. 4 or 5 seed, after dispatching the Wolves or Blazers, they'd be in the Spurs' bracket for the second round. As a No. 6, they'd likely open with the Mavs before proceeding to a Sacramento showdown for the fourth successive season. Moving up a notch would thus seem to present a more favorable path, in spite of L.A.'s dominance over Dallas, but ...
"We can't talk about our rathers," Lakers assistant coach Jim Cleamons said. "Whoever we get, we have no excuse. We did this to ourselves with our bad start. It's like I tell my friends and people who are wishing us well, 'We made our own bed.' "
At least they have awoken sufficiently to get out of the Kings' way early. For neutrals, Lakers-Kings is still the best theater you could wish to see. The new best-of-seven format for the first round is newsy enough to carry us through. No need to burn the league's most heated rivalry right away, before the NBA Tournament has progressed to a sufficiently toasty temperature.
And if no first-round encounter means the Lakers and Kings don't meet at all this spring after Thursday, no problem. That just means somebody else came up big, which could only be bigger news and great viewing.
"I think a first-round series definitely (with Sacramento) would have been something that we would have been more comfortable being in than them," Fisher said. "As much as they probably wouldn't say that or admit that, playing us in the first round puts a lot of things at stake. We've had success against them in the playoffs in the first round, in the second round and in the Western Conference finals. But it's probably not going to happen now."
Let us say it for those who won't say it: Both teams are better off.
Marc Stein is the senior NBA writer for ESPN.com. To e-mail him, click here. Also, send Stein a question for possible use on ESPNEWS.
Senior Writer, ESPN.com
• Senior NBA writer for ESPN.com
• Began covering the NBA in 1993-94
• Also covered soccer, tennis and the Olympics
SPONSORED HEADLINES
MORE NBA HEADLINES
MOST SENT STORIES ON ESPN.COM