Identifying 10 hottest spots of free agency
The most activity in NBA free agency will be found in these 10 places. Yes, even Clipperland.
Updated:
July 1, 2003, 10:12 PM ET
By
Marc Stein
| ESPN.com
You know the three biggies: Jason Kidd, Jermaine O'Neal and Elton Brand.
You know the big-time vets: Karl Malone, Gary Payton, Scottie Pippen and Alonzo Mourning.
You know the big men, stature-wise: Rasho Nesterovic, Michael Olowokandi and Brad Miller ... and the slightly smaller Juwan Howard and P.J. Brown.
You know the littler guy with the big future: Gilbert Arenas.
Free agency starts Tuesday at 12:01 a.m. EST, with a flood of quality talent and a serious shortage on willing spenders in this luxury-tax era. Read on and you will know the 10 teams to watch closest between now and training camp.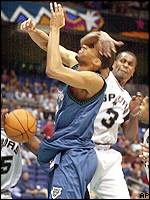 Re-signing Stephen Jackson, right, is another priority for the Spurs.
No one's going to feel sorry for a team that, in a windfall for the ages, will be able to claim $14 million to $16 million in salary-cap room within a month of winning the championship. The Spurs, though, aren't looking at a kick-back summer. If they're the favorites to take
Jason Kidd
away from New Jersey, they're only slight favorites. No one can be too surprised if Kidd elects to stay with the Nets. Spurs fans, meanwhile, are constantly writing in to ask why management isn't blowing Kidd off and chasing a big guy to replace the retiring
David Robinson
... and the reason is that big guys are even tougher to get than Kidd. Indiana's
Jermaine O'Neal
is far less likely to relocate and the Clippers'
Elton Brand
-- the big guy San Antonio really likes -- is a restricted free agent. Thus the Clippers can match any offer to Brand, meaning that the Spurs might have to hope Brand signs a one-year deal with L.A. (as
Michael Olowokandi
did) and then wait until next summer for Brand's unrestricted free agency. See? It's complicated. Those aren't the only permutations, either. If the aforementioned Big Three prove unsignable, and the Clippers prove unwilling (as expected) to participate in a sign-and-trade, San Antonio might be left with signing one of the following three centers or maybe two of the three: Minnesota's
Rasho Nesterovic
, Indiana's
Brad Miller
and Olowokandi. Or it could make a lucrative one-year offer to
Alonzo Mourning
,
Karl Malone
or
Juwan Howard
, hoping that the lure of a one-time cash grab and a shot at a ring would attract an interim fill-in for Admiral Dave until the Spurs find a marquee free agent they can sign long-term. Yet another factor to consider: If the Spurs use all their cap room summer, chances are they'll have no cap room next summer when
Manu Ginobili
is a free agent. In that case, San Antonio would not be able to exceed the $4.9 million mid-level exception to re-sign Ginobili, which is the same situation Golden State faces now with
Gilbert Arenas
. So it's not inconceivable that the Spurs will spend only two-thirds of their cap room to save space for giving Ginobili a nice contract next July. Just to muddle things further, San Antonio also has to re-sign
Stephen Jackson
this summer, because they don't want to chase away everyone from the team that just won it all. See? We repeat: It's complicated. Even for the champs, as they drown in champagne and cash.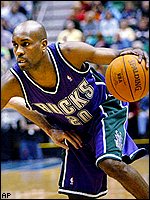 Only a paycut would allow Gary Payton to play with Shaq and Kobe.
No one's going to feel sorry for the three-time former champs, either, but they've got their own issues.
Kobe Bryant
has just made it publicly clear that he has big-time expectations this offseason, which go beyond
Shaquille O'Neal
slimming down and Phil Jackson committing to keep coaching. Kobe wants more help and the Lakers clearly need at least two new impact players this summer to keep up with the rest of the West elite. Problem is, everyone on their list has other options, and going to the Lakers hardly guarantees a ring anymore because the talent around Shaq and Kobe is so thin.
Gary Payton
confidantes insist that GP is seriously considering a jump to L.A. to play for the $4.9 million exception, but the Lakers have nothing to offer if Payton insists on forcing a sign-and-trade with Milwaukee to get a salary closer to last season's $12.6 million. Utah's Malone is in a similar position, intrigued by the Laker Idea but bound to be resistant to what would be a pay cut of $14 million in Malone's case. The Lakers are also expected to recruit Denver's Howard and New Orleans'
P.J. Brown
for their frontcourt opening, along with Miami's Mourning, and Jackson doesn't hide his desire to chase Portland's
Scottie Pippen
as a stabilizer and defensive hound on the perimeter. Of course, all of the above can get more money elsewhere. The good news for Kobe and Co.? Losing to the Spurs in the second round actually helped their chances of landing one of the future Hall of Famers, because the new guy will have the opportunity to win universal praise as the piece that helped restore the Lakers to glory. The bad news? Even if the Lakers get Payton or Malone, they'll still badly need a shooter --
Eric Piatkowski
of the Clips is the best marksman available -- but probably don't have the money to get one.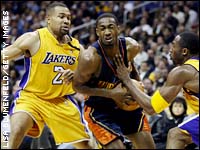 Photo by Lisa Blumenfeld/Getty ImagesGilbert Arenas isn't the only high-profile free agent in the Nuggets' sights.
Those unmistakable retro jerseys -- better than the Houston Astros' old rainbow scheme any day -- started the trend. A huge chunk of cap space, some $4 million to $8 million more than San Antonio has, makes the Nuggets even cooler. They've got an estimated $18 million to $22 million to spend, which should tell you why Denver is on Kidd's list, even though the Nuggets don't mesh with Kidd's stated preference to join a team that can contend for a championship. Golden State's Arenas is the point guard Denver is widely expected to wind up with, but the Warriors continue to claim that they will hang onto Arenas, even though a salary-cap technicality limits them to an offer of $4.9 million. You can also count on the Nuggets examining the merits of the many Clippers free agents out there, starting with the unrestricted Olowokandi but also including restricted free agents
Lamar Odom
,
Corey Maggette
and
Andre Miller
. Reason being: Jeff Weltman, one of Kiki Vandeweghe's two assistant general managers, is a Clippers alumnus who participated in the acquisition of all of those players. It's believed that the Clips won't match offers for Miller, but be advised -- after noting all those names -- that the Nuggets don't think they have to settle for second-tier free agents just because they're sporting an eight-season playoff drought. Stan Kroenke is an ambitious owner and Vandeweghe is an out-of-the-box disciple of Mavericks owner Mark Cuban. Word is Denver is going to chase Kidd and Mourning as hard as anyone, believing its chances are as good as any of the elite teams. Debatable as that is, no one's laughing at the Nuggets anymore. Not with
Nene Hilario
and Carmelo Anthony already in place, adding up with Vandeweghe's cap management for a pretty bright (if not rainbow-bright) future.

The Mavs would love to have Zo in Big D.
Put the Mavericks right up there with the Lakers on the list of over-the-cap teams that will find a way to be active, with Dallas holding one key advantage over L.A. The advantage, of course, is that the Mavericks have assets to construct sign-and-trade possibilities. Kidd's draft-day interview with Jim Gray confirmed last Monday's ESPN.com report that Kidd wants to visit the Mavericks to explore the possibility of rejoining the team that drafted him. That could only happen via sign-and-trade, but Dallas has a selection of top-class point guards (
Steve Nash
or
Nick Van Exel
) to offer in return. That should convince Nets president Rod Thorn to consider a swap, which would be preferable to losing Kidd to the Spurs without compensation. With its $4.9 million exception, in the meantime, Dallas has targeted Mourning as its No. 1 option, after years of trying to pry Zo from the Heat in various trade scenarios. Mind you, it would certainly be risky burning their whole exception on a center who missed most of the last two seasons because of a serious kidney ailment, which is why the Mavericks will also talk to Brown, Malone, Olowokandi, Nesterovic ... basically any quality big man. Like the Lakers, they would love to convince two veterans -- Zo and, say, Pippen, another Mav favorite -- to split the $4.9 million. The key, though, is getting at least one prominent, dependable free agent with the exception, no matter what happens in trade talks. Dallas tied up its exception dollars last summer in fruitless chases for
Rashard Lewis
and
Michael Redd
and can't afford to come up empty this summer, knowing its rivals will be upgrading.
5. Utah Jazz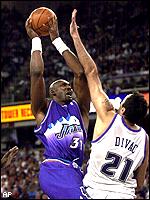 Karl Malone, left, may have to stay in Utah to break Kareem's record.
Free agents, it is often said, don't want to go to Salt Lake City, but perhaps that's an overstatement, given that the Stockton-to-Malone era Jazz never had significant cap space to even join the bidding for a big-time free agent. With Stockton electing to retire so quickly after the season, this Jazz should either have a mammoth chunk of cap space for the first time -- if Malone signs elsewhere -- or a pretty good chunk. The latter scenario depends on convincing Malone to re-sign at half (or less) of his most recent wage, $19.3 million. Jazz owner Larry Miller wants Malone to finish his career where he started, and Malone will undoubtedly consider it strongly, because a move to one of the West's best (Lakers, Mavericks, Spurs or Kings) offers as many potential pitfalls as pluses. The chance to finally win a championship clearly tugs at Malone, and Utah isn't going to contend for the title even if it keeps its Mailman and signs the Clippers' Miller with the leftover cap room. Then again, the combination of a major pay cut and the challenge of adapting to new teammates and new surroundings could convince Malone to stay, especially since re-signing with the Jazz gives him a better shot at breaking Kareem Abdul-Jabbar's all-time scoring record. Miller, meanwhile, played collegiately at Utah, so he's at least one marquee free agent who doesn't figure to have reservations about playing in SLC.

Brand might be the only Clipper who gets paid.
As you've noticed by now, various Clippers are mentioned in every other team's plans. That's because roughly no one expects Clippers owner Donald T. Sterling to re-sign anyone other than Brand and Odom to a long-term deal, and in most cases it's a Brand-only forecast. If Sterling took advantage of the constraints of the marketplace, where only three other teams (Spurs, Nuggets, Jazz) have the cap space to really tempt his kiddies, he could probably re-sign most of his free agents at reduced rates and keep together the core that briefly made the Clippers local darlings. If Olowokandi and Miller bolt, and Brand and Odom take the risky one-year Kandi deal to secure unrestricted free agency next summer, the Clips will be starting all over again (yet again) in a year. That's apparently one reason why L.A. still doesn't have a coach. Word is that Sterling and
Mike Dunleavy
are actually not too far apart in contract negotiations, but that Dunleavy is in no rush to make a decision because his other option (Atlanta) won't materialize until/unless Texas businessman David McDavid completes the purchase of the Hawks. In the interim, Dunleavy can watch how the Clippers operate in free agency to get an idea how serious they are about being competitive. The job naturally becomes a lot less attractive if Brand and Odom can walk away in July 2004.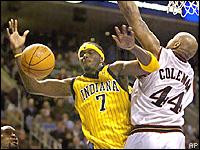 The Pacers must clear cap space to keep Jermaine O'Neal, left.
All season, Donnie Walsh assured anyone who asked that he had a secret plan that would enable him to re-sign O'Neal, Brad Miller and
Reggie Miller
while keeping the Pacers out of luxury-tax territory. O'Neal, by all accounts, is intent on staying with Indy, but Walsh is going to have to swing a cap-friendly trade or two if he wants to keep everyone, barring some unforeseen magic. Minnesota's retiring
Terrell Brandon
is a natural target for the Pacers, since Brandon's $11.2 million salary will be wiped from the books in January by whichever team owns his contract, but it remains to be seen if Walsh can construct a package to tempt Minny.
Austin Croshere
remains highly available, but outside interest in the four years and more than $30 million left on Croshere's deal is understandably limited.
Ron Artest
?
Ron Mercer
? No one knows for sure yet, but it's a safe bet to suggest that Walsh will be active, seeking not only to lock up O'Neal long-term but to inject his squad with some veteran maturity.
8. Miami Heat


APThe Heat could use their money on Michael Olowokandi.
The Heat could have a decent slice of cap space, approaching the $7 million range, if it severs ties with Mourning. Renouncing the face of the franchise, however, would be highly emotional for Pat Riley and Zo, and thus a must-monitor drama for us. Having provided a contract that paid Mourning a whopping $20.6 million this season to rehabilitate, Miami couldn't be blamed for wanting to part ways and pursue a young talent in the Arenas/Olowokandi/Odom class. And Mourning, much as he has grown to love Miami, figures to be intrigued by the interest of championship contenders, feeling more philosophically free to move on knowing that insurance paid 80 percent of last season's salary after kidney problems sidelined him again. Additional uncertainty stems from how much Mourning will be seeking on the free-agent market. It remains to be seen if Dallas or anyone else is willing to risk the entire exception, which costs a team $10 million if it's in luxury-tax territory, given Zo's uncertain health status. You will also undoubtedly hear more trade speculation involving
Eddie Jones
and/or
Brian Grant
, with Riley's flexibility still hampered by their huge contracts.

AP Photo/Chuck BurtonThe Wolves can't afford to lose (or pay) Nesterovic.
The Wolves already launched our wild summer by emerging from a ho-hum draft night with a big trade on the day after. Friday's acquisition of
Sam Cassell
and
Ervin Johnson
from Milwaukee for
Joe Smith
and
Anthony Peeler
made the Wolves infinitely more interesting, as
Kevin Garnett
can now claim three quality scorers as teammates: Cassell,
Wally Szczerbiak
and playoff revelation
Troy Hudson
. That said, plenty of questions remain. The Wolves will still have to fight off serious outside interest to retain Nesterovic, which will push their payroll deeper into taxland. Which makes you wonder if they're going to be offering all or even part of their $4.9 million exception to anyone; withholding it guards against bringing in more salary. Trade offers will continue to flood in for Brandon, but Minny might actually have to keep Brandon's contract now, since the Wolves themselves could use the salary-cap relief the contract affords come January. So there's a lot to track even before training camp, where Garnett's unselfishness is going to have to be the glue for the group, since Sam (like Hudson) ain't a set-up man. The Wolves' costly obsession with Smith is finally history, but the fact that Milwaukee was willing to basically take Smith for Cassell and Johnson -- thereby increasing Payton's leverage -- backs up the theory that Cassell isn't the easiest guy to fit into a team scheme. As with Duncan in San Antonio, KG will have to be the QB that keeps the ball moving and makes it all work.
10. New Jersey Nets

Kidd's decision will be big news.
Sorry, Knickerbockers. Knowing full well that the rumor mill will make it seem as though the capped-out Knicks are at the heart of every deal, the Nets are the big players here. Kidd is the jewel of this free-agent class and, for all the doomsayers, New Jersey still has a good chance to hang onto him. Thorn can offer almost $100 million in the shadow of the most major of markets and a team that has represented the East in the past two NBA Finals. If Thorn can convince Kidd that he'll be able to keep improving the roster, that might clinch it. One idea: Maybe all Thorn has to do is beat everyone else to Mourning with the Nets' exception.
Marc Stein is the senior NBA writer for ESPN.com. To e-mail him, click here. Also, send Stein a question for possible use on ESPNEWS.
Senior Writer, ESPN.com
• Senior NBA writer for ESPN.com
• Began covering the NBA in 1993-94
• Also covered soccer, tennis and the Olympics
SPONSORED HEADLINES
MORE NBA HEADLINES
MOST SENT STORIES ON ESPN.COM
EDITORS' PICKS
With LeBron out, Kyrie Irving dropped 55 on the Blazers to deliver the Cavs' eighth straight win.
Recap

Kobe Bryant underwent shoulder surgery Wednesday and is expected to be ready for next season.
Story »

Home-court advantage isn't what it used to be in the NBA.
Haberstroh