Bet on Garnett testing free agency in '04
With no contract extension, Kevin Garnett will make Wolves fans worry by testing free agency. Also, find out who'll be trying to make deals this offseason, what the Blazers are up to and why the Spurs spent so wisely.
Originally Published:
August 4, 2003
By
Marc Stein
| ESPN.com
Editor's note: As he does every week during the regular season as part of "The Stein Line," ESPN.com senior NBA writer Marc Stein gives his take on things in "Slams and Dunks."
Fearless Prediction Time ...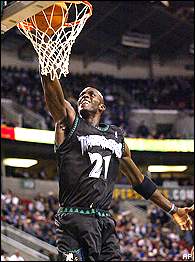 Kevin Garnett will want to explore free agency, just like Jason Kidd and Tim Duncan.
No matter how much the
Minnesota Timberwolves
' moves have pleased
Kevin Garnett
, I fearlessly predict that there will be no KG contract extension between now and next July.
Apologies to all my friends in Minny, but I'm fearlessly predicting that Garnett will opt for free agency in July, even if you could guarantee right now that the Wolves finally reach the hallowed hardwood of Round 2 in the playoffs.
That doesn't necessarily mean he's going to leave Minny. That doesn't change the fact that Garnett has been as proud of playing for "Sota," as he calls the place, as anyone could reasonably expect, given the Wolves' 0-for-7 history in the first round and the thin teams he has been repeatedly asked to carry.
It simply figures that Garnett, as we just saw with Jason Kidd, will want to exercise his right to look around and be wooed and explore how another team or two operates. Kidd talked seriously with San Antonio and Dallas, and Tim Duncan had the same inclination in the summer of 2000, flirting with a move to Orlando the first time he was a free agent.
It's just a warning, Wolves fans ... albeit a warning team insiders indicate is in line with Garnett's thinking. Even with the most talented roster in franchise history, and even though the incumbent team always has a huge advantage when it comes to keeping a free agent, it's going to be a long 12 months in Sota waiting to see if Garnett re-signs. Just as it was for skittish Nets fans, and just as it was for fearful Spurs fans before them.
Virtually all of the main free agents are off the board, but there is at least one more scramble to monitor between now and training camp. The trade market.

The new game finds teams like Phoenix, which is well into luxury-tax territory, peddling a last-year contract like Tom Gugliotta's to teams with significant salary-cap space, such as Utah and Miami. By most estimates, the Suns could save $28-33 million in salary and luxury-tax penalties (and rebates) if they can convince, say, the Jazz to take on Googs.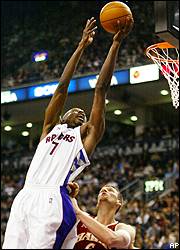 APKeon Clark is one of the Kings' big men who may be headed to Utah or Miami.

The appeal in such a scenario for the Jazz would be the number and quality of future draft picks it could extract from the Suns to absorb the final year of Gugliotta's contract ($11.7 million). The widespread availability of high-salaried veterans with a year left on their deals is a big reason why Jazz vice president Kevin O'Connor has scoffed at the notion that he will have trouble spending the league-required minimum of $32.9 million in payroll next season, in spite of Utah's struggles to land free agents.

If Utah or Miami elects to participate in such a trade, the idea is to fill out the roster for this season while stockpiling a pick or two for the future and, most importantly, preserving flexibility for another run at free agents (or more of a blockbuster trade) next summer. The hangup in any deal will inevitably deal with the draft picks Utah or Miami is offered.

"You don't think the luxury tax is effective?" one West executive said. "Teams are throwing picks at those teams so they can (facilitate trades to) avoid the luxury tax. And you know how much we all covet picks."

Golden State is another potential trade partner with last-year players to peddle: Chris Mills ($6.6 million), Bob Sura ($6.3 million) and Adonal Foyle ($4.4 million). Of course, the Warriors have been trying to move those players for months, in an attempt to create the salary-cap space that would have enabled them to hang onto Gilbert Arenas.

With Arenas just days away from formally joining Washington, it could be Sacramento that tries to hook up with Utah or Miami to move out a player or two. Keon Clark ($5 million) and perhaps Lawrence Funderburke ($3.6 million) are available, after the Kings' recent three-team trade with Indiana and San Antonio netted them Brad Miller's new $68 million contract.

Houston could likewise ease its tax burdens by moving Glen Rice ($9.6 million) to a team with cap space, and Memphis has two last-year contracts (Wesley Person at $7.7 million and Brevin Knight at $5 million) to pitch in hopes of either reducing next season's payroll or landing a bulky center.
Who else will be active before the season starts? Portland has been offering up Damon Stoudamire, Ruben Patterson and Jeff McInnis with little success, but the Blazers' new front-office regime (Steve Patterson and John Nash) is expected to strike sooner rather than later, albeit with the intent to keep Rasheed Wallace, Bonzi Wells and Zach Randolph as a core. Boston might have to consider moving Eric Williams, another last-year contract guy whose departure to a cap-space team could result in $10-20 million in savings for the Celtics. New York, meanwhile, still seeks a center, and Scott Layden is said to have some interest in yet another Utahn for his collection. That would be Jazz center Greg Ostertag, who's also in the final year of his contract.
No team is acing summer math like San Antonio.

Last summer, the seemingly innocuous dumping of Erick Barkley to Chicago saved the Spurs well over $2 million net in luxury-tax payments they didn't have to make and luxury tax/escrow distributions they didn't lose. The champs wound up owing just under $200,000 in luxury taxes after winning their second title in five years.

Then this summer, the acquisition of four new players (Rasho Nesterovic, Robert Horry, Ron Mercer and Hedo Turkoglu) neatly consumed all but $15,000 of the Spurs' available cap space.

Then there are the omens that keep adding up. Assuming it can convince Steve Kerr to put off retirement and play one more season, San Antonio will also be able to make the claim that it has the two players -- Kerr and Horry -- who have combined to participate in the NBA's past 10 championships. Horry won rings with Houston in 1994 and 1995 and three with the Lakers from 2000-02. Kerr won three straight championships with Chicago from 1996-98, then two in the past five years with the Spurs (1999 and 2003).

Marc Stein is the senior NBA writer for ESPN.com. To e-mail him, click here. Also, send Stein a question for possible use on ESPNEWS.
Senior Writer, ESPN.com
• Senior NBA writer for ESPN.com
• Began covering the NBA in 1993-94
• Also covered soccer, tennis and the Olympics
EDITORS' PICKS
Fitting in is Jeremy Lin's biggest challenge now.
Torre »

Another surgery will keep KD out the rest of the season.
J.A. Adande »

The Warriors routed the Griz in a meeting of West's top 2.
Wallace »

MOST SENT STORIES ON ESPN.COM