Finally, Hawks can shoot for the stars
Updated:
May 7, 2004, 1:11 AM ET
By
Marc Stein
| ESPN.com
They have become synonymous with unclaimed seats and an empty building. They have foisted the gaudiest throwback uniforms in creation upon a helpless public. They have been mentioned more than once as a prime contraction candidate if the NBA ever considers lopping off a team or two. They have also been mentioned as a candidate to be shipped overseas if the league wants to move an existing franchise to be its European guinea pig.
One more thing about the Atlanta Hawks.
They suddenly have a future that looks just the opposite of lime green.
It looks pretty good.
The Portland Trail Blazers have lived up to their vow to pursue a cleansing of their roster by systematically trading away Bonzi Wells, Jeff McInnis and Rasheed Wallace. The Hawks, meanwhile, have been just as radical, ditching three significant salaries (Glenn Robinson, Shareef Abdur-Rahim and Theo Ratliff) for three expiring contracts (Terrell Brandon, Wesley Person and 'Sheed). The Hawks, as a result, will now have the opportunity to start completely over and pursue signings or trades to get what this franchise badly needs if it wants to survive in that city.
A basketball version of Mike Vick, in other words.
People who know Atlanta's demographics much better than me insist that the area is prosperous financially and growing, filled with potential NBA ticket-buyers. They tell me that it would be a grave mistake to take NBA basketball out of Atlanta, in spite of that dead building. That Atlantans simply need a Vick-like star persona to draw them to Philips Arena.
The Hawks now have a chance to atone for their many, many mistakes since the exile of Dominique Wilkins and finally find a sellable star. Brandon is already gone, Wallace and Person will be let go at season's end and, just like that, Atlanta and its new ownership will have the flexibility to make a dramatic personnel score.
They'll have tons of cap room to throw at Kobe Bryant, for starters. According to team sources, Bryant is No. 1 on the wish list of the Hawks' new owners, who could be sworn in later this month.
Another possibility: The Hawks will peddle a native Philadelphian ('Sheed) and that trade-friendly cap space in an attempt to concoct a deal that brings them Allen Iverson. The Answer could fill Philips regularly if given the chance.
I still say Kobe, if he is intent on leaving the Lakers, would prefer to sign with the Clippers, because that would be the least disruptive relocation in his personal life.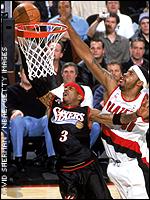 With 'Sheed, right, the Hawks have the talent to acquire a star like AI.
I also know the 76ers would prefer not to even entertain the idea of trading Iverson, because AI generates so many sellouts and because public reaction to a trade in Philly would be so negative. And if you're not competing for a championship, the next objective for a team is to be a viable business. Yet the Sixers need to start over as much as the Hawks did and have to consider every option, including an AI trade. If a three-way deal can be assembled, perhaps routing
Steve Francis
to Philly and 'Sheed to Houston, it has to be looked at by all sides.
Fact is, in today's NBA, Philadelphia knows what teams try to do when it's time to rebuild. Denver started the blow-it-up trend by sending Nick Van Exel and Raef LaFrentz to Dallas. Phoenix followed by dispatching Stephon Marbury to New York. The Hawks and Blazers just continued the movement by helping each other. As a result of Monday's late swapping, Portland can proceed with its do-over next season while staying competitive in the short term and Atlanta gets to launch its do-over this summer.
So don't nominate the Hawks for a transfer to London or Paris or Frankfurt just yet.
---
Some bullet reactions to the fifth major in-season trade already:
Coaches will be lining up to get the Hawks' job now, because this is no longer a team hamstrung by bad contracts. It's a team with options and it's bound for the new Southworst Division next season, the easiest division in basketball to win. Of course, Atlanta has been mentioned as the likely destination for Doc Rivers since the minute Doc was dismissed in Orlando, and the expectation remains that Doc and Dominique will be hooking up anew under the new regime.

League sources, in fact, tell ESPN.com that the Hawks' incoming owners have already reached out to Rivers, who has vowed to spend the rest of this season doing TV work with ABC.
New York. Houston. Philadelphia. Dallas. Detroit.

Barring another 'Sheed trade, those are five teams that hope to be competing for Wallace's signature in the summer without tons of cap space. Those are the teams praying that 'Sheed is willing to take a pay cut of almost $12 million to go to a city and situation he likes instead of a cap-room team like Denver. Mark the Knicks down as the favorite, with Detroit facing the most complicated situation because it has to re-sign Mehmet Okur first.
You know what the Hawks' goal is for the rest of the season, don't you?

Lose enough to land the lottery pick that nets Dwight Howard.

Or a lottery pick high enough to throw into Iverson discussions with the Sixers.
One of the more interesting sidebars to this blockbuster is the future of Abdur-Rahim, who now finds himself in a playoff race for the first time in his NBA career.

That said, the trade comes at a time when the Blazers -- trying to preserve a streak of 21 consecutive playoff appearances -- had finally begun to settle. Portland has won seven of its past eight games but now must deal with the major in-season adjustment of blending in Abdur-Rahim and Ratliff.

Missing the playoffs for an eighth straight season is the last thing Abdur-Rahim's résumé needs. Despite his career averages of 20.7 points and 8.4 rebounds, his teams in Vancouver and Atlanta had a cumulative record of 172-423, for a winning percentage of .289.
Hopefully there's something left to make the Feb. 19 trading deadline exciting, after a slew of deals that have relocated Wallace, Marbury, Ricky Davis, Wells and Jalen Rose.

Telephone call for Jamal Crawford. Or Brent Barry. Or Van Exel. Erick Dampier, too.

Marc Stein is the senior NBA writer for ESPN.com. To e-mail him, click here. Also, click here to send a question for possible use on ESPNEWS.
Senior Writer, ESPN.com
• Senior NBA writer for ESPN.com
• Began covering the NBA in 1993-94
• Also covered soccer, tennis and the Olympics
EDITORS' PICKS
Sean Miller, who has led Arizona to the Elite Eight, is one of several intriguing candidates for an NBA job.
Kevin Arnovitz »

Which NBA team will land Kentucky's Karl-Anthony Towns? Take a spin through the Lottery Mock Draft.
Lotto Mock Draft »

In today's NBA, is a team doomed without a star point guard?
Column

MOST SENT STORIES ON ESPN.COM