Vegas baby ... Vegas!
Updated:
February 11, 2004, 4:47 PM ET
By
Marc Stein
| ESPN.com
New year, new approach. For it would be tough to top the comprehensive nature of last February's assemblage here, which offered suggestions on how to revitalize All-Star Weekend from a panel of ESPN.com correspondents.
This year, we opt for simplicity. Just one suggestion on how to pump life into a former extravaganza that doesn't have the same stature it once claimed.
Hold it in Las Vegas.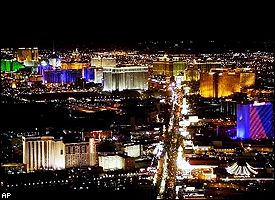 Las Vegas does not possess the characteristics to house a Major League baseball team.
Not every year, of course, and not because there's anything wrong with lovely Los Angeles, but it's time to try Vegas on a one-year All-Star basis to sample the marketplace. If we're not going to see an NBA team in Las Vegas, why not a weekend of games and events that don't really count, so the whole gambling debate is somewhat muted.
Commissioner David Stern has made it very clear that he will not be putting a franchise in Vegas, after the Grizzlies tried hard before moving to Memphis and no matter how loudly Mark Cuban and Sacramento's Maloof Brothers call for it. "So long as there's a sports book," Stern said during his lengthy sitdown with ESPN.com last month, "it's not a subject that's of great interest to us."
To Stern, Europe is the next frontier and the destination that gets all his focus on the subjects of expansion and relocation. "It's not even that I'm optimistic (about seeing NBA teams in Europe in the next decade)," Stern said, "but it's actually fun to talk about it and it's relatively inexpensive to talk about. We'll see."
Yet it likewise costs nothing for us to keep the Vegas option in circulation, and so we will.
The Sixers have two options. They can continue to refuse to trade Allen Iverson, on the premise that he's a walking sellout and that they can't afford to trade him because he's too good for business, no matter how poorly the team does. The Sixers can then keep struggling mightily to rebuild the roster, because Iverson is surrounded by so many bad contracts that are either impossible to move or unlikely to fetch anything of significant value if they can be moved.
| | |
| --- | --- |
| | |
| | Iverson |
Or ...
The Sixers can do the smart thing and trade Iverson before he advances into his 30s. They can trade him to a team that badly needs his star power -- yes, Atlanta -- before Philly starts losing so regularly that the fans stop coming. They can use the Hawks as a conduit in a three-team deal for Steve Francis, whose time in Houston has also run short on freshness, or some other trade of similar magnitude.
How tough is rebuilding around Iverson? The Sixers, at present, are discussing a trade with Chicago that would send Aaron McKie to the Bulls for Jerome Williams -- with another low-salaried Sixer required for cap purposes. Williams wouldn't be a bad pickup, given his history of providing energy, but that's hardly the sort of move that's going to resuscitate this team.
For what it's worth ...

"Philly is trying hard to move Eric Snow or McKie," one league source said. "You can be pretty sure one of those guys will be traded in the next week."
The big milestone for Atlanta general manager Billy Knight is not the trivia aspect. It's not the part about how he has managed to trade Shareef Abdur-Rahim twice since the 2000 draft.

The milestone is moving Abdur-Rahim and Theo Ratliff in the same deal. Knight has been peddling both of them hard and would have undoubtedly settled for moving one of them before the Feb. 19 trading deadline.
It seems that even a Cult Heroes column can't make for quiet clicking. Several e-mails of outrage worthy of an All-Star snubs debate were received, lots of them bemoaning the exclusion of the aforementioned Junk Yard Dog. That's Jerome Williams, if you didn't know, a cult figure in Detroit and Toronto before his move to the Bulls.

Kyle Korver and Scot Pollard (of Sacramento vintage) were also among the fan nominees, but the King who has the most cause to feel slighted is reserve swingman Gerald Wallace. Even though he still rarely plays for the Kings, after 2½ seasons in the NBA, Wallace is so popular in Sacto that he can be seen in a couple of local TV commercials, one of those for McDonald's.
None of us write enough about the good things players do, and four players -- all represented by the same management company -- are combining the efforts in hopes of raising $75,000 for charity during Sunday's All-Star Game.
| | |
| --- | --- |
| | |
| | O'Neal |
| | |
| --- | --- |
| | |
| | McGrady |
Tracy McGrady and Jermaine O'Neal hatched the idea, offering to donate $1,000 per point to their respective favorite charities. Peja Stojakovic and Jamaal Magloire, also SFX clients, heard what McGrady and O'Neal are doing and asked to join in. Now to see if those four can combined to score 75 points on Sunday.
Good work, lads.
Spoke to an L.A. insider Tuesday and the advice was clear: Keep writing Kobe to the Clippers.

"I just heard that again yesterday," the source said.
| | |
| --- | --- |
| | |
| | Bryant |
Atlanta is already preparing to pursue Bryant hard, but I'm telling you -- and will keep telling you -- that there isn't a team out there with salary-cap room (Phoenix, Denver, Utah) that will appeal to Bryant more than the Clippers. He knows the players there, he knows the coach and he wouldn't have to uproot his family if he switches locker rooms at Staples Center.
New York? That would require a sign-and-trade, and the Knicks figure to be less appealing to Bryant now with Stephon Marbury there as the city's favorite son. It wouldn't exactly be Kobe's team, now would it?
Memphis? Even if Hubie Brown decides to leave coaching at season's end because of health concerns, and even if Jerry West did replace Brown with Kobe's buddy Byron Scott, that doesn't change the Grizzlies' problem. Memphis would have to either convince Bryant to take the $5 million mid-level exception (no chance) or concoct a trade. And I'm still willing to go to Vegas and bet big on the belief that Jerry Buss and Mitch Kupchak -- if they ever did concede that it's better to trade Kobe rather than lose him for nothing -- would never trade Bryant to West. Never.
So face it, friends. If Kobe decides to leave the Lakers, as informed folks in L.A. increasingly believe, the Clippers are his first option.
Marc Stein is the senior NBA writer for ESPN.com. To e-mail him, click here. Also, click here to send a question for possible use on ESPNEWS.
Senior Writer, ESPN.com
• Senior NBA writer for ESPN.com
• Began covering the NBA in 1993-94
• Also covered soccer, tennis and the Olympics
EDITORS' PICKS
As the season grows near, our countdown rolls ahead.
ICYMI: The Ten »

The Wolves have made Eric Bledsoe a max offer.
Windhorst »

Spurs No. 1!