Kobe remains question mark
Updated:
July 6, 2004, 7:04 AM ET
By
Marc Stein
| ESPN.com
After a less-than-restful holiday spent awaiting a verdict from Mike Krzyzewski, the Los Angeles Lakers' coaching search goes back now to where it started.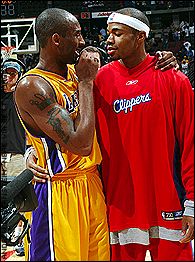 The chance of Kobe Bryant, left, joining pal Corey Maggette is growing.
Rudy Tomjanovich.
However ...
Of far greater uncertainty and concern is how Monday's rejection from Krzyzewski will affect the Lakers' ability to re-sign Kobe Bryant.
The Lakers, with a "yes" from Coach K, could have all but banked on Kobe's signature on a new seven-year contract. Krzyzewski's decision to stay at Duke, which was made official Monday, adds considerably to the Lakers' anxiety.
That's because Bryant is expected to hold his first serious talks with the Clippers this week. Sources have indicated for months that the Clippers stand as the Lakers' only legitimate competition for Bryant, and that threat -- which helped usher Phil Jackson back to Montana -- just became even more real.
"I expect several sleepless nights until he makes a decision," Lakers general manager Mitch Kupchak told The Associated Press on Monday night. "My guess is Kobe will survey the landscape and that will probably include the coach -- all the things a player takes into consideration when making a decision like this."
Yet this could all prove to be a welcome development for Shaquille O'Neal, who has not budged from the trade demand he issued three days after the Lakers were drummed out of the NBA Finals by Detroit. Shaq still wants out, and the longer Bryant goes unsigned, the longer his escape dream remains alive.
Coach K is the coach Bryant wanted desperately, and the Lakers' inability to lure him away from the college game is bound to draw out Bryant's own free-agent decision. There is a belief in some quarters that the Lakers won't be able to get a commitment from Kobe until they deal O'Neal, who continues to list Dallas as his first-choice destination but who also has interest in Sacramento. Memphis (because of Shaq's relationship with Jerry West) and New Orleans (near where Shaq played in college, at LSU) are also on Shaq's list, but those teams are considered outsiders because they aren't believed to be willing to meet O'Neal's demands for a lucrative contract extension.
Tomjanovich hopes to have Shaq and Kobe on his first Laker team, because he wants the chance to try to mend that relationship, but it's believed he'll accept the job no matter who's on the roster. Although some might expect Rudy T to feel slighted by L.A.'s pursuit of Coach K, he'll undoubtedly understand that the Lakers were obligated to pursue Krzyzewski after learning that's the coach Bryant preferred. It's also true that this is the fourth time in the past decade-plus that the Lakers have inquired about Coach K's availability, and it was made clear to Tomjanovich from the start that Kupchak intended to speak with multiple candidates.
Given Rudy T's long history as a player favorite and his lifetime of experience negotiating NBA power struggles, as well as the list of available coaches on the market, L.A. couldn't hope for a better fallback choice. Although it's unlikely that a deal with Tomjanovich will be finalized Monday, it could happen as soon as Tuesday.
Marc Stein is the senior NBA writer for ESPN.com. To e-mail him, click here. Also, click here to send a question for possible use on ESPNEWS.
Information from The Associated Press was used in this report.
Senior Writer, ESPN.com
• Senior NBA writer for ESPN.com
• Began covering the NBA in 1993-94
• Also covered soccer, tennis and the Olympics
EDITORS' PICKS
As the season grows near, our countdown rolls ahead.
ICYMI: The Ten »

The Wolves have made Eric Bledsoe a max offer.
Windhorst »

Spurs No. 1!