Even without Shaq, West still loaded
Updated:
July 23, 2004, 9:42 PM ET
By
Marc Stein
| ESPN.com
It seemed like an easy assignment when SportsCenter called last week. In the wake of the Lakers' disintegration, the producers wanted a list of my top five teams in each conference. They basically wanted an abridged version of the Power Rankings in July.
Then I commenced power-ranking and encountered two immediate problems.
Problem No. 1: There are 12 legitimate playoff contenders in the West, and no obvious pecking order after you get past San Antonio and Minnesota in the top two slots.
Problem No. 2: You can't do a top five in the East, even after Shaquille O'Neal's return. You really should stop at No. 3, because the dropoff from Pistons-Heat-Pacers to the rest of the East is steeper than ever.
So …
Here's where we are as of July 23, in the same format I gave SportsCenter, since you're all well aware that we will not bust out a complete edition of the ESPN.com NBA Power Rankings again until October, to get you nice and thirsty for it:
West
1. San Antonio
2. Minnesota
3. Sacramento
4. Denver
5. Houston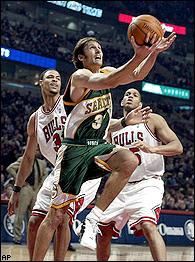 The addition of Brent Barry makes San Antonio No. 1 in the West.
Bonus explanation:
The Spurs addressed a major need by swapping
Hedo Turkoglu
for the dead-eye shooting of
Brent Barry
. The Wolves and Kings still hold our esteem because logic says they'll be healthier next season than they were last season, although Sacramento will certainly miss the locker-room presence of
Vlade Divac
. I loved Denver's offseason because the acquisition of
Kenyon Martin
and re-signing of
Marcus Camby
means Kiki Vandeweghe has flanked
Carmelo Anthony
with great defenders. I like what Houston did as well because
Tracy McGrady
will be as motivated as Shaq in Miami to mesh with
Yao Ming
and hush his detractors … and because
Juwan Howard
is due for a bounce-back season as the Rockets' third-best player. I see five teams challenging for the last three spots: Phoenix, Utah, Memphis and the two teams that have tumbled from the elite, Dallas and those wacky Lakers. Portland and New Orleans should also float on the fringes of playoff contention.
East
1. Detroit
2. Miami
3. Indiana
4. New Jersey
5. Milwaukee
Bonus explanation: Pacer Nation won't like it that I've placed the Heat ahead of Indy. Your protests are duly noted, but I still believe in Shaq that much, even though Dwyane Wade and Eddie Jones are his only helpers of note at the minute. The Pacers might prove me wrong, but I know I'm not wrong about this: There's little point discussing anyone else right now. New Jersey, without K-Mart, maintains a top-four slot purely by default, and the Nets will slip further if the continued rumblings about Jason Kidd being dealt materialize … since that would also surely chase off Rod Thorn, who built the Nets into an East beast. Milwaukee was one of last season's Cinderellas, but the Bucks are really fifth with an asterisk, amid growing concern that T.J. Ford is not going to be ready to start the season.
The league released its scheduled last summer on July 25, but it sounds as though you're going to have to wait a little longer for it this summer. Word is all the player movement this month (read: Shaq switching teams) is causing several dates and marquee matchups to be shuffled.
| | |
| --- | --- |
| | |
| | Dampier |
Don't rule out Phoenix from the Erick Dampier chase. The Suns have liked Dampier from the start of free agency, and they could be back on the free-agent market next week if the Clippers, as expected, elect to match Phoenix's offer to restricted free agent Quentin Richardson.

If the Clippers do match, Phoenix can present a contract to Dampier that starts above the $4.9 million mid-level exception. At present, unless New York can find a third team to get involved in a sign-and-trade with Golden State, Dampier can't get more than the mid-level from any team besides Atlanta.

Working against the Suns: Dampier's preference for switching to the East.
I'm not expecting any tension in Jacksonville next week when Team USA starts practicing and LeBron James and Carlos Boozer meet face-to-face for the first time since Boozer signed that offer sheet with Utah. James likes Boozer too much, so I suspect he'll speak fondly of playing on the same team as his pal for the next month-plus and leave the traitor treatment to the rest of Cleveland.

I'm much more interested in seeing what Team USA's No. 9 -- yes, the same number Michael Jordan wore as an Olympian -- has been working on lately. James, by all accounts, has been going to the gym religiously and fine-tuning his footwork, ballhandling and post play on top of the usual extra shooting. Developing a down-low game is an obvious priority to take advantage of LBJ's man-child size.
The tension to watch in Cleveland is the Jeff McInnis-Eric Snow dynamic. To no one's surprise, McInnis was less than thrilled to hear that the Cavs have acquired Snow for Kevin Ollie and Kedrick Brown. Dallas is among the clubs that has already inquired about McInnis' availability.

Unless Cleveland has plans to occasionally play McInnis and Snow together in a smallish backcourt, with LeBron at small forward, another trade is a strong possibility.
Yikes: In the past 20 seasons, only three seven-footers have averaged 20 points per game in the East.

Three.

That would be New York's Patrick Ewing, from 1985-98; Cleveland's Brad Daugherty, from 1990-93; and Orlando's Shaquille O'Neal, from 1992-96.
| | | |
| --- | --- | --- |
| Center | Season | Win Differential |
| Kareem Abdul-Jabbar | 1989-90 | plus-6 |
| Wilt Chamberlain | 1973-74 | minus-13 |
| George Mikan | 1956-57 | plus-1 |
How have the Lakers responded in the season after losing a Hall of Fame center (see right)?
So many teams out there need a point guard. Houston, Miami, Dallas and the L.A. Lakers are simply the first four that come to mind.

Yet one of the best point guards on the free-agent market is no longer totally free, and I'm struggling to understand why NBA teams didn't make a harder push for this guy.

Sarunas Jasikevicius is the best point guard in Europe. He's the Maryland alumnus who gave Team USA beaucoup problems at the 2000 Olympics in Sydney and who'll be confronting the Yanks again next month in Athens where Lithuania, the reigning European champions, figures to be Team USA's toughest competition along with Serbia and Montenegro. And since he already has experience playing in the States, Jasikevicius figures to adjust faster to the NBA game than his Euro point predecessors who struggled, namely Sergei Bazarevich and Aleksandr Djordjevic.

It appears, though, that Jasikevicius will not be seen on these shores next season. A clause in his contract that permitted the Lithuanian to jump to the NBA -- without compensation to his current club, Euroleague winners Maccabi Tel-Aviv -- expired this week. If an NBA team pursued Jasikevicius now, Maccabi would be entitled to a buyout of at least $1 million, with NBA clubs restricted by league rules from chipping in more than $350,000.

San Antonio wanted him last summer but couldn't pry loose Jasikevicius -- a clutch shot-maker with "big cojones," in the words on one NBA personnel man -- from his Maccabi contract. The concerns about Jasikevicius are his athleticism, defensive shortcomings and an occasional problem with turnovers, in addition to the standard fears about a foreigner coming to America at a position where he has to tell teammates what to do. Yet this is the zone era, when it's easier than ever to cover up for a bad defender. And while I might be a tad biased, I still rate Jasikevicius better than a lot of backup points in this league, pointing out again that he does have a better handle on the American hoops culture than Bazarevich, Djordjevic or even Tony Parker did when they first came over.

If your team needs some depth in the floor-leader department, consider this an opportunity missed.
Karl Malone turns 41 on Saturday, if you're looking for something to celebrate now that the free-agent frenzy isn't so frenetic any more. Happy Birthday to the world's most renowned Mailman.

Marc Stein is the senior NBA writer for ESPN.com. To e-mail him, click here. Also, click here to send a question for possible use on ESPNEWS.
Senior Writer, ESPN.com
• Senior NBA writer for ESPN.com
• Began covering the NBA in 1993-94
• Also covered soccer, tennis and the Olympics