West: Shaq trade had to be Buss' call
Originally Published:
September 20, 2004
By
Marc Stein
| ESPN.com
Jerry West is understandably reluctant to say too much about the dissolution of the potentially dynastic duo he assembled in Los Angeles. Strange as it sounds, even as he readies for his third season in Memphis, the Lakers aren't West's team any more.
So ...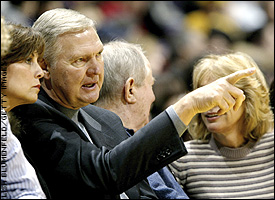 Grizzlies president Jerry West watched his team improve from 28 wins during the 2002-2003 season to 50 wins last season.
West betrays little emotion when he's asked how it feels to see
Shaquille O'Neal
and
Kobe Bryant
split up, simply offering that "maybe it was time for a change" given the obvious disharmony in Lakerland. The deepest he'll go on the subject, conveyed during a visit to Dallas for a speaking engagement, is that trading Shaq -- still the most dominant individual force in today's game -- had to be a Jerry Buss call ... even though Shaq insists on slamming West protégé Mitch Kupchak for making the deal.
"This was more than a decision based upon on a player leaving for being disgruntled," West said, undoubtedly referring to O'Neal's demands for a nine-figure contract extension. "A lot of this was financial for sure."
"This," West added, "will probably be the biggest risk (Buss) has ever taken."
Plenty of Angelenos, mind you, would tell you that letting West go was Buss' riskiest-ever dice roll. At worst it's No. 2 behind the moves seen this summer, when Phil Jackson was shooed back to Montana and O'Neal was exiled to Miami to put the ball -- and the whole franchise -- in Kobe's hands.
Or is it?
West shared that Buss really had no choice.
"I'm unbelievably proud of my years with the Lakers," said West, who left them in the summer of 2000, after Shaq and Kobe combined for their first of three straight championships, halting a drought of 11 seasons without one and giving West his seventh championship as L.A.'s team-builder.
"It just got to the point that I couldn't stand to win any more," West continued. "It was so much pressure; I couldn't take it any more. I retired, and I wasn't going to work any more."
The perception remains that West walked away partly because he had been underpaid for years, but also because Buss had ceded control of the organization to Jackson, who had begun dating Jerry's daughter, Jeanie. The perception also persists that West unretired when Grizzlies owner Michael Heisley made such a rich offer that he had to accept.
Both perceptions camouflage a good chunk of the real story. West was plagued by an irregular heartbeat around the time of the first Shaq-and-Kobe ring and stepped away from the stress and pressure he kept heaping onto himself to get healthy. After a year away, Le Logo eventually started feeling better and started missing the job.
"Life ain't worth a darn unless you have challenges," West said, recounting how his appetite for GM'ing gradually returned.
"I wanted to go where they had the worst team in the league. So I decided to go (to Memphis). But I also will tell you it's probably been the most gratifying two years I've ever spent in my life. With the Lakers, we expected to win. Down there they expected to lose, and we've changed that."
Hubie Brown, who turns 71 on Saturday, has assured West that he's ready to coach the Grizzlies for at least one more season. Yet even after breaking out for a stunning 50 victories last season, more than the franchise's first three seasons combined, Brown continues to insist that he doesn't want to commit to anything more than a one year at a time ... and only after summertime consultations with his family and his doctors.

"I ran into him the other day and he had that light in his eyes," West said. "The one thing I've said to him is, 'I don't want you to ever jeopardize your health.' But he will be back, and he's anxious to go. He's very excited.

"I can't say enough good things about him. He's one of the brightest people I've ever been around. He's made himself an icon (in Memphis). I don't even want to think about him not being there, to be candid with you."
To retain his job in Dallas, Don Nelson promised Mark Cuban in a postseason sitdown that he'll place more emphasis on defense than he has since his Milwaukee days. Cuban responded by giving Nelson a lot more to work with defensively than the Mavs had previously, acquiring Erick Dampier and Calvin Booth to protect the basket and relegating the undependable Shawn Bradley to third string.

Of course, even if the Mavericks do tighten up, Nelson also must find a way to incorporate Dampier into his up-tempo offense, amid considerable skepticism that he can make use of a true center. Yet it seems Nelson has a promise for the skeptics, too.

"Once we get to the half-court, we're going inside more," Nelson vows.

So make that two big promises to monitor in Big D.
I'm hearing ...

That Utah's Jerry Sloan is a strong contender to coach the next edition of Team USA. Which would be smart because coaching our national team suddenly means getting our guys to overachieve, a Sloan specialty. And because not getting the nod until now once bothered Sloan far more than his inability to win a Coach of the Year trophy.

And that Memphis reluctantly dropped out of the chase to land Dampier in a sign-and-trade because the Grizzlies were unwilling to take on the contract of Evan Eschmeyer. Cuban did accept Chris Mullin's mandatory inclusion of Eschmeyer -- the only way Golden State was going to participate in a Damp sign-and-trade swap -- and the Mavs are now trying to buy out the remaining three years and $10.8 million of Eschmeyer's deal.

And that Greg Buckner is indeed a Nugget, even though he has yet to be announced as such. Buckner and Denver have a verbal agreement that will be formally signed after the Nuggets determine whether there's an outlet to spent their $2-plus million of remaining salary-cap space.
For those of you still suffering from a bronze-medal hangover, here's another stat to infuriate you:

Seventeen of the top 20 shooters in the league last season, based on three-point percentage, were born in the USA.

None of those 17 players was invited to play for his country.

The only foreigners to crack the top 20, with at least 98 attempts from long distance, were No. 7 Peja Stojakovic (.433), No. 9 Hedo Turkoglu (.419) and No. 13 Steve Nash (.405). The top six percentage shooters during the regular season were Anthony Peeler (.482), Rasual Butler (.463), Brent Barry (.452), Brian Cardinal (.444), Fred Hoiberg (.442) and Aaron McKie (.436).
Perimeter shooting, mind you, is only one of our problems. West laments Americans' penchant for overdribbling ... and the limited practice time youngsters get to work on fundamentals in this country ... and the progressive evaporation of patriotism in the basketball community since the days West and Oscar Robertson co-captained the United States to Olympic gold in 1960 with a daily allowance of -- no joke -- one dollar.

"If you go into my house, my (Olympic) uniform and my gold medal are the only things that will even tell you I had a career," West said.

He also pinpointed one of the rarely discussed factors causing Team USA's recent struggles. Which is: Backcourt players in foreign countries are significantly more athletic, and more adept handling the ball, than they were when the original Dream Team went to Barcelona in 1992.

Not that anyone who just watched the Ryder Cup should be surprised.

"The best golfers in the world today are not American," West reminds. "We've exported that game, and they've copied us better than we've copied ourselves. ... One of the greatest compliments in the world is when people copy you. But it's also one of the most dangerous things that can happen."

Marc Stein is the senior NBA writer for ESPN.com. To e-mail him, click here. Also, click here to send a question for possible use on ESPNEWS.
Senior Writer, ESPN.com
• Senior NBA writer for ESPN.com
• Began covering the NBA in 1993-94
• Also covered soccer, tennis and the Olympics
SPONSORED HEADLINES
MORE NBA HEADLINES
MOST SENT STORIES ON ESPN.COM