Cavs to make strong push for Redd, Ilgauskas
Updated:
July 5, 2005, 1:15 PM ET
By
Marc Stein
| ESPN.com
Michael Redd, Zydrunas Ilgauskas and one more quality free agent to be named later.
That's how the Cleveland Cavaliers' wish list looked early Friday morning when the NBA's annual free-agent frenzy began at 12:01 a.m.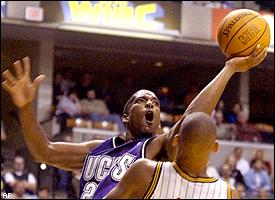 Michael Redd's strong ties to Ohio could lure him into a Cavaliers uniform next season.
Sources familiar with the Cavaliers' plans told ESPN.com that new general manager Danny Ferry has identified a Redd-Ilgauskas combo as his ideal free-agent haul to flank budding superstar LeBron James, with the pitches to both players starting immediately.
The Cavaliers, furthermore, just might have enough salary-cap room above the league's $4.9 million mid-level exception to pursue another coveted free agent -- in the Antonio Daniels class -- even if they're successful in stealing Redd away from the Milwaukee Bucks and re-upping Ilgauskas. Tuesday's predraft trade of Jiri Welsch to Milwaukee for a 2006 second-round pick, in which sources say Cleveland agreed to pay Welsch's $2.1 million salary next season, sets Ferry up to have $27-30 million in spending money ... provided the official cap number announced by the league July 22 reaches the $48-50 million projected.
Of course, all of that assumes that the Cavs can get Redd away from the Bucks and their bucks. Which isn't especially likely.
Despite all of the ongoing uncertainty in Milwaukee, where Redd's bosses are still trying to convince Flip Saunders to sign on after the June 22 firing of Terry Porter, Cleveland's best offer to the lefty sharpshooter can't exceed five years at an estimated at an estimated $60 million to $70 million.
Milwaukee is the only Redd suitor that can offer six years, which would take the value of a maximum contract closer to $90 million. Redd is a Columbus-born alumnus of Ohio State, but he'd have to feel especially good about the Cavaliers' situation to leave $20-plus million on the table. Especially since the Bucks just landed Andrew Bogut with the No. 1 overall pick in Tuesday's draft and remain cautiously optimistic that point guard T.J. Ford will be able to return from a year-long injury absence next season.
The ability to offer a contract one year longer than the rest of the field has Seattle similarly optimistic about re-signing Ray Allen, even though Allen has already rejected a five-year extension offer from the Sonics believed to be in the $75 million range.
Allen received immediate interest from Atlanta and the Los Angeles Clippers when the free-agent season commenced one minute after midnight Thursday. Cleveland, New Orleans and Charlotte are the only other teams with the cap space to offer a contract to compare to what Seattle can offer, and clearly only the Cavaliers can reasonably promise a better on-court future than the Sonics.
No new contracts can be signed until July 22, but as seen with Steve Nash just one day into free agency last summer, teams and free agents can reach verbal agreements rather quickly.
Other developments and disclosures from the first few hours of free agency early Friday:
• Knowing that unrestricted free agent Shareef Abdur-Rahim will generate fierce competition at the bargain price of roughly $5 million for next season, New Jersey took a proactive step at the first permissible moment. Nets coach Lawrence Frank, according to league sources, took a flight Thursday so he'd be able to see Abdur-Rahim right after midnight ... and not just to reminisce about their days together in Vancouver.
• Ferry has apparently convinced new boss Dan Gilbert to abandon Gilbert's previous plans for cutting ties with Ilgauskas. Ferry is a longtime fan of the 7-foot-3 center -- a former teammate in Cleveland -- and has made keeping Z his 1A priority next to landing Redd.
The Cavs' second draft-day trade that brought another Lithuanian, Martynas Andriuskevicius, to Cleveland certainly can't hurt their chances of reaching terms with Ilgauskas. Andriuskevicius, selected No. 44 overall by Orlando in Tuesday's second round, shares the same agent (Herb Rudoy) with Ilgauskas. Cleveland acquired the 19-year-old for another 2006 second-round pick and cash.
• For the teams that met in the Western Conference finals, the first goal in free agency is dealing with their own commodities. For Phoenix, that means reaching terms with (or matching any offer extended to) restricted free agent Joe Johnson and signing Amare Stoudemire to a contract extension. For San Antonio, it's determining whether its $4.9 million salary-cap exception is sufficiently roomy to re-sign playoff hero Robert Horry and extricate Argentine power forward Luis Scola from his Spanish League contract. If the cost to import Scola for next season is too high, another possibility for the Spurs is Scola's countryman (and Stein Line favorite) Fabricio Oberto.
• Gary Payton isn't ruling out a return to Boston if the Celtics will have him back, but be advised that GP and the Suns share a mutual interest. It's an interesting idea, since Payton would undoubtedly spare Nash from some wear-and-tear and combine with the newly acquired Kurt Thomas to give Phoenix an edge it didn't have last season.
Shaquille O'Neal and Kevin Garnett are also expected to lobby Payton to sign on in Miami and Minnesota, respectively.
• The Sonics, according to NBA front-office sources, gave coach Nate McMillan permission to speak with other teams one day before his contract expired Thursday, after Seattle got through the draft.
McMillan, by all accounts, wants to stay with the only team he has ever known, which has offered him a four-year deal worth more than $4 million per season.
Yet sources say McMillan wants to interview with Portland -- and Detroit if Larry Brown doesn't return -- not only to gauge his market value, but because he's more convinced those teams will commit to spending the money necessary to maintain a quality roster. The Sonics, under owner Howard Schultz, have to prove that willingness in the wake of a stunning 52-30 season. McMillan wants to see what happens with Allen, Daniels, center Jerome James and restricted free-agent forward Vladimir Radmanovic, all free agents from the overachievers who extended San Antonio to six tough games in the second round.
The Blazers, meanwhile, are expected to soon interview deposed Milwaukee coach Terry Porter, along with McMillan.
• If the Bucks are unable to re-sign Redd, word is they'll make a hard play to bring Allen back to Brewtown.
• Although the Nash scenario is still fresh, signs pointed to a comparatively muted start to this free-agent period. For a few reasons:
There is no star on the open market big enough to prompt helicopters to hover overhead while said star visits another team, as witnessed two summers ago with Jason Kidd's visit to San Antonio. This free-agent class is about depth.

Except for possibly Allen, there isn't a difference-maker in this free-agent crop at Nash's level, someone capable of sparking a 33-win improvement, as Nash did in Phoenix.

Teams and players (and their agents) are still absorbing all the rules and numbers that will apply when the new labor agreement takes hold July 22.
Marc Stein is the senior NBA writer for ESPN.com. To e-mail him, click here. Also, click here to send a question for possible use on ESPNEWS.
Senior Writer, ESPN.com
• Senior NBA writer for ESPN.com
• Began covering the NBA in 1993-94
• Also covered soccer, tennis and the Olympics
SPONSORED HEADLINES
MORE NBA HEADLINES
MOST SENT STORIES ON ESPN.COM
EDITORS' PICKS
In LeBron's return to Miami, D-Wade embraced his pal and a win.
Dave McMenamin »

Pau Gasol has a hard time believing he's not a Laker.
Nick Friedell »

Blake Griffin and the Clippers rolled past the Warriors with ease.
The Ten »