Seeing a bright Vegas future for NBA
Updated:
July 13, 2005, 12:42 PM ET
By
Marc Stein
| ESPN.com
LAS VEGAS -- What happens in the Vegas Summer League doesn't have to stay here.
Does it?
Let's dribble around before someone tells us differently.
• It took less than a week for this 16-team extravaganza to establish a summer-league record for NBA owners watching in the stands.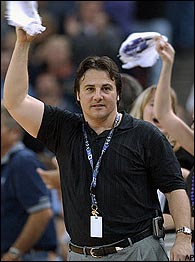 Gavin Maloof, Vegas supporter.
Sacramento's Joe and Gavin Maloof are virtual Vegas residents, so their presence was expected.
Scratching the Maloofs from consideration, the list is still extensive and impressive: Portland's Paul Allen, New York's James Dolan, Dallas' Mark Cuban, Cleveland's Dan Gilbert and Denver's Stan Kroenke. We've also seen the bashed brothers who should be trying to move their teams here: New Orleans' George Shinn and Donald Sterling of the L.A. Clippers. Two prominent ownership partners -- Boston's Stephen Pagliuca and Phoenix's Dick Heckman -- have also been spotted.
What does it all mean?
To a giddy Gavin Maloof, it's more proof his peers want to make this city a full-fledged NBA outpost by putting a team here someday soon.
"The summer league should always be here, over and out," Maloof said. "I think the NBA All-Star Game should be here every year, but we're just happy if we get the first one.
"I don't think there would be much opposition from NBA owners to have a team here in Vegas. I think it's a question of whether the casino owners would make the commitment to take the sport off the book. We took the NBA off the [sports] book at the Palms and it didn't hurt our business."
It's only a matter of time, people. The 2007 All-Star Game is all but officially Vegas-bound, and Maloof -- though quite aware of commissioner David Stern's reluctance to sanction an NBA franchise in a city that allows NBA betting -- predicts that the success of that event "will change all the negative attitudes about having a team here."
Chances are they won't change so drastically that the not-exactly-glitzy Shinn or the L.A.-obsessed Sterling would be willing to relocate to the Strip. And Maloof, insisting "we'll never take our fans for granted," reiterated for the umpteenth time that "it won't be the Kings." But I'm betting on an existing NBA franchise's relocating to Vegas before we see new ones in Europe.
• Other surprise guests in town so far include Kobe Bryant and Joe Johnson.
Bryant wasn't here to scout the summer league, obviously, but he did serve as the biggest name in a celebrity poker tournament for charity at The Mirage. "We were all a little shocked," said one fellow All-Star.
Johnson, meanwhile, made a brief appearance in the gym Sunday, one day after agent Arn Tellem provided a bigger spectacle than anything on the floor by engaging in a lengthy negotiations summit on the baseline with Suns president Bryan Colangelo and longtime Suns boss Jerry Colangelo.
Johnson's joining Tellem in town set up an easy meeting with Hawks general manager Billy Knight, who has committed to signing the restricted free agent to a five-year max offer sheet worth an estimated $70 million -- including an up-front payment of an estimated $20 million -- later this month. Johnson's camp was informed Saturday the Suns intend to match if Atlanta holds firm with that plan.
• My bad.
I actually wrote late Friday night that Darko Milicic was the biggest hooper playing this town.
A totally unintentional slight to Orlando's Dwight Howard.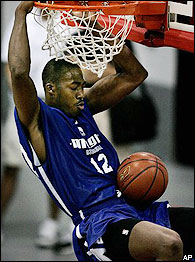 Dwight Howard is taking the summer to grow his game.
Though still just 19, Howard is the real man among tykes in this league. He played all 82 games as a rookie and averaged a robust 12 points and 10 boards, so he really doesn't need to be here. Yet the Magic asked anyway and Howard isn't protesting, knowing he has a new system to learn (new coach Brian Hill's) and plenty of work to do on his offensive game (on his jump shot, passing out of double-teams and simply taking his time with the ball).
"I'm still a rookie until the first game next year," Howard said. "At first I wondered the same thing, 'Why am I coming up here?' But now I'm glad I came."
That's even though the pious Howard is hardly a Vegas guy. "I'm really not a gambler," he said, when asked if it's tough to be too young for the casinos.
Howard went on to speak with hope about next season, insisting he has learned from the tough times of year one -- the trade of close pal Cuttino Mobley, the fade from playoff contention and, most recently, the dismissal of mentor Clifford Ray along with the rest of the previous staff.
He's still humble, too, even after exceeding all statistical expectations for his first season out of high school.
Asked if we should put him down for 20 and 10 in year two, Howard said: "You can put us down for making the playoffs … and me doing anything I can to help."
• Howard wasn't any help, though, when asked if he has any insight into Mobley's free-agent thinking. Denver has high interest and the Clippers are offering the most money, but Howard says they haven't spoken since the free-agent period began.
"I wish he'd come back," Howard said with a laugh, "but it's not realistic."
• An upbeat end to a rough week for the Wiz: Antawn Jamison flew in over the weekend and worked out for team brass to show off his patched-up right knee.
Hobbled through the second half of the season, and especially in the playoffs, Jamison underwent arthroscopic surgery on May 26 and says he feels worlds better now after having scar tissue removed.
• The rough part, of course, was the free-agent defection of Larry Hughes. The Wiz, though, think they can parlay a Kwame Brown sign-and-trade into a decent Hughes replacement who won't be as expensive.
Signing Hughes to a major-money deal made much more sense for the Cavs than the Wiz. Even though Hughes isn't going to take any pressure off LeBron James with his shaky jumper, he is a versatile guard like LeBron who can pretty much do everything else. Hughes will score, pass and defend … and get to the line.
The Cavs also have an owner (Gilbert) who won't let a slew of big contracts (LBJ, Hughes and the forthcoming re-signing of Zydrunas Ilgauskas) discourage future tweaking via trades. For Washington and the thriftier Abe Pollin, signing Hughes at a Jamison/Gilbert Arenas level would have essentially stopped the Wiz right there. That would have been Washington's team for the foreseeable future, forcing the front office to continually scrounge for bargain parts to add to a smallish core.
As one insider noted: "It's tough to lose Larry right now, but in two years we'll be glad we don't have that contract."
• Cleveland isn't worried about Hughes' perimeter shortcomings because it has the inside track on one of the best shooters available: Stein Line favorite Sarunas Jasikevicius.
Jasikevicius, spotted in London watching Wimbledon with Big Z (Ilgauskas) last month, is still being chased by several teams. Indiana's Larry Bird is a big fan who went to Israel late last season to visit the Maccabi Tel-Aviv point guard in person. And Portland, which boasts its own Lithuanian tradition after a long association with Arvydas Sabonis, is said to view Jasikevicius as an ideal veteran complement to the developing Sebastian Telfair.
The Cavs, though, should still have ample cap room to tempt Sarunas after signing Hughes and Ilgauskas. There are serious concerns about Jasikevicius' ability to defend at the NBA level -- especially if he's on the floor with the plodding Ilgauskas -- but they are offset by the spunky guard's history of clutch shot-making and his pick-and-roll prowess. Jasikevicius isn't a pure point, but he would form a dangerous perimeter with James and Hughes, since all three can handle the ball and hurt a defense.
Don't forget, furthermore, new Cavs GM Danny Ferry was part of the Spurs' front office that tried hard two summers ago to pry Jasikevicius away from Maccabi Tel-Aviv and a contract that didn't allow for NBA passage. Jasikevicius went on to lead the Israeli powerhouse to the past two Euroleague titles, adding to his rep for delivering in the clutch. A rep Team USA knows well after the past two Olympics.
"And he's much more under control than he used to be," said one NBA personnel man who has watched Jasikevicius for years.
• Boston was another Jasikevicius contender, but the Celtics took themselves out of the running by committing a portion of their mid-level exception to Nets forward Brian Scalabrine. Really.
• Mobley indeed tempts the Nuggets, but they privately chuckle at the notion they'd consider a sign-and-trade featuring Nene for Cuttino. Denver, remember, was torn last season about whether to engage in a Nene-for-Michael Redd trade -- a move Milwaukee considered only because it feared losing Redd in free agency.
• It's not yet known if Seattle's desire to stay in-house for a Nate McMillan replacement -- by promoting longtime Sonics assistant Bob Weiss -- is iron-clad, but you can safely rule out Don Nelson and Doug Collins. Both have been mentioned because of their close ties to Sonics GM Rick Sund, and either one would be a coup for Seattle, but neither is ready for a bench return. Nelson, 65, insists that he's retired from coaching, and friends say he'll need at least a year off before considering one more run anywhere. TNT's Collins, meanwhile, was close to signing on in Milwaukee before abruptly telling the Bucks he couldn't stomach more coaching, which helped line up Terry Stotts' Milwaukee comeback.
• Don't worry. Didn't forget the games.
One of the best things about the Vegas Summer League is the depth of the field. With 16 teams, there's someone new you want to see in just about every game.
However …
The overall talent level in the modern summer league is low (and dropping). Every year, it seems, summer league seems to tell you less and less about what a big-name draftee will be able to do in the big time.
The most impressive performances so far?
Detroit's Jason Maxiell still has to prove he can do this against real men in the real pros, but the undersized power forward has been a beast for the Pistons when he's not roughing up Darko Milicic in practice.
Telfair hasn't wowed folks as you'd expect in this environment, but Portland has been able to show us a more polished Travis Outlaw and the promising shooting touch of Martell Webster.
Cleveland's Luke Jackson has his mobility back, to go with his passing eye, after back trouble ruined his rookie season. He's not making many shots yet, but he's not getting the spot-up opportunities he'll get when he's playing with LeBron and Co.
Nate Robinson's speed and flair almost make you forget that Channing Frye looks a lot farther away than Isiah Thomas seems to think. Almost.
And Howard, as mentioned, is an absolute treat to have in this setting.
We wish there was more to share about New Orleans' Chris Paul and the Clippers' Shaun Livingston, but the guards we wanted to see most haven't been able to play much yet.
Paul has been out since banging his wrist in a hard fall Friday, and Livingston was scratched Monday from the Clips' summer roster because of a bruised thumb from a car-door incident.
It gets worse. During the Clips' game Monday afternoon against Detroit, an oversized Livingston banner hanging near a baseline scoreboard at Cox Pavilion came unglued, fluttering to the floor without warning.
I didn't want to have share that bit of bad karma, but this is the Vegas Summer League. Making sure stuff doesn't stay here is why they sent me.
Marc Stein is the senior NBA writer for ESPN.com. To e-mail him, click here. Also, click here to send a question for possible use on ESPNEWS.
Senior Writer, ESPN.com
• Senior NBA writer for ESPN.com
• Began covering the NBA in 1993-94
• Also covered soccer, tennis and the Olympics
EDITORS' PICKS
Sean Miller, who has led Arizona to the Elite Eight, is one of several intriguing candidates for an NBA job.
Kevin Arnovitz »

Which NBA team will land Kentucky's Karl-Anthony Towns? Take a spin through the Lottery Mock Draft.
Lotto Mock Draft »

In today's NBA, is a team doomed without a star point guard?
Column

MOST SENT STORIES ON ESPN.COM