Commentary
Saunders not likely to fill current openings
Originally Published:
May 15, 2008
By
Marc Stein
| ESPN.com
First-year assistant coach Michael Curry is poised to take over as the Detroit Pistons' next coach, but the next move for Flip Saunders is much harder to forecast if he hopes to find a new team in time for next season.
NBA coaching sources told ESPN.com that the Phoenix Suns will not be adding Saunders to their list of candidates after the Pistons announced Tuesday that Saunders' three-season run in Motown is over.
There is a clear-cut favorite already for each of the NBA's three existing openings … and two of them come from Saunders' staff.
[+] Enlarge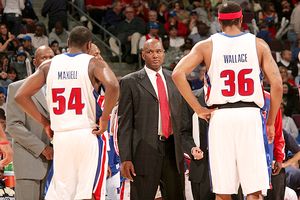 D. Lippitt/Einstein/NBAE/Getty ImagesMichael Curry (middle) will take over as the head coach of the Detroit Pistons next season.
ESPN's Stephen A. Smith reported Tuesday that the Pistons have already decided to replace Saunders with Curry, probably by week's end. Pistons president Joe Dumars told reporters at a news conference in Detroit that he'll move quickly -- "As we normally do," Dumars said -- after the Pistons' third successive failure to progress past the Eastern Conference finals.
Fellow Pistons assistant Terry Porter, meanwhile, has emerged as Mike D'Antoni's most likely successor with the Suns. Porter was the first candidate to interview with Suns president Steve Kerr and has a close relationship with Kerr dating to their days as teammates in San Antonio. In a 2003 column he wrote for Yahoo! Sports, Kerr said: "Terry Porter is one of the best people I've ever met in the league and I think he'll make a fine coach."
The only other opening at present is in Chicago, where sources close to the process continue to say that TNT analyst Doug Collins should soon confirm his widely anticipated return to the Bulls to rescue his old team after it lost out to the New York Knicks in the chase for D'Antoni. But it was not immediately known if the Bulls, who are still interviewing other candidates, will seek to talk to Saunders.
The Suns ruled out former Dallas Mavericks coach Avery Johnson as a candidate even before giving D'Antoni permission to speak with other clubs and sources say Phoenix has taken a similar view with Saunders.
The New York Post and Orange County Register reported in recent days that two earlier Suns candidates -- ESPN/ABC analyst Mark Jackson and Los Angeles Lakers assistant Brian Shaw, respectively -- were told by Kerr that the Suns prefer to hire someone with head-coaching experience. Porter is the only such candidate that the Suns are known to be still considering.
It remains to be seen if a fresh opening materializes with the Atlanta Hawks or any other team this offseason. The Hawks have not formally announced that Mike Woodson will be staying beyond the expiration of his contract June 30 -- even after Atlanta halted the league's longest playoff drought (dating to 1999) and stretched eventual Eastern Conference champion Boston to seven games in the first round -- but a determination is likely forthcoming after the Hawks' hiring last week of Rick Sund as their new general manager.
If the Bulls' and Suns' openings are the last to be filled before next season, Saunders and Johnson won't be lacking for comfort should they choose to sit out and recharge until the next wave of job opportunities. Detroit still owes Saunders an estimated $5 million next season and Johnson remains under contract to the Mavericks for the next three seasons at an estimated $12 million.
COACHING NOTES
• San Antonio Spurs assistant coach Mike Budenholzer, a Phoenix-area native, received his expected turn Tuesday to interview with the Suns. Although Budenholzer is highly rated after more than a decade working alongside Spurs coach Gregg Popovich, all signs point to Porter retaining a strong edge given his two-season stint as coach of the Milwaukee Bucks.
Porter lost his job in Milwaukee after the 2004-05 season -- and after the Bucks won the No. 1 overall pick in the draft -- because Bucks owner Herb Kohl wanted a more high-profile coach and unsuccessfully offered the job to both Collins and Saunders. Milwaukee ultimately hired Kohl favorite Terry Stotts, who will soon join Rick Carlisle's staff in Dallas.
• Sacramento Kings assistant coach Chuck Person was summoned to Chicago on Tuesday for a second interview, but sources suggest Person is most likely being considered for the role of associate head coach alongside Collins.
• After doing some early work at the NBA Finals for ESPN, Carlisle will head to Germany in his new role as Mavericks coach for a few days of bonding and workouts with star forward Dirk Nowitzki.
Marc Stein is the senior NBA writer for ESPN.com. To e-mail him, click here.
Senior Writer, ESPN.com
• Senior NBA writer for ESPN.com
• Began covering the NBA in 1993-94
• Also covered soccer, tennis and the Olympics