Commentary
Free agent update: Lakers, Clips, Hornets, Bulls making maneuvers
Originally Published:
July 12, 2008
By
Marc Stein
| ESPN.com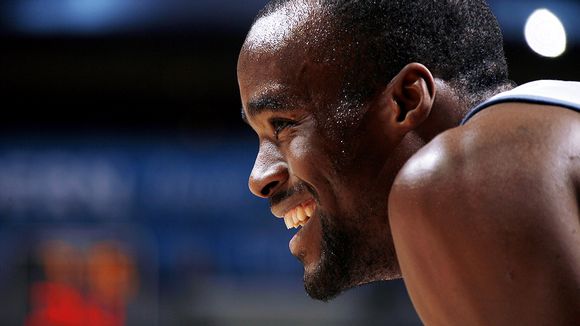 Kent Smith/NBAE/Getty ImagesCould the Clippers swipe Emeka Okafor to fill their Elton Brand-sized hole at the 4? Don't count them out.
LAS VEGAS -- We commemorate Day 2 of the NBA Summer League at UNLV with our first dispatch of chatter from the stands, culled from discussions with the many executives, coaches and agents in attendance:
Starting with a visit to Clipperland ...
Look for the Los Angeles Clippers' search to replace Elton Brand to generate headlines at a slightly slower pace than the back-and-forth frustrations volleyed all week between the Clippers and the Brand camp.
The Clips have a variety of options to consider with $12 million-plus in salary-cap space and figure they'll need up to a week to plot their course, although they did meet face-to-face with Atlanta Hawks restricted free agent Josh Smith in L.A. on the same day Brand was introduced as the newest member of the Philadelphia 76ers.
The most likely scenario, I'm told, is still signing one of the top "restricteds" (as the GMs and agents like to call them) to an offer sheet. According to NBA front-office sources, L.A. has expanded its list of restricted candidates beyond Smith and Charlotte's Emeka Okafor to Chicago's Luol Deng and, yes, Philadelphia's Andre Iguodala.
The Clips are now determining whether to schedule face-to-face meetings (potentially in Vegas) with the other three players in that quartet, knowing they need as much info as possible before committing to one of them and then waiting up to seven days to see whether their contract offer is matched.
Challenge No. 1, as always in the restricted game, is forecasting which offer would be most likely to go unmatched. (My unsolicited opinion: Okafor is the most gettable, then Smith.)
But there's another challenge here: L.A. has to determine who fits best stylewise, too.
The high-flying Smith has the best skill set to float between small forward and the power forward slot vacated by Brand.
Okafor certainly can't move like a small forward and will undoubtedly be dismissed by some as too similar to Chris Kaman, but he is one of the few players (along with the likes of Dwight Howard and Tim Duncan) to average a double-double in each of the past four seasons … and Charlotte's willingness to match a rich offer sheet -- just like Atlanta's -- will not be assumed until the historically thrifty Bobcats actually do it.
Iguodala, who happened to drop in Saturday night as an unexpected guest for the Denver-Philly game, strikes me as the most curious fit, since he clearly can't masquerade as a power forward. Yet you suspect that the Clips wouldn't mind driving up Iguodala's price at the very least.
Deng, meanwhile, is another interesting case because of his versatility. If the Clippers are ready to run, with a willing trio of pace-pushers (Baron Davis, Al Thornton and Eric Gordon) surrounding Kaman, Deng makes good sense.
Yet we repeat that the Clips, fearing an offer to any of them would be matched, might ultimately decide that it's better use their cap space to absorb a veteran's contract. New York's Zach Randolph has already been mentioned as a possibility, but there are more appealing names that could be available and have to be investigated first. Just to name two: Miami's Shawn Marion and Detroit's Rasheed Wallace, whom Dunleavy has coached before.
---
An informal survey of team executives and agents here in Vegas has turned up pretty much no one who thinks the Lakers will match the four-year offer sheet worth an estimated $17 million that Ronny Turiaf has signed with Golden State, as much as the Lakers went into free agency hoping to retain Turiaf and Sasha Vujacic.
The theory in circulation holds that minutes will simply be too scarce in L.A.'s frontcourt next season with Andrew Bynum coming back from injury to partner Pau Gasol to sanction a long-term contract to a clear-cut backup.
And as my man Sam Amick from The Sacramento Bee points out, retaining Turiaf leaves the Lakers with no hope -- thanks to luxury-tax concerns -- of taking on the extra contract (Kenny Thomas) they'll need to swallow if they can convince the Kings to agree to a swap featuring Lamar Odom and Ron Artest.
The Lakers' interest, by all accounts, remains hot after their toughness and defense were repeatedly punked in a six-game NBA Finals loss to the Boston Celtics. Word is L.A. believes that any fears about Artest's reliability can be assuaged by the fact that Phil Jackson would be coaching him and that Kobe Bryant would be his teammate. Kobe and Ron-Ron share a mutual respect that suggests no threat to the Lakers' pecking order.
Insists one source close to the process: "[Lakers owner] Jerry Buss actually likes Ron Artest's game and his personality."
---
Not totally sure yet how to interpret this one, but sources say that Bulls chairman Jerry Reinsdorf is personally handling contract negotiations with Deng and his new agent (Jason Levien) after Reinsdorf informed Bulls GM John Paxson that he wanted to directly negotiate with the Deng camp along with Bulls director of player personnel Gar Forman.
Bulls tidbits are otherwise scarce so far beyond what we covered recently about Deng's fellow restricted free agent Ben Gordon and Kirk Hinrich. While it is widely presumed that Chicago will soon trade Hinrich after drafting Derrick Rose with the No. 1 overall pick, sources maintain that there is some sentiment in the Bulls organization to keep Hinrich -- a Reinsdorf favorite -- and play him at shooting guard alongside Rose while banking on getting something good for Gordon in a sign-and-trade.
---
Why does the NBA impose a moratorium on all roster moves at the start of every July?
The stated reason is that the league needs the extra time to finish calculating next season's salary cap.
But the Brand saga, as one league official points out, helped demonstrate how the moratorium serves as an unofficial safeguard against arrangements made before July 1.
The Clippers obviously didn't have an iron-clad deal to land Brand and Davis after both unexpectedly opted out of their contracts hours before the deadline on June 30. But so many folks around the league believed L.A. did, which made the eight days between the start of free agency and the lifting of the moratorium rather handy.
The moratorium, in the league's view, ensured that every team out there would at least have a chance to court Brand or Davis, which gave the 76ers their opening.
---
James Posey remains the most coveted unrestricted free agent still on the market and New Orleans is being increasingly described as the biggest threat to Boston keeping him.
The champs are said to be reluctant to offer the 31-year-old a deal longer than three years starting at the $5.6 million midlevel exception, but the Celtics are bracing for a difficult decision depending on how high rival suitors are willing to bid, and given Posey's immeasurable contributions to their title run.
Getting Posey would be a huge coup for the Hornets, who are desperate to fortify their thin bench and import a glue guy knows how to win, as Posey has proven in Miami and Boston.
Washington is highly interested as well, but the Wizards have to find a way to shed a salary or two to have the financial flexibility to make a representative bid.
---
Odds and ends:
• You haven't heard much about the Cleveland Cavaliers in free agency so far -- and at least one source close to the process believes they're out of the Posey running even though he's an Ohio native -- but here's one thing you can almost guarantee about the Cavs' summer: Daniel Gibson is as unlikely to move as any restricted free agent on the board. The reason: LeBron James is a huge Gibson fan.
• People Who Know on both sides of the Tracy McGrady-to-Detroit speculation insist there is nothing to it.
• What are rival teams saying about Brand's acrimonious departure from Clipperland? An example: "Everyone in the West was dying for Brand to go to Philly," one executive said. "Because that could take the Warriors and the Clippers out of the [playoff] picture."
• The on-court highlight so far after two days' worth of games is unquestionably O.J. Mayo's full-court drive and throwdown Friday afternoon over New Orleans' Hilton Armstrong, with the aura of the dunk only heightened by the icy stare Mayo shot at the heckler who moments earlier had tried and failed to liven up a quiet gym with an "Ov-er-ated" chant.
But you could start a good debate at the Cox Pavilion on the UNLV campus, home to summer league ball since 2004, by polling veteran observers to choose between Mayo's exploits and Gerald Green's famed baseline drive and dunk (still showing on YouTube) in 2006.
Newly signed by the Dallas Mavericks, Green saw Mayo's dunk on "SportsCenter" and said: "It was an awesome play. A great play. But it ain't my place to judge if mine was better."
Marc Stein is the senior NBA writer for ESPN.com. To e-mail him, click here.
Senior Writer, ESPN.com
• Senior NBA writer for ESPN.com
• Began covering the NBA in 1993-94
• Also covered soccer, tennis and the Olympics
FREE AGENCY 2008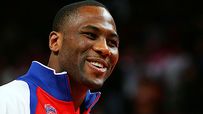 The NBA offseason has been busier than expected, thanks in part to Elton Brand's joining the 76ers. Keep up with the latest moves.
Transactions
News
•
George's deal with Mavs made official
•
Brown returns to New Orleans to back up Paul
•
Veteran Finley re-signs with Spurs
•
Nuggets re-sign Smith to multiyear deal
•
Miles signs with champion Celtics
•
George, Mavs agree to two-year deal
•
Clips re-sign free-agent center Paul Davis
•
Iguodala signs six-year deal with Sixers
•
Sources: 76ers, Iguodala agree to multiyear deal
•
Hawks match Grizzlies' $58M offer, retain Smith
•
Heat's Williams reaches terms with Clippers
•
Bobcats' Boykins signs European contract
•
Restricted free agent Williams re-signs with 76ers
•
Cavs shore up backcourt, sign ex-Grizzly Kinsey
•
Arroyo signs with Maccabi Tel-Aviv
•
Ex-Clipper draftee Skinner signs deal with team
•
Bulls sign Deng to six-year extension
•
Sources: Deng, Bulls on verge of deal
•
Hawks sign ex-Magic G Evans to contract
•
Sources: Okafor, Cats agree on new deal
•
Nets lose Krstic to Moscow team
•
Clippers sign swingman Davis from Heat
•
Vujacic officially signs multiyear deal with Lakers
•
Agent: Brown, Pistons agree to deal
•
Warriors re-sign Biedrins to 6-year, $62M deal
•
Sources: Biedrins, Warriors agree to 6-year deal
•
Wolves agree to deal with Gomes
•
Lakers, Vujacic agree to 3-year, $15 million deal
•
Ellis inks $67 million deal to stay with Warriors
•
Summer star Roberson signs with Knicks
•
Andersen bolts Hornets to return to Denver
•
Telfair re-signs with Timberwolves
•
Childress leaves NBA for Greece
•
Spurs re-sign Kurt Thomas
•
Suns sign ex-Warrior Barnes to one-year deal
•
Turiaf to play for Warriors
•
Jazz, Williams agree to 4-year extension
•
Sources: Clippers, Azubuike agree to offer sheet
•
Bucks add veterans Allen, Lue
•
Posey agrees to 4-year deal with Hornets
•
Arenas signs six-year deal with Wiz
•
Mason's hard work pays off in contract with Spurs
•
Wright re-signs with Mavericks
•
Clippers officially sign Davis to multiyear contract
•
Family ties: Brent is 3rd Barry to play for Rockets
•
Warriors ink forward Maggette to deal
•
Magic sign, introduce ex-Warrior Pietrus
•
Nets agree to terms with forwards Najera, Hayes
•
Sixers give frontline big boost, sign Brand to deal
•
Agent: Bucks to sign Bogut to $60M extension
•
Diop rejoins Mavs on 5-year, $31M contract
•
Gasol in Memphis: Marc, not Pau, signs contract
•
Kings re-sign point guard Udrih to five-year deal
•
Heat sign 3-point specialist Jones to 5-year deal
•
Sources say Brand will sign with 76ers
•
Sources: NBA cap at $58.68 million
•
Sources: 76ers confident of getting Brand
•
Sixers making run at Brand
•
Hawks free agent Smith visits 76ers
•
Brand opts out, and Clippers await decision
•
Calderon reaches agreement on new Raps deal
•
Wizards hang on to Jamison
•
Reports: Arenas agrees to six-year contract
•
For 2nd year in row, Cats, Okafor to discuss deal
•
Artest not opting out of final year of deal
•
Paul agrees on four-year, $68M deal
•
Davis leaving Warriors for Clippers
•
Free Agents:
2008
|
2009 and 2010
Analysis
•
Hollinger: Hornets pay heavily for Posey's ring
•
Martin: Najera's 3-point skills help seal Nets deal
•
Stein: Which teams in hot pursuit of free agents?
•
Adande: Why Brand left the Clippers
•
Broussard: Crushing blow for Clippers
•
Arnovitz: Clipper Nation in world of hurt
•
Adande: Brand's departure is business as usual
•
Hollinger: Brand new Sixers are East challengers
•
Hollinger: Five big questions on free agents
•
Stein: Davis verbally agrees to go to Clippers
•
Broussard: The Clippers' other free agent
•
TrueHoop: What is Corey Maggette Worth?
Podcast
•
Stein on Elton Brand and Baron Davis
•
Hollinger on players who may switch teams
•
Broussard on the money given to Arenas
•
Sheridan on Brand, Davis, Artest and Smith
Video
•
Bucher on how the Brand deal got done
•
Bucher on the latest NBA news
•
Arenas agrees to six-year extension