Commentary
Which veteran should Gallinari study?
Originally Published:
April 2, 2009
By
David Thorpe
| Scouts Inc.
Click the pics below to see which veteran each rookie should study.

Rose

Beasley

Mayo

Westbrook

Love

Gallinari

Gordon

Alexander

----------- INSIDER -----------


Augustin

Lopez

Bayless

Thompson

Rush

Randolph

Speights

Hibbert


McGee

Hickson

Lee

Chalmers

Morrow

Oden

Gasol

Fernandez
Danilo Gallinari
New York Knicks
Paul Millsap
Utah Jazz


Millsap seems to play every game like he's still upset about being a second-round draft pick. He does the tough stuff for the Jazz -- boards, defense, hustle, screens -- and is also a better offensive player than he's given credit for.
Gallinari, on the other hand, was a heralded young pro in Europe and the first draft pick of the Walsh-D'Antoni era. In an offense that craves bigs with skills, the sharp-shooting forward can be more than just an outside threat if he puts his mind to it. Studying a guy like Millsap can help him reach those higher levels of play.
Photo credits: (l-r) Rocky Widner/NBAE/Getty Images, Melissa Majchrzak/NBAE/Getty Images
David Thorpe is an NBA analyst for Scouts Inc. and the executive director of the Pro Training Center in Clearwater, Fla., where he oversees the player development program for more than 40 NBA, European League and D-League players. Those players include Kevin Martin, Rob Kurz, Luol Deng, Courtney Lee and Tyrus Thomas. To e-mail him, click here.
NBA Analyst for ESPN.com
Executive director of Pro Training Center
Started coaching career in 1987
SPONSORED HEADLINES
MORE NBA HEADLINES
MOST SENT STORIES ON ESPN.COM
The NBA On ESPN.com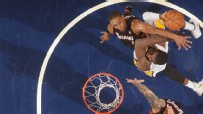 Follow the NBA on ESPN:
Twitter / Facebook / Google+
LATEST CONTENT
REGULAR FEATURES
ESPNNBA

NBA on ESPN


ICYMI: LeBron snapped at Mario Chalmers during the Heat-Pacers game, but later apologized - http://t.co/yXMw0GRtBC
about 2 hours ago

ESPNNBA

NBA on ESPN


Who had the top play of the night, @KingJames, @RickyRubio9 or @KembaWalker: http://t.co/YgSaoflxZ9
about 3 hours ago

DimeUpdate

Dime Update


Anthony Davis with 24 and 12 in his return from injury, but that isn't enough to overcome Lob City. Clips win 108-95.
about 3 hours ago

ESPNNBA

NBA on ESPN


Wednesday @BrandonKnight07, @Dame_Lillard, @deandrejordan and @Teague0 topped the stats leaderboards: http://t.co/921iQ2yLCw
about 3 hours ago

ESPNNBA

NBA on ESPN


.@utahjazz PG @Trey_Burke3 earned one of @SportsCenter's #SC3stars of the night. http://t.co/uli4LAOX6D
about 3 hours ago

ESPNNBA

NBA on ESPN


Jordan 6-6 from field, finishes with 14p, 20r, 5b in Clippers win over Pelicans.BOX SCORE: http://t.co/qtBg97yGNa http://t.co/dDaNsoKVIq
about 3 hours ago

DimeUpdate

Dime Update


After three, the Clippers lead the Pelicans 78-65. Blake Griffin leads all scorers with 21 points
about 4 hours ago

ESPNNBA

NBA on ESPN


Catch NBA Tonight with @CassidyHubbarth and @CoachKarl22 (1 AM ET, ESPN2). They're #DroppingDimes with the best passes of the week.
about 4 hours ago

ESPNNBA

NBA on ESPN


Howard posts 23p, 9r as Rockets blow out Bulls.BOX SCORE: http://t.co/DPaV2zWHIZ http://t.co/8ty3Bc3qye
about 4 hours ago

ESPNNBA

NBA on ESPN


Visual evidence of JR Smith's 17 3-pt attempts RT @TheRealJRSmith: Lol 17 threes tho! Had to say damn my self! http://t.co/SBjvjub3Rg
about 4 hours ago

DimeAlert

Dime Alert


Clippers with a 13-2 run, take a 68-53 lead midway through the 3rd quarter. Pelicans timeout.
about 4 hours ago

ESPNNBA

NBA on ESPN


RT @jadande: Remember: blowouts increase the likelihood of Jeff Van Gundy rants/tangents. #Rockets #Bulls #staytuned
about 4 hours ago

jadande

J.A. Adande


Remember: blowouts increase the likelihood of Jeff Van Gundy rants/tangents. #Rockets #Bulls #staytuned
about 4 hours ago

ESPNNBA

NBA on ESPN


The @HoustonRockets ended the 3rd on a 15-1 run to take an 83-66 lead over the @chicagobulls on ESPN: http://t.co/UufcfDUXMb
about 5 hours ago

DimeUpdate

Dime Update


Clippers lead the Pelicans 52-45 at the half. Difference is the FT line. Clips are 16-18. Pelicans are 3-5.
about 5 hours ago

ESPNNBA

NBA on ESPN


Manu Ginobili (24p, 6r, 7a) comes up big off bench as Spurs beat Suns.BOX SCORE: http://t.co/przLdcb5bJ http://t.co/eFv0yLXDwk
about 5 hours ago

DimeUpdate

Dime Update


Ballgame! Spurs win 108-101. Vintage Ginobili tonight with 24, 7 assists, 6 rebounds. Frye had 21 for the Suns
about 5 hours ago

ESPNNBA

NBA on ESPN


4:21 left in the 3rd and the @HoustonRockets lead the @chicagobulls 71-65. Tune in on ESPN/WatchESPN: http://t.co/UufcfDUXMb
about 5 hours ago

DimeUpdate

Dime Update


With just a little more than 5 mins left in the second quarter, the Clippers lead the Pelicans 40-35. Darren Collison has been key off bench
about 5 hours ago

DimeSmash

Dime Smash!


OH SHOOT OH SHOOT EMAAAANUEEEL
about 5 hours ago
adidas Youth New York Knicks Team Colorway Royal Printed Pants Shop »